The Government Accountability Board is unceremoniously being buried today after being assassinated by partisan Republicans who exacted revenge on the GAB for daring to do its job: to oversee and help enforce the campaign finance and ethics laws of the State of Wisconsin.

Requiem for the GAB
by Matthew Rothschild, Executive Director
June 30, 2016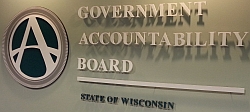 Chief among these was the law barring coordination between candidates and issue advocacy groups. Evidence arose that Gov. Scott Walker himself had violated this law by soliciting a $700,000 gift from Gogebic Taconite to Wisconsin Club for Growth, which then used the money in the recall elections in 2011 and 2012 in an effort to keep Republicans in power.
So the GAB cooperated with the John Doe II prosecutor, and because of that, Walker, and Speaker Robin Vos and Majority Leader Scott Fitzgerald got out their long knives.
They waged the most disgusting and disreputable attack on public servants in Wisconsin since the days of Joe McCarthy.
They went to great lengths to try to besmirch the reputations of GAB executive director Kevin Kennedy and the retired judges, including some who were Republican, who served on the GAB board.
And since Walker, Vos, and Fitzgerald hold all the power, they were able to dismantle this model agency and replace it with two partisan boards whose makeup suggests that inaction will be the new order of the day.
As the GAB shuts down, the Wisconsin Democracy Campaign applauds the professional and courageous work performed by Kennedy, the retired judges, and the staff of the GAB over the past eight years.
And we hope the day comes soon when a more enlightened legislature and governor will reestablish the nonpartisan Government Accountability Board—and stay out of its way.