by Matthew Rothschild, Executive Director
June 2019
The Wisconsin Democracy Campaign was founded in 1995 in Madison to agitate for meaningful campaign finance reform in the state.
From the outset, it has combined research, public education, advocacy, and activism to further the cause of campaign finance reform and clean and open government.
Gail Shea and the Early Years, 1995-2001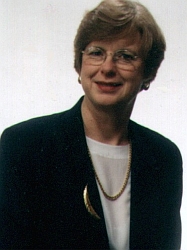 Gail Shea was the founding executive director, coming to the Wisconsin Democracy Campaign from the state election's board, where she was an administrator.
"I was disgusted by the collusion of both political parties in thwarting the enforcement of the campaign finance law," she recalled, years later.
In February of 1996, she hired David Julseth, who was also at the state election's board, to create a user-friendly, publicly available database of political donations to statewide candidates in Wisconsin. Julseth remains on the job to this day, having coded more than 1 million donations.
"We had to provide solid information on individual donations," she said. "That database is unassailable."
Shea liked to say: "Every contribution is a story," and that could very well be the motto of the Wisconsin Democracy Campaign.
To help tell those stories, Shea eventually hired Mike McCabe as communications director and Mike Buelow, formerly of AP, as research director.
During Shea's tenure, the Wisconsin Democracy Campaign published several special reports on money in politics in Wisconsin.
In the spring of 2001, Shea stepped down as executive director and she recommended to the board of directors that Mike McCabe be promoted as her successor.
McCabe Years, 2001-2014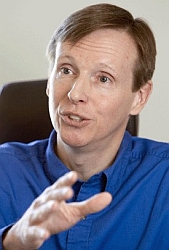 During McCabe's tenure, the Wisconsin Democracy Campaign maintained the organization's indispensable database, published more frequent reports, focused more on grassroots activism and events, and garnered a lot of press coverage. (Mike was a quote machine: "One party is scary. The other party is scared.")
One of the highlights of McCabe's time at the Wisconsin Democracy Campaign was playing a prominent role in what became known as the Caucus Scandal of 2001, which took down senior elected officials in both parties who were illegally doing campaign work in the Capitol and crudely shaking down outside groups in a "pay to play" operation.
In August 2003, McCabe hired Beverly Speer, previously with the League of Women Voters of Wisconsin, as advocacy director. Using creative tactics, they dramatized the problem of corruption in Wisconsin by hosting a myriad of public events over the years to highlight the need for addressing the issue of big money in politics, including helping to organize "The People's Legislature" and holding a "Clean Sweep Rally for Reform" at the State Capitol, where a couple hundred people came out, many with brooms in their hands. They rallied support for public financing of Wisconsin Supreme Court races, and they also organized opposition in Wisconsin to the Citizens United decision by the U.S. Supreme Court in 2010.
Meanwhile, McCabe and Buelow published several groundbreaking reports, including on the rise of dark money groups in Wisconsin, which garnered a lot of media attention.
McCabe testified at the State Capitol many times on a range of issues, including limiting campaign spending, requiring disclosure of donors to dark money groups, establishing the Government Accountability Board, supporting the "Impartial Justice Act" that provided public financing of Wisconsin Supreme Court races, banning gerrymandering in Wisconsin, and opposing the Voter ID law.
But increasingly, McCabe came to recognize the necessity for activism at the grassroots and working in coalitions of public interest advocacy organizations. "We had to work from the outside in, rather than the inside out, if we're ever to have a meaningful impact," he said. And so he traveled the state, giving dozens of talks a year, to groups large and small.
Toward the end of 2014, McCabe decided to step down as executive director, and the board of the Wisconsin Democracy Campaign hired Matt Rothschild, the longtime editor and publisher of The Progressive magazine, to be McCabe's successor.
Rothschild Years, 2015-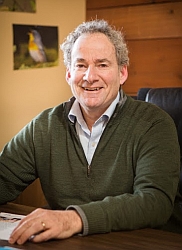 Rothschild came on in January 2015, and the organization continued to utilize its unique database to generate news on the need for campaign finance reform, and to organize and speak out on a range of pro-democracy reforms.
Utilizing Buelow's and Rothschild's journalistic backgrounds, the Wisconsin Democracy Campaign began to post two or three original news stories or commentaries a week on its website and circulated them on social media and to reporters around the state. They also helped out reporters from such national news outlets as The New York Times, The Washington Post, The Wall Street Journal, and The New Yorker.
The Wisconsin Democracy Campaign also continued to press hard on its core issue of campaign finance reform by opposing the horrendous rewrite of Wisconsin's campaign finace law in 2015, by exposing a significant loophole in that law that allows out-of-state PACs to avoid registering in Wisconsin, and by filing ethics complaints against liberal and conservative groups that flouted the law.
The Wisconsin Democracy Campaign held public events in the State Capitol on issues relating to campaign finance reform. And at the grassroots level, it focused on two issues from 2015-2020. One was the effort to gain support for overturning Citizens United and amending the U.S. Constitution to proclaim, finally, that corporations aren't persons and money isn't speech. The other issue was banning gerrymandering in Wisconsin. It helped galvanize a movement, county board by county board, to demand nonpartisan redistricting.
Like his predecessor, Rothschild speaks out all across Wisconsin giving talks on campaign finance reform, banning gerrymandering, the history of voter suppression, felon reenfranchisement, the assault on local control, the risks of fascism in the United States, and many other topics.
In 2018, the Wisconsin Democracy Campaign refined its mission statement to read: "We are dedicated to clean and open government and a full democracy, where everyone has an equal voice." With an understanding that democracy also entails racial equity and economic justice, the organization looks for ways to publicly connect the dots.
Since its founding, the Wisconsin Democracy Campaign has remained vigilant. It takes to heart the words of Fighting Bob La Follette, who said, "The cure for the ills of democracy is more democracy."