Wisconsin's Premier Searchable Online Campaign Finance Database – The Democracy Campaign built the contributor database from scratch and continues to manage and expand it. The database now contains over 1.3 million records of campaign contributions to state campaigns, and is made available to the public – free of charge and at the click of a computer mouse – on the Democracy Campaign's web site. This searchable computer database allows the public to track the money in Wisconsin politics. Before the creation of the Democracy Campaign's database, if citizens wanted to see who was giving to state candidates the only option was to paw through thousands of pages of paper reports on file at the state Elections Board office in Madison.
Federal, state and local law enforcement authorities used the Democracy Campaign's database of campaign contributors in a criminal investigation of possible pay-to-play corruption in state contracting.
Overturning Citizens United – We promoted referendums, in community after community, in favor of amending the U.S. Constitution to proclaim, finally, that corporations are not persons and money is not speech. Some 119 communities have passed such measures – and by overwhelming margins each time – under the guidance of our ally, Wisconsin United to Amend.
On the fifth anniversary of the calamitous 2010 decision by the U.S. Supreme Court in the Citizens United v. FEC case, the Wisconsin Democracy Campaign held a "public telling" in the Capitol to discuss its ramifications. Joined by Congressman Mark Pocan and Assemblywoman Lisa Subeck, members of the public took the opportunity to air their grievances about the role of big and dark money and to discuss ways to address this issue. The Wisconsin Democracy Campaign has also been actively supporting the work of Wisconsin United to Amend, which has succeeded in passing referendums or resolutions, by overwhelming margins, in more than 110 communities across the state, urging our elected officials to back an amendment to the U.S. Constitution that would proclaim, finally, that corporations aren't persons and money isn't speech.
Campaign for Fair Maps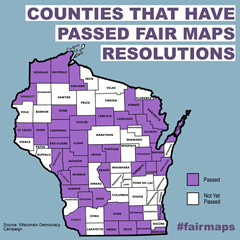 After the Wisconsin legislature rigged the redistricting in 2011 by drawing ultra-partisan legislative maps, the Wisconsin Democracy Campaign redoubled its efforts to ban gerrymandering and institute a process for nonpartisan redistricting that is done in a transparent manner and with maximum public input, like they've had in Iowa for more than 35 years. We have also has been a big supporter of the Whitford case, the Wisconsin lawsuit, challenging the 2011 Assembly district maps, that went all the way up to the U.S. Supreme Court.
We helped galvanize a movement, county board by county board, to demand nonpartisan redistricting. In 2017, the Wisconsin Democracy Campaign, along with Citizen Action and other groups, supported county board members around the state who were interested in passing resolutions demanding nonpartisan legislative and Congressional redistricting. Twenty-seven county boards passed resolutions calling for fair maps in 2017 alone, bringing the total to 35. And it all began with a phone call to our office from a Lincoln County board member who wanted more information on the topic, which we provided. (We even sent him a draft of a model board resolution on the issue.)
Special Report: Walker's Worst 100 – In 2016, the Wisconsin Democracy Campaign published a comprehensive indictment of the anti-democratic laws that Gov. Walker has signed across a range of issues, including consumer protection, the environment, disability rights, immigrant rights, justice and the courts, labor, local control, public education, safety net programs, taxes, voting and elections, weapons, and women's health.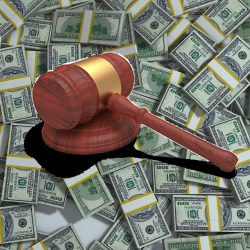 Blowing the Whistle on the Wis. Supreme Court – The Wisconsin Supreme Court used to be one of the most respected in the nation. Not anymore. It has been corrupted by special interest money, which cast a dark cloud over its decision to dismiss the John Doe II case in 2015, for instance. The Wisconsin Democracy Campaign highlighted the $8 million that outside groups, under investigation by the John Doe prosecutor, had spent to help elect the conservative justices who tossed the case out and fired the prosecutor. We also assailed the Wisconsin Supreme Court for not tightening its recusal rules in 2017, and then for deciding no longer to hold its administrative hearings in public. Chief Justice Pat Roggensack publicly criticized the Wisconsin Democracy Campaign for calling the Court "corrupt, rigged, and renegade." But we backed up our description with the facts.
We played a pivotal role in stopping an attack on a basic American freedom – The legislature was considering a "riot bill" that would have made it a felony for you to be at any public event where one member of your group did something violent or issued a threat. We testified against this, and convinced even some Republican legislators that this was guilt by association and an assault on our freedom of assembly. (They changed the bill so that only the violent person, not the whole crowd, would be guilty.)
Siccing the IRS on Wisconsin Club for Growth – In 2016, the Wisconsin Democracy Campaign filed a complaint with the IRS against Wisconsin Club for Growth, alleging that the group violated its nonprofit status by primarily engaging in electioneering. The evidence we cited was Wisconsin Club for Growth's intimate involvement with Scott Walker in his fundraising scheme that led to the John Doe II investigation.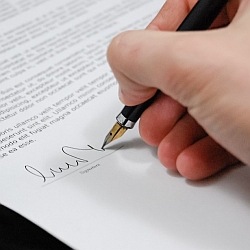 Opposing the Horrendous Rewrite of Wisconsin's Campaign Finance Law – In November 2015, the legislature passed a new and disastrous campaign finance law, which doubled the amount of money individuals can give to candidates, allowed corporations for the first time in 100 years to give to political parties, made it almost impossible to stop coordination between candidates and outside groups, and rescinded the obligation to report donors' employers. The Wisconsin Democracy Campaign led the opposition to this law and is working hard to overturn it and to bring about meaningful campaign finance reform.
Exposing a Loophole – In 2016, the Wisconsin Democracy Campaign filed a complaint with the Wisconsin Ethics Commission against then-Rep Dean Knudson, who set up his own PAC while still a sitting legislator. Though the complaint was dismissed, it exposed a glaring loophole in the new campaign finance law, a loophole that allows elected officials to easily get around the limits on direct donations and to escape meaningful donor disclosure by forming their own PACs.
Becoming a Daily News Site – Since 2015, the Wisconsin Democracy Campaign has become a daily news site, Monday through Friday, writing and posting original stories on campaign finance, redistricting, voting rights, fair courts, and other democracy issues. From July 2016-July 2017, we posted 236 original stories on our website and on Facebook. We have also assisted reporters from Wisconsin's major newspapers, written op-eds for those papers, and appeared regularly on statewide and local radio stations. We have also assisted reporters from such national publications as The New Yorker, The New York Times, and The Wall Street Journal.
Speaking Out all across Wisconsin – Our executive director, Matt Rothschild, travels all over the state of Wisconsin to discuss the impending risks to our democracy, in Wisconsin and nationally, and to offer ways to counter those risks and bolster our democracy. He's spoken in Appleton, Ashland, Beloit, Cross Plains, Darlington, Eau Claire, Elkhorn, Green Bay, Janesville, Jefferson, La Crosse, Lake Mills, Lake Tomahawk, Madison, Manitowoc, Marshfield, Milltown, Milwaukee, Mt. Horeb, New Richmond, Oregon, Platteville, Racine, Richland Center, River Falls, Sheboygan, Shell Lake, Sturgeon Bay, Sun Prairie, Waukesha, Waupaca, Waupun, Wausau, Wauzeka, West Bend, and Whitewater.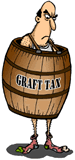 Research Documenting the Corruption of Wisconsin Politics – The Democracy Campaign has produced a vast storehouse of studies connecting the dots between campaign money and public policy favors. For example, Serving the Have-Mores showed how state commerce programs meant to help low and middle income people get good jobs are redirected to corporate welfare, with by far the biggest handouts going to contributors to state election campaigns. Hey Bidder, Bidder described the auctioning of the state budget to wealthy special interest contributors. A series of Graft Tax reports put a price tag on the annual value of perks special interest contributors receive. Playing the Policy Market found that on average big campaign contributors get a 33,000% return on their investments in the political process. CASH AND CARRY showed how well-timed campaign donations put obscure special interest issues in the legislative spotlight. Buy-Partisan Politics in Wisconsin told how big donors carefully hedge their bets, giving to both sides to ensure access to and influence over elected officials regardless of party.
Democracy Campaign research revealed numerous other problems that are at the root of growing political corruption in the state. Legal Laundering documented how campaign money is routed through a tangled web of campaign committees to conceal the special interest origins of donations. Modern Carpetbaggers showed how lawmakers' campaigns are largely paid for by people who cannot vote for them. Class War Chests illustrated how campaign donations come from an elite sliver of society and pack the discriminatory wallop of poll taxes and literacy tests. Tax Code Two-Step described how wealthy donors are dancing around the federal soft money ban. From Sunlight to Darkness chronicled the demise of Wisconsin 's campaign finance disclosure system. Gouging Democracy in Wisconsin analyzed how local television stations systematically overcharge candidates for campaign ads. Gagging Democracy showed how local government decisions are being overruled by state lawmakers doing the bidding of wealthy special interest campaign contributors.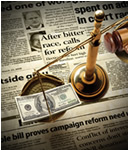 Supreme Court Election Reform – The most significant campaign reform in over 30 years in Wisconsin was achieved when Governor Jim Doyle signed the Impartial Justice bill into law in December 2009 after both houses of the Legislature approved it a month earlier. Long sought by the Democracy Campaign, the new law established publicly financed state Supreme Court elections and was in effect for the first time in the 2011 Supreme Court race. Shortly thereafter, the program was effectively ended in the state budget passed by the Legislature and signed into law by Governor Scott Walker in late June 2011. The two-year budget eliminates all public financing of state elections – including state Supreme Court races under the Impartial Justice Act.

Ethics Enforcement Reform – A reform priority of the Democracy Campaign and reform allies was achieved when the governor signed into law an ethics bill that was passed in a special legislative session in January 2007. This reform creates new tools for fighting government corruption and helps revive meaningful enforcement of ethical standards and accountability in state government. The new law replaces the weak, ineffective state Ethics Board and the partisan and dysfunctional Elections Board with a politically independent enforcement agency under the direction of a nonpartisan Government Accountability Board with an unlimited budget for investigations. The Ohio State University law school has called the GAB a national model for election administration and the "leading example of a board insulated from partisan politics."
When the Democracy Campaign put forward its five-step Power to the Voter agenda in 2004, one of the things it called for was "independent ethics and campaign finance law enforcement by restructuring the state Elections Board and Ethics Board into a single agency with expanded enforcement powers and more resources, under the direction of a politically independent board." The People's Legislature citizen assembly co-sponsored by the Democracy Campaign also made this reform a priority. The goal was accomplished with passage of the ethics reform bill that was signed into law as 2007 Wisconsin Act 1.
Disclosure of Special Interest Electioneering – The state Government Accountability Board struck a blow for the public's right to know and for accountability in election advertising in March 2010 by voting unanimously to approve new rules the Democracy Campaign helped write closing the "magic words" loophole special interest groups exploited to avoid disclosure of election-related activity and operate outside Wisconsin's campaign finance laws by carefully avoiding the use of phrases such as vote for or vote against. The rules have been legally challenged by opponents, however, and are not currently being allowed to be enforced in their entirety.

In May 2010, the GAB unanimously approved emergency rules backed by the Democracy Campaign requiring disclosure of corporate election spending. Adopted in response to the January 2010 U.S. Supreme Court decision in Citizens United v. Federal Election Commission giving corporations a free rein to spend on elections, the rules create registration, reporting and advertising disclaimer requirements for corporate election spending. WDC was successful in blocking legislative efforts to nullify them in 2011.
On March 19, 2012 the state Supreme Court unanimously dismissed a case challenging the new transparency rules and withdrew a temporary injunction blocking enforcement of the rules. Despite the court's decision, the future of the rules still is to be determined because they are also being challenged in two federal lawsuits.
Enactment and Implementation of Political Sunshine Legislation – WDC fought for campaign finance disclosure and worked with other reform groups to win enactment in 1998 of the "Citizens Right to Know" law requiring electronic filing of campaign reports. The Democracy Campaign then battled bureaucratic foot dragging for four years to get the law implemented, joining with Wisconsin Citizen Action to hire a law firm to seek a court order compelling the Elections Board to implement the law. Under the threat of a lawsuit, the Elections Board adopted an emergency rule drafted by WDC and WCA directing candidates to submit their reports in an electronic format, starting with campaign reports filed in July 2002.
Protecting the Integrity of Wisconsin's Voter Registration System - The Democracy Campaign legally challenged the state's $14 million contract with the notorious global outsourcing firm Accenture to develop a statewide voter registration system. WDC's lawsuit forced Accenture to make critical concessions relating to ownership of voter data and public access to the system. Eventually, WDC's three-year-long fight against the contract led to the state ending its relationship with Accenture on this project. Under the terms of the deal, Accenture agreed to forego the final $2 million payment, repay $4 million the company had already received, make repairs to the system, and hand over control of the computer software and its underlying source code to the state. Unbelievably, this computer code was Accenture's private property under the original contract and it was not open to inspection by state officials.
Promoting Judicial Ethics - The Democracy Campaign filed a formal complaint against state Supreme Court Justice Annette Ziegler with the Wisconsin Judicial Commission that triggered an ethics investigation and ultimately resulted in Ziegler becoming the first sitting member of the high court to be found guilty of judicial misconduct and disciplined for ethics violations.
Triggering Criminal Investigations of Corruption at the Capitol – A 1999 Democracy Campaign study played a key role in prompting a criminal investigation that has mushroomed into the biggest political scandal in Wisconsin's history. The report showed how taxpayer-funded legislative caucus offices were being used for electioneering purposes. In issuing the report, WDC became the first and only group to challenge the legitimacy of the leadership-controlled offices before an investigative series in the Wisconsin State Journal started in 2001. The study served as a road map for the reporter who broke the story. WDC staffers also met with State Journal reporters for over six months before the first stories appeared in print.
After the newspaper series, WDC filed formal complaints triggering criminal investigations into apparent violations of state ethics, campaign finance and open records laws. The probes produced nearly four dozen state and federal felony charges against five current or former state legislators and one Capitol staffer as well as misdemeanor charges against another legislator and several other staffers. All of the lawmakers and staffers were convicted. Two of the former legislators received jail sentences and two others were sentenced to prison, although one of them was granted a new trial on a technicality and eventually reached a plea agreement dismissing felony charges and imposing a $5,000 fine after more than eight years of legal maneuvering.
Enactment of Legislation Abolishing the Corrupt Legislative Caucuses – After blowing the whistle on illegal activities in the caucus offices, the Democracy Campaign worked with other reformers to get legislation abolishing the partisan state offices passed. The bill was approved by the Senate on a 30-3 vote and passed by the Assembly on an 86-8 vote. The legislation was signed into law by the governor. Effective January 1, 2002, the scandal-plagued legislative caucuses ceased to exist. Along with the formal abolition of the taxpayer-funded political caucuses, new workplace rules governing all legislative employees took effect in November 2001 to prevent future abuses of state offices and resources for campaign purposes.

Enactment of a "Pay to Play" Ban – In the wake of the caucus scandal, a bill backed by the Democracy Campaign making it a felony for lawmakers to trade votes for campaign donations was passed by the Legislature and signed into law by the governor in August 2003. Before final passage in the Legislature, a WDC-initiated amendment was adopted to apply the ban to all public officials and candidates for state and local office, not just state legislators.
Making Sure Every Vote is Counted – A key election reform the Democracy Campaign pushed for – the "paper trail" bill requiring any electronic voting equipment used in Wisconsin to produce a verifiable paper record – was signed into law in January 2006.
Banning Fundraising During the State Budget Process – In February 2009 a reform long sought by the Democracy Campaign was partly won when the state Assembly adopted a rule banning members from accepting or soliciting campaign donations while the state budget is under construction. The rule stood until the Assembly reversed the policy in 2013, once again allowing members to solicit and accept campaign donations while they are putting together the budget. Legislation applying a fundraising ban to both houses of the Legislature and the governor is still being sought.
Fines Against Wealthy Donors and Politicians – In response to formal complaints filed by the Democracy Campaign, the state Elections Board fined 19 wealthy donors and an ex-governor a total of nearly $7,800 in 2003 for making or accepting illegal campaign donations. The Board also fined another target of a WDC complaint, self-described "political hit man" Todd Rongstad, $5,500 for filing false reports of his campaign activities. In 2008, the new Government Accountability Board imposed sizable penalties on wealthy donors flagged by the Democracy Campaign for breaking campaign donation limitations. John and Gisele Brogan of Green Bay were fined $2,700 and Patricia Kern of Waukesha was fined $1,100. In March 2010 the GAB announced it collected more than $23,000 in fines from seven people flagged by the Democracy Campaign for exceeding contribution limits. In 2011, more than $40,500 in fines were assessed to 12 donors against whom the Democracy Campaign filed complaints.
Tougher New Enforcement Policies – The Democracy Campaign's advocacy before the Elections Board prompted the Board to adopt a new enforcement policy calling for automatic fines for campaigns that fail to file campaign finance reports on time. And in 2004 the Board approved an enforcement policy requiring candidates to return large contributions if the occupation and employer of the donors are not identified – a longstanding Democracy Campaign demand.
Improved Compliance with Campaign Finance Laws – For several years, the Democracy Campaign graded state officeholders and candidates on their compliance with the state law requiring them to disclose the occupation and employer of donors who give more than $100. The reports cards clearly had an effect. Overall, the number of improperly disclosed donations dropped by nearly a quarter and the total amount of money that was improperly reported went down by more than a third. When the compliance of two prominent politicians – Governor Jim Doyle and Assembly Speaker John Gard – remained poor, the Democracy Campaign filed formal complaints against them. In the next batch of reports filed by the candidates, their compliance improved dramatically. For example, Doyle had 10 contributions worth $8,750 with missing employment information, compared to 207 contributions worth over $104,000 with missing information in the earlier reports that led the Democracy Campaign to file complaints.
In addition, WDC complaints filed against wealthy donors resulted in a big improvement in compliance. In 2003, the Democracy Campaign filed complaints against 39 donors who exceeded the state's $10,000 annual limit on campaign contributions. In 2004, only four donors ran afoul of the limit, a 90% drop from the previous year and a testimony to the disinfectant qualities of sunlight as well as the deterrent effect of the complaints WDC filed.

Media Reform: Improved TV Election News Coverage – For several election cycles, WDC monitored election news coverage on local television stations. In the first round of monitoring, WDC found that local stations devoted an average of just nine seconds a night to candidates discussing campaign issues. Broadcasters were stung by the study, and Wisconsin Broadcasters Association president John Laabs was quoted saying WDC's efforts "served as an impetus to get (the state's local stations) to think about new and innovative things to do." The news director of Madison 's ABC affiliate publicly credited WDC with "making us reevaluate how we cover elections."
In the second election monitored by WDC, local stations aired an average of 1 minute, 32 seconds to candidate discussing issues – a tenfold increase over the previous election. Several Wisconsin stations created new formats that didn't exist in past elections – such as WISC's "Voting 101" and "Campaign Road Trip" series, WKOW's "One on One" candidate interviews and WMTV's policy of giving candidates three minutes of free and uninterrupted air time – that for the first time featured candidates directly addressing issues viewers care about.
Along with continuing its monitoring of election coverage in 2004, the Democracy Campaign organized teams of citizens who met with station managers in three of the state's TV markets to discuss how the public's need for information about elections and candidates could be improved. Because of the lackluster response by stations in the state's largest television market to the call for voluntary improvements in election coverage, a coalition led by the Democracy Campaign filed a petition with the Federal Communications Commission in November 2005 challenging the renewal of Milwaukee TV stations' licenses for failing to serve the public interest by meaningfully covering 2004 election campaigns.