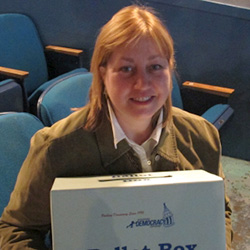 Beverly Speer is Outreach and Advocacy Director.
She has been with the organization since August 2003.
She has an M.P.A. in Public Administration with an emphasis in land resources management from the UW-Madison, La Follette School of Public Affairs, and a B.A. in Political Science from DePauw University in Indiana.
Beverly worked for the nonpartisan political organization, the League of Women Voters of Wisconsin, for 6 years as an administrator and executive director.
She chairs the Dane County Solid Waste and Recycling Commission and was one of two citizen members of the 2011 Dane County Redistricting Subcommittee.