The Buzz About the Wisconsin Democracy Campaign
Matt Rothschild and the WDC are an indispensable source of information on influential campaign donors, ethical conflicts, secretive legislation and other issues of concern to those who care about a functioning democracy
–  Urban Milwaukee editor Bruce Murphy
---
I have personally witnessed the work of the Wisconsin Democracy Campaign since its founding in 1995 and cannot speak more highly of the importance of their efforts to bring transparency to state government. For many years, Wisconsin's citizens and our press corps have relied on WDC's database of contributions and watchdog reporting as the only way to follow the money in Wisconsin's campaigns. WDC's work as watchdogs is even more important because of its bipartisan nature. Their investigations have led to enforcement actions that yielded some hefty fines and even criminal prosecutions resulting in convictions and jail sentences for misconduct. I have no doubt that members of both political parties are eagerly awaiting the demise of the Wisconsin Democracy Campaign.... WDC is Wisconsin's front line of defense against corruption, and in today's post-Citizens United world, their work is more important than ever. As unlimited, undisclosed money floods our political system, citizens and journalists need the work of WDC to hold our elected officials and candidates accountable.
– Russ Feingold, former United States Senator
---
No one has done more than this nonpartisan watchdog group to hold public officials accountable by demanding transparency, not only in campaign financing but in the operations of government, and no one has taken more heat for it, especially this year.
– Wisconsin Freedom of Information Council, honoring the Democracy Campaign as "Citizen Openness Advocate of the Year" in 2012
---
 The Wisconsin Democracy Campaign is one of this state's most important watchdogs for open and honest government. It analyzes policy, exposes conflicts of interest and follows the money. Most politicians find such work irritating. But that's because WDC puts citizens, and citizen education and access, above political interests.
– WISC-TV editorial
---
 The Wisconsin Democracy Campaign is fiercely nonpartisan, documenting and challenging the corrupt influence of big money on politics whether it involves Democrats or Republicans.
– award-winning syndicated columnist Joel McNally
---
 Thanks again for all of your help. . . . Your group was integral in laying the groundwork . . . . I just had to convince people to fess up and confirm it.
– Wisconsin State Journal reporter Dee Hall, named Newspaper Journalist of the Year for her exposés of illegal electioneering in state offices
---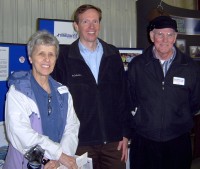 One of the most important independent voices in state politics.
– Kenosha News editorial page editor Steve Lund
---
Most citizens probably haven't heard of the Wisconsin Democracy Campaign, but it is a powerful electoral watchdog. To consider its impact, flash back as recently as the mid-1990s, when there was no way to easily check the campaign contributions for state politicians. The nonprofit Wisconsin Democracy Campaign changed all that, creating the state's first computerized database of contributors to politicians. Years later, legislation was passed to require electronic filings, but to this day, the Wisconsin Democracy Campaign remains the source for reporters doing a quick check of donations to politicians. The WDC, in short, made the political system far more transparent while operating as a tough critic of sleazy politics and a proponent of campaign finance reform.
– Milwaukee Magazine editor Bruce Murphy
---
We probably don't thank the Wisconsin Democracy Campaign enough for the good work it does promoting clean government and clean campaigns in the state. Just this week, the watchdog group released the results of an analysis that shed light on the power of money in politics.... (I)sn't it good to know where our representatives are getting their campaign money? You've got the Wisconsin Democracy Campaign to thank.
– Wausau Daily Herald
---
Hardly a day goes by when reporters at the state Capitol don't get a press release from Republicans or Democrats, accusing someone on the other side of accepting tainted money or being improperly influenced. It's difficult enough for reporters to sort out, let alone for the average citizen. Often, the appearance of impropriety is in the eye of the beholder. Sometimes, as we've seen recently, it ends up in the hands of prosecutors and a jury.
But one Web site reporters sometimes rely on also gives citizens a chance to "follow the money." You can find out who's giving how much to whom. The Wisconsin Democracy Campaign's www.wisdc.org offers an easily browsable and searchable database of campaign contributions for state and federal office holders from Wisconsin. You can draw your own conclusions about whether there's undue influence. But the Democracy Campaign isn't shy about offering its own opinions, which can strike either side of the political aisle.
- La Crosse Tribune
---

The Wisconsin Democracy Campaign...our state's premier organization in its mission of delivering unbiased political analysis and political fundraising accountability.... Essentially every news organization in the state has relied on the Wisconsin Democracy Campaign to provide untainted information.
–
radio journalist Tim Morrissey
---
You guys have done so much for shining the spotlight on political corruption and wrongdoing. Without WDC's efforts we truly would be a backwater of gutter politics.
–
Steve Argo, Baraboo High School social studies teacher
---
. . . the WDC has the most extensive searchable database of campaign contributions in the country. Click on www.wisdc.org and be amazed.
– Madison Magazine
---
Among the politicians, their hangers-on and the special interests who throw money at them, the Wisconsin Democracy Campaign doesn't have many friends. While the politicians might not appreciate it, the media and the citizens of the state do, particularly WDC's incredibly detailed campaign finance database, which makes it easy for reporters and citizens to keep tabs on the money being funneled into politicians' war chests. If you've followed Wisconsin politics at all, you've been privy to information compiled by the Democracy Campaign.
– Dave Zweifel, editor of The Capital Times
---
Three cheers for Mike McCabe and the Wisconsin Democracy Campaign. His exposure of our state elected officials, the obscene amounts of special interest money they receive, and the relationship of that money to legislators' voting records is critical. He exposes our State Capitol for what it has become – a house of legal prostitution.
– Bert Grover, former legislator and state school superintendent
---
I can't think of any organization that is more relentlessly nonpartisan – not in the mechanical 'balance' of going after one Republican and then one Democrat – but in simply adopting a single set of strong principles and applying them even-handedly to every politician and political group, criticizing or praising them accordingly.
– Karen McKim, Waunakee Rebuild the Dream
---
When I or any of my colleagues want to know who's pumping money into political campaigns we tap into the Wisconsin Democracy Campaign's campaign finance database, one of the best such resources in the nation.
– news reporter Steve Elbow, who has covered law enforcement in addition to city, county and state government for The Capital Times, Portage Register and the Isthmus weekly newspaper in Madison
---
The Wisconsin Democracy Campaign has fought a tireless, tenacious and sometimes lonely fight for democracy for Wisconsin's citizens. For so very long, Wisconsin was the model of progressive government. Now with full-time legislators trying to protect their political careers by fawning to the interests of corporations and special interest groups, the image of Wisconsin is very tarnished. Wisconsin Democracy Campaign has not only taken these legislators to task for many infractions including illegal activity in office, having special interest groups write legislation, and pandering to Wisconsin Manufacturers and Commerce and other powerful groups, they have supported substantive campaign finance reform which will allow competent, qualified, special interest-free candidates the opportunity to again make this a great progressive state. And with their opposition to the 'pay to play' system, they pushed and got legislation to stop this practice. They have succeeded in getting fines against wealthy donors and politicians. Furthermore, they exposed the university system in Wisconsin as a 'gated community' which is virtually barring admission to poor and middle class students. Thank you Mike McCabe and staff at Wisconsin Democracy Campaign for a valiant fight, one that must be won for the survival of our democracy. I am very proud of you and your organization.
– Paul Linzmeyer, Green Bay area business leader
---
The work of people like Mike McCabe and others at the Wisconsin Democracy Campaign is the only thing holding Wisconsin back right now from the brink of pure, unbridled partisan exploitation. Wisconsin Democracy Campaign is a nonpartisan oasis in a desert of partisan drought. It's precisely the kind of group that reflects the spirit of independent thinking, progressive values, and shared desire for open and transparent government that used to mark Wisconsin as unique among the 50 states.
– Heather DuBois Bourenane, blogger
---
The Democracy Campaign has become the most important source of information in the state about the corruption of our political system. WDC is performing a tremendous public service. Mike McCabe has emerged as the most articulate and forceful speaker in the state on the need for public financing of campaigns. His voice is needed now more than ever as we build a People's Legislature to set standards for the legislature now controlled by lobbyists representing special interests. Keep up the great work.
– Ed Garvey, editor, FightingBob.com
---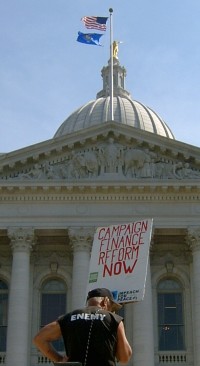 We have developed a strong working relationship with Mike McCabe and the WDC which he so ably represents. Any organization would do well to have an articulate, eloquent, inspiring speaker for a director, one who knows how to get things done (especially mobilizing people!). No one does a better job at taking complex issues and making them clear. Mike gets to the heart of the issue, backing up his points with a breadth of knowledge and such apt examples. We salute the Democracy Campaign. You give us hope for re-establishing the democracy that we know we can be.
– Judy Adrian and Carol Lobes, co–directors, Center for Democratic Action
---
You are making an heroic effort! I wish all of our states had as much gumption as you are showing. Congratulations.
– Doris "Granny D" Haddock
---
Thank you for speaking at our May 14 annual meeting on campaign finance reform. We learned a great deal on topics of crucial importance to all of us. While you made the seriousness of the campaign finance problem clear, you also presented a direction and hope for improvement. Thank you . . . for your contributions to open and responsive government. Your insights and stories were not only fascinating but enlightening. Your command of the details of this topic was impressive. The openness, competence and passion which you bring to your cause were inspirational.
– Susan Kohout, League of Women Voters of Door County
---
I don't know where you get the moxie to keep up the struggle in the face of such a demoralizing state of affairs. I'm not in the least bit religious but if I had to pick out certain Wisconsinites for sainthood, you would be right near the top of any A List.
–
Lawrence Flowers, Wausaukee
---
 I thank you for all you do to educate us by ferreting out information that taints the democratic process. When I read Wisconsin Democracy Campaign emails and follow up on the links, I feel very well informed. Sometimes people are surprised with the information I share during conversations. I must refer them to your web site.
– Dorothy Boyer
---
Keep doing what you do. If it were possible, I wish you could be "cloned" in every state of the Union, and could network to root out corruption in Washington, as well as in all the states.
–
Rosine Turner
---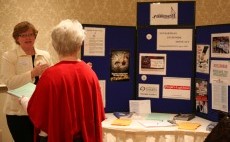 Y'all continue to put the spotlight where it belongs! To the extent I continue to care about –– in the face of facts that tell me the effort is lost –– a resurrection of the values that once made Wisconsin a beacon for the nation, you are the absolute leader of the effort to bring back what was not only good, but what was expected of our elected officials by the voters. And thank you for continuing to do that!
–
Bill Dixon
---
As one of the many "politically homeless" the Wisconsin Democracy Campaign affirms my role as citizen and represents my concerns for integrity in the governing process. Mike McCabe's leadership makes me proud to be a member of this group. Supreme Court Justice Louis Brandeis said it well: 'The most important political office is that of private citizen' and the Wisconsin Democracy Campaign paints those words into a picture of political practice. I'm really proud to be a member of this organization and support your work.
– Gail Lamberty
---
If it weren't for the work you are all doing there, the public would be completely in the dark about how state campaigns are being conducted and financed – and who benefits. As they say, sunshine is the best disinfectant. If Wisconsin ever cleans up its campaign and election processes, it will be because of the WDC. Thanks heaps!
– Kathy Wilkes
---
You're doing one heckuva good job! Keep up the bird–dogging and if heads roll, so be it.
– Kristin Zehner
---
It is so important to me that someone is working hard for a fair and transparent election process in Wisconsin. I'm extremely grateful that the Wisconsin Democracy Campaign exists. Also really appreciate the e-mail newsletter to help me become better informed. Keep up the good work.
– Cynthia Guggemos
---
The Wisconsin Democracy Campaign serves as an example for the rest of the states in the union. It not only explains the many problems our democracy is facing but offers citizens and voters solutions that the politicians would be wise to implement.
– Adam Benedetto
---
First, congratulations on the database . . . it is a vital tool in moving folks toward support of campaign finance reform. Bravo!
–
Don Jones
---
It is a comfort to know that there are people like you who are willing to take responsibility to make our will known. You have encouraged us to wake up and demand clean government and real democracy.
– Donna Fuelleman
---
I consider you the state-level equivalent to the Center for Public Integrity, which I love. What you are doing is a beacon of light and truth. Sooner or later hard times will bring more people to the light.
– Bernie Dalsey
---
Thank you for all the GREAT work you have done and continue to do on behalf of Wisconsin voters. We appreciate everything you do. You are a shining example of what is GOOD in Wisconsin.
–
Sandy Thomas
---
 I discovered the WDC only a short time ago and I am overwhelmed with the amount and clarity of the in–depth data you provide. We the people of Wisconsin must take back control of our government from the professional politicians and their special interest supporters.
– Dave Hendrickson
---
 We appreciate your healthy dose of alarm coupled with optimism about what citizens can do to improve state government.
– Pat Mapp and Lynet Uttal
---
Thank you so very much for the information that you provide. The statement is so true: 'Just follow the money.' I appreciate all that you and Mike McCabe do to try and make everything public and available.
– Tom Hebl
---
 Thank you for providing people like me with the evidence and analysis needed to fight those bastards down in Madison, as well as a model of how to take the high road in the struggle.
– Tony Palmeri
---
I want you to know I believe the work you are doing is a great contribution to the people of the state of Wisconsin and I will continue to read with great pleasure the stories in the paper that expose what needs to be exposed.
– Joan McCarthy
---
 Continue to go after them!!!!
– Terri Stanley, Eau Claire alderperson
---
Thank you, thank you for your good work!! I have read and reread your Graft Tax report and find it excellent.There is certainly room for reform in Wisconsin!
– Sigurd Midelfort
---
I love the work you're doing. You're the best thing that's happened to democracy since women got the vote.
– Russell King
---
I very much appreciate your e-mails – always worth reading, comprehensible and concise. Next to the special place in heaven for junior high school teachers is the special place for those who inform us of important intelligence that we would otherwise be ignorant of. I am both indebted and impressed. Please continue to function as you have.
– Peter Elling Johnson
---
I've been meaning to write to you folks to say thanks for the important work you are doing. Your e–mails are a pesky, but welcome, reminder that we need to fight for democracy if it is to survive in our nation. You are true patriots. Keep up the great work!
– Annette Czarnecki
---
 I have such infinite respect for you and your organization. Thanks for doing this incredibly important work.
– Curt Andersen

---
I am so glad I found your website the other day…. In times like these we need an informed electorate more than ever!
– David Feiler