Updated: July 1, 2003
Rep. Garey D. Bies (R) Sister Bay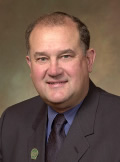 Assembly District 1
Election Notes • Money Sources • Top Contributors • Big Money • PACs
2002 Campaign Finance Summary

* Rep. Bies was first elected in 2000.

* He won a two way primary and faced Democratic opposition in the general election. 

*Volunteers for Agriculture ($2,658) and WI Right to Life PAC ($205) made independent expenditures benefiting Bies. 

Bies
Hermann
Raised
$48,851
Spent
$33,973
Raised 
$12,201
Spent
$12,202
Vote: 65.6%
$2.54/vote
Vote: 34.4%
$1.74/vote
Independent backing:
$2,863
Independent backing:
$0

Bies' Committee Assignments

2003-2004: Corrections and the Courts (Chair); Highway Safety (Vice-Chair); Natural Resources; Tourism (Vice-Chair); Veterans and Military Affairs.

2001-2002: Agriculture; Children and Families; Criminal Justice; Highway Safety; State Affairs; Tourism and Recreation.
Where Did the Money Come From?
Cash-on-hand 1/1/01
$6,747
Self
$0
Under $100
$13,996
$100 or more
$27,947
PACS & Parties
$6,882
Other Income
$27
WECF*
$0
*voluntary spending limit system.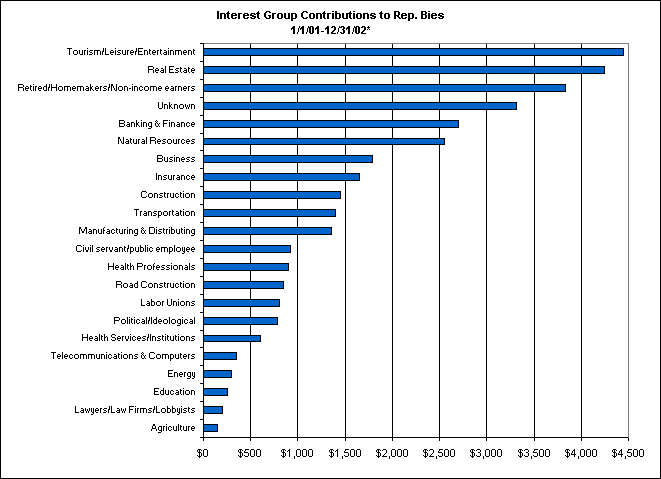 *From individual contributors giving $100 or more per year and all PAC, party and candidate committee contributions.
Who are the top contributors to Rep. Bies?
1/1/00 - 12/31/02
| Contributor | City | Business | Amount |
| --- | --- | --- | --- |
| Bies, Gary | Sister Bay, WI | Legislator | $7,592.00 |
| Baudhuin, Richard & Joan | Sturgeon Bay, WI | Bear hunter | $1,150.00 |
| Calkins, William & Priscilla | Ephraim, WI | WD Management | $1,100.00 |
| Anderson, Roger & Sandy | Sturgeon Bay, WI | Sturgeon Bay Metal Products | $1,000.00 |
| Blazer, Judith E | Ellison Bay, WI | Retired | $1,000.00 |
| Edison, Howard W | Highland Park, IL | Partnership Concepts Realty Management | $1,000.00 |
| Johnson, Al & Lars | Sister Bay, WI | Al Johnson's Swedish Restaurant | $1,000.00 |
| Peterson, Ellsworth & Carla | Sturgeon Bay, WI | Peterson Boats Inc/Door Travel | $1,000.00 |
| Culp, Peter & Laurel A | Sister Bay, WI | Nordic Lodge | $950.00 |
| Cape, Christopher & William | Racine, WI | James Cape & Sons Co | $900.00 |
Election Notes • Money Sources • Top Contributors • Big Money • PACs