Updated: July 1, 2003
Rep. Spencer Black (D) Madison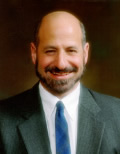 Assemby District 77
Election Notes • Money Sources • Top Contributors • Big Money • PACs
2002 Campaign Finance Summary

* Rep. Black was first elected in 1984.

* He was unopposed in the primary and general elections.

* Human Rights League PAC ($9) and WI Nurses PAC ($113) made independent expenditures benefiting Black. 

Black
None
Raised
$43,193
Spent
$23,100
Raised 
$0
Spent
$0
Vote: 98.9%
$1.35/vote
Vote: 1.1%
$0/vote
Independent backing:
$122
Independent backing:
$0

Black's Committee Assignments

2003-2004: Review of Administrative Rules; Joint Review of Administrative Rules; Colleges and Universities; Electronic Democracy and Government Reform; Improving Wisconsin's Fiscal Management; Natural Resources; Property Rights and Land Management.

2001-2002: Assembly Organization; Joint Legislative Council; Joint Legislative Organization; Rules.
Where Did the Money Come From?
Cash-on-hand 1/1/01
$120,768
Self
$0
Under $100
$17,874
$100 or more
$9,704
PACS & Parties
$0
Other Income
$15,615
WECF*
$0
*voluntary spending limit system.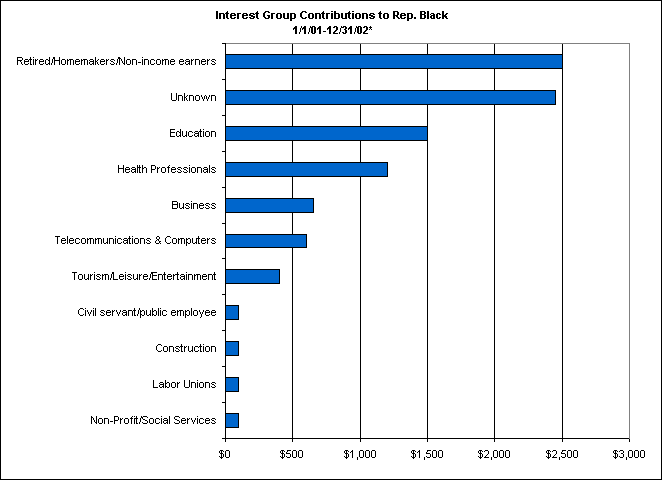 *From individual contributors giving $100 or more per year and all PAC, party and candidate committee contributions.
Who are the top contributors to Rep. Black
1/1/93 - 12/31/02
| Contributor | City | Business | Amount |
| --- | --- | --- | --- |
| Webb, Robert | Madison, WI | Retired | $1,200.00 |
| Kindschi, Don | North Freedom, WI | Physician | $1,100.00 |
| Abert, Grant & Nancy Ward | Hillpoint, WI | Business consultant | $1,000.00 |
| Dally, Alfred & Mary | Madison, WI | EDS | $1,000.00 |
| Marten, William & Barbara | Madison, WI | State Historical Society of Wisconsin | $655.00 |
| Coors, James & Ann Pollock | Madison, WI | University of Wisconsin | $500.00 |
| Frank, Harold | Laona, WI | Forest County Potawatomi Community | $500.00 |
| Gilliland, Amy | Madison, WI | Video producer | $500.00 |
| Lange, Ken | Baraboo, WI | Retired | $500.00 |
| Metz, Mitch | Oconomowoc, WI | Writer | $500.00 |
Election Notes • Money Sources • Top Contributors • Big Money • PACs