Updated: July 14, 2003
Senator Ron Brown (R) Eau Claire
Senate District 31
Election Notes • Money Sources • Top Contributors • Big Money • PACs
2002 Campaign Finance Summary

* Senator Brown was first elected in 2002.

* He was unopposed in the primary and faced a Democratic incumbent in the general election. 

* WI Right to Life PAC ($243) made independent expenditures benefiting Brown. WI Nurses PAC ($84) made independent expenditures favoring his opponent. 

*Coalition to Keep America working spent undisclosed amounts on "issue ads" attacking Brown's opponent.

Brown
Moen
Raised
$239,639
Spent
$238,953
Raised 
$170,167
Spent
$176,930
Vote: 50.4%
$8.72/vote
Vote: 49.4%
$6.59/vote
Independent backing:
$243
Independent backing:
$84

Brown's Committee Assignments

2003-2004: Agriculture, Financial Institutions and Insurance; Child Abuse and Neglect Prevention Board; Economic Development, Job Creation and Housing; Health, Children, Families, Aging and Long Term Care; Homeland Security, Veterans and Military Affairs and Government Reform (Chair); Rural Economic Development Board. 

2001-2002: Not yet elected.
Where Did the Money Come From?
Cash-on-hand 1/1/99
$0
Self
$8,529
Under $100
$12,643
$100 or more
$196,133
PACS & Parties
$22,334
Other Income
$0
WECF*
$0
*voluntary spending limit system.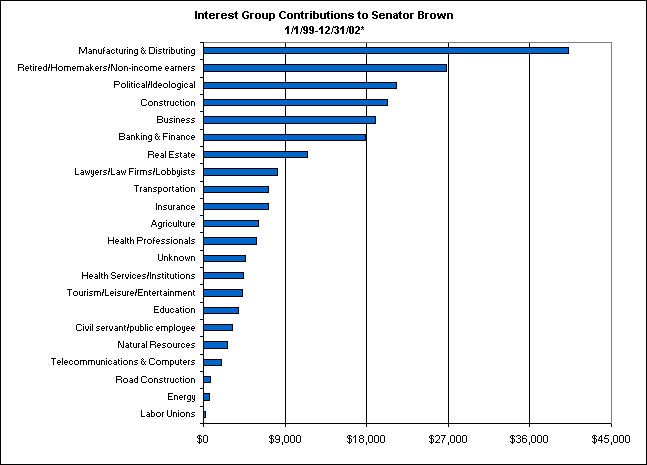 *From individual contributors giving $100 or more per year and all PAC, party and candidate committee contributions.
Who are the top contributors to Senator Brown?
1/1/02 - 12/31/02
| Contributor | City | Business | Amount |
| --- | --- | --- | --- |
| Brown, Ron | Eau Claire, WI | Legislator/Pine Cone Manor | $8,529.00 |
| Barry, William E & Suzanne | Brookfield, WI | Speed Systems Inc | $2,000.00 |
| Frelk, Calvin & Arlene | Merrillan, WI | Northern Christmas Trees & Nursery | $2,000.00 |
| Kern, Robert & Patricia | Waukesha, WI | Generac Corp | $2,000.00 |
| Kohler, Terry & Mary | Sheboygan, WI | Windway Capital | $2,000.00 |
| Nelson, Grant & Carol | Prescott, WI | Retired | $2,000.00 |
| Uihlein, Phillip & Richard | Milwaukee, WI | U-Line Corp | $2,000.00 |
| Wendt, Kenneth & Patricia | Watersmeet, MI | Windway Capital | $2,000.00 |
| Frautschi, John J | Madison, WI | Webcrafters Inc | $1,500.00 |
| Gelatt, Philip & Daniel Jr | La Crosse, WI | Northern Engraving Corp/Northern Micrographics | $1,500.00 |
| Radtke, Thomas & Muriel | Winneconne, WI | Bob Radtke Inc | $1,500.00 |
| Wieser, Mary | Maiden Rock, WI | Wieser Concrete Co | $1,500.00 |
Election Notes • Money Sources • Top Contributors • Big Money • PACs