Updated: July 14, 2003
Senator Tim Carpenter (D) Milwaukee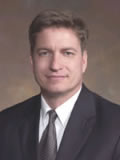 Senate District 3
Election Notes • Money Sources • Top Contributors • Big Money • PACs
2002 Campaign Finance Summary

* Senator Carpenter was first elected to the Assembly in 1984 and to the Senate in 2002.

* He won a three way primary and was unopposed in the general election. 

* Human Rights League PAC ($9) and WI Nurses PAC ($87) made independent expenditures benefiting Carpenter. 

Carpenter
None
Raised
$81,668
Spent
$84,645
Raised 
$0
Spent
$0
Vote: 98%
$3.46/vote
Vote: 2%
$0/vote
Independent backing:
$97
Independent backing:
$0

Carpenter's Committee Assignments

2003-2004: Review of Administrative Rules; Joint Review of Administrative Rules; Alcohol and Other Drug Abuse; Domestic Abuse; Health, Children, Families, Aging and Long Term Care; Judiciary, Corrections and Privacy; Migrant Labor Council.

2001-2002 Assembly: Aging and Long-Term Care; Health; Public Health; State and Local Finance.
Where Did the Money Come From?
Cash on hand 1/1/01
$4,637
Self
$24,297
Under $100
$11,542
$100 or more
$28,598
PACS & Parties
$15,575
Other Income
$1,656
WECF*
$0
*voluntary spending limit system.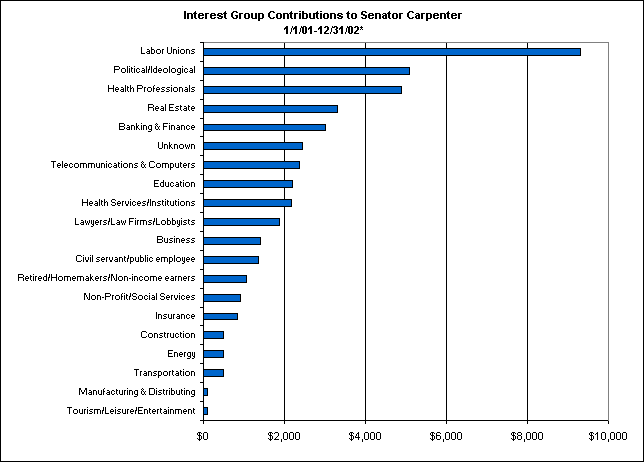 *From individual contributors giving $100 or more per year and all PAC, party and candidate committee contributions.
Who are the top contributors to Senator Carpenter?
1/1/93 - 12/31/02
Contributor
City
Business
Amount
Carpenter, Timothy
Milwaukee, WI
Legislator
$24,697.49
Guerin, Allen & Gail
Franklin, WI
Ikon
$1,900.00
Czerwinski, Michael & Julie
Milwaukee, WI
Milwaukee Public Schools/
Community Memorial Hospital
$1,534.00
Radke, David
Franklin, WI
Radke Chiropractic Office
$1,510.00
Nelson, Doug
Milwaukee, WI
AIDS Resource Center of Wisconsin
$1,450.00
Cage, Maggie
Milwaukee, WI
Medical College of Wisconsin
$1,250.00
Hueneke, Terry
Bayside, WI
Manpower Inc
$1,200.00
Smith, Jack
Milwaukee, WI
Shorewest Realtors
$1,100.00
Iverson, Dan
Milwaukee, WI
SEIU
$1,000.00
Paul, De Vido
Clipton, NJ
Winterset Associates
$1,000.00
Election Notes • Money Sources • Top Contributors • Big Money • PACs