Updated: July 14, 2003
Senator Russell S. Decker (D) Weston
Senate District 29
Election Notes • Money Sources • Top Contributors • Big Money • PACs
2002 Campaign Finance Summary

* Senator Decker was first elected in 1990.

* He was unopposed in the primary and faced Republican opposition in the general election. 

* WI Nurses PAC ($117) made independent expenditures benefiting Decker. WI Right to Life PAC ($257) made independent expenditures favoring his opponent. 

Decker
Edming
Raised
$126,914
Spent
$77,092
Raised 
$15,555
Spent
$15,283
Vote: 68.1%
$1.99/vote
Vote: 31.9%
$.84/vote
Independent backing:
$117
Independent backing:
$257

Decker's Committee Assignments

2003-2004: Finance; Joint Finance; Joint Legislative Council; Labor, Small Business Development and Consumer Affairs; Rural Economic Development Board; Joint Survey on Tax Exemptions.

2001-2002: Joint Survey on Tax Exemptions (Co-Chair); Joint Finance; Finance; Labor and Agriculture; Rural Economic Development Board.
Where Did the Money Come From?
Cash-on-hand 1/1/99
$8,483
Self
$0
Under $100
$34,028
$100 or more
$73,271
PACS & Parties
$2,850
Other Income
$4,833
WECF*
$11,932
*voluntary spending limit system.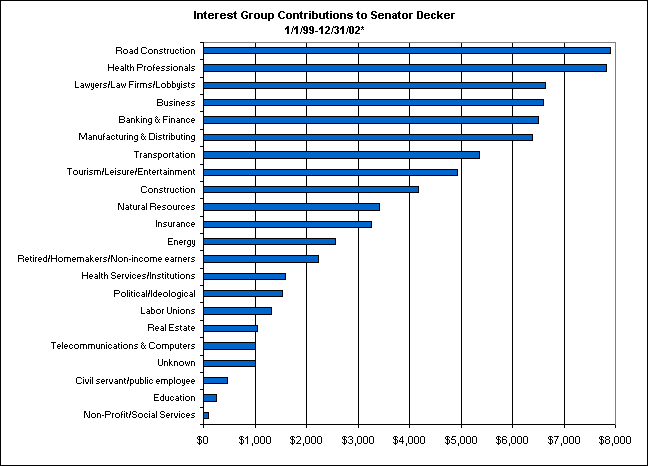 *From individual contributors giving $100 or more per year and all PAC, party and candidate committee contributions.
Who are the top contributors to Senator Decker?
1/1/93 - 12/31/02
| Contributor | City | Business | Amount |
| --- | --- | --- | --- |
| Chvala, Charles & Barbara Worcester | Madison, WI | Legislator/Legislative aide | $3,235.00 |
| Wedell, Henri & Marsha | Memphis, TN | Corrections Corp of America | $1,800.00 |
| Mathy, Steven & Scott | La Crosse, WI | Mathy Construction | $1,700.00 |
| Baer, Gerald & Helene | Schofield, WI | Baers Beverages of Central Wisconsin Inc | $1,500.00 |
| Decker, Arnold & Edna Mae | Athens, WI | Salesman Sam | $1,487.00 |
| Brickner Family | Marathon, WI | Brickner Motors | $1,300.00 |
| Gebhard, John & Trudy | Hartland, WI | Lake County Racquet & Athletic Club | $1,100.00 |
| Grischke, Alan & Christine Bremer | Wausau, WI | Grischke & Bremer | $1,100.00 |
| Peterson Family | Medford, WI | James Peterson & Sons | $1,100.00 |
| Sonnentag, John & Carolyn | Mt Dora, FL | County Concrete | $1,100.00 |
Election Notes • Money Sources • Top Contributors • Big Money • PACs