Updated: July 1, 2003
Senator Michael G. Ellis (R) Neenah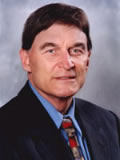 Senate District 19
Election Notes • Money Sources • Top Contributors • Big Money • PACs
2002 Campaign Finance Summary

* Senator Ellis was first elected to the Assembly in 1970 and to the Senate in 1982.

* He was unopposed in the primary and general elections.

* WI Right to Life PAC ($91) made independent expenditures benefiting Ellis. 

Ellis
None
Raised
$102,886
Spent
$46,021
Raised 
$0
Spent
$0
Vote: 99.2%
$1.13/vote
Vote: 0.8%
$0/vote
Independent backing:
$91
Independent backing:
$0

Ellis' Committee Assignments

2003-2004: Education Commission of the States; Education, Ethics and Elections (Chair); Joint Legislative Council; Standards Development Council; Joint Survey on Tax Exemptions (Co-Chair).

2001-2002: Joint Survey on Tax Exemptions; Joint Survey on Retirement Systems; Retirement Research; Universities, Housing, and Government Operations.
Where Did the Money Come From?
Cash-on-hand 1/1/99
$167,083
Self
$0
Under $100
$15,752
$100 or more
$57,095
PACS & Parties
$2,812
Other Income
$27,227
WECF*
$0
*voluntary spending limit system.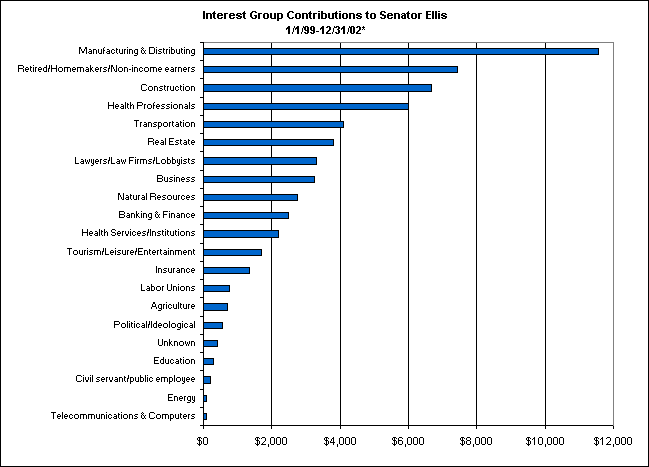 *From individual contributors giving $100 or more per year and all PAC, party and candidate committee contributions.
Who are the top contributors to Senator Ellis?
1/1/93 - 12/31/02
| Contributor | City | Business | Amount |
| --- | --- | --- | --- |
| Mills Family | Brainerd, MN | Mills Supply Co | $6,000.00 |
| Radtke, Tom & Muriel | Winneconne, WI | Bob Radtke Inc | $3,750.00 |
| Sabee Family | Appleton, WI | R Sabee Inc | $2,400.00 |
| Gavronski, Michael | Appleton, WI | Tri-County Distributors | $2,250.00 |
| Smith, Mowry | Neenah, WI | Retired | $2,200.00 |
| Ogilvie, Mrytle | Hortonville, WI | Pierce Manufacturing | $1,950.00 |
| Prosser, Thomas | Neenah, WI | Menasha Corp | $1,900.00 |
| Purdy, Thomas & Steven Purdy | Appleton, WI | Apple Hill Redevelopment | $1,800.00 |
| Connor Family | River Hills, WI | Nicolet Hardwoods | $1,750.00 |
| Barlow, F John | Appleton, WI | SANCO | $1,700.00 |
Election Notes • Money Sources • Top Contributors • Big Money • PACs