Updated: July 1, 2003
Senator Jon Erpenbach (D) Middleton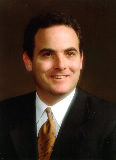 Senate District 27
Election Notes • Money Sources • Top Contributors • Big Money • PACs
2002 Campaign Finance Summary

* Senator Erpenbach was first elected in 1998.

* He was unopposed in the primary and general elections.

* WI Builders ($1,500) and WI Nurses PAC ($113) made independent expenditures benefiting Erpenbach. 

Erpenbach
None
Raised
$125,564
Spent
$53,514
Raised 
$0
Spent
$0
Vote: 99.4%
$1.15/vote
Vote: 0.6%
$0/vote
Independent backing:
$1,613
Independent backing:
$0

Erpenbach's Committee Assignments

2003-2004: Disability Board; Joint Employment Relations; Joint Legislative Council; Joint Legislative Organization; Review of the Open Records Law (Co-chair); Senate Organization.

2001-2002: Privacy, Electronic Commerce and Financial Institutions; Biennial Budget; Education; Health, Utilities, Verterans and Military Affairs; Joint Information Policy and Technology; Information Policy and Technology; Law Revision.
Where Did the Money Come From?
Cash-on-hand 1/1/99
$952
Self
$0
Under $100
$46,070
$100 or more
$62,794
PACS & Parties
$14,400
Other Income
$2,300
WECF*
$0
*voluntary spending limit system.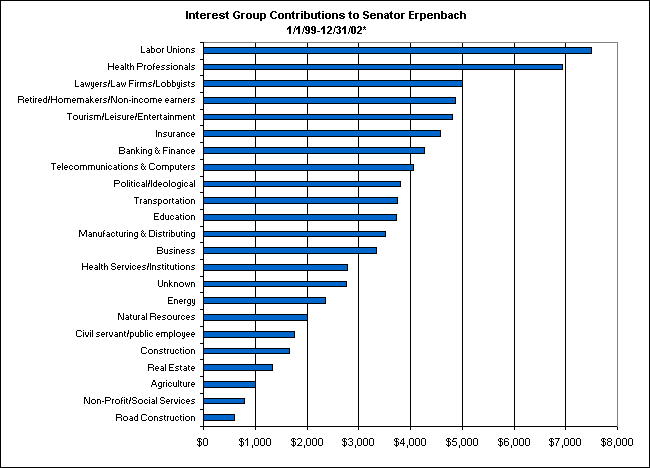 *From individual contributors giving $100 or more per year and all PAC, party and candidate committee contributions.
Who are the top contributors to Senator Erpenbach?
1/1/97 - 12/31/02
Contributor
City
Business
Amount
Boley, Helen
Madison, WI
Retired
$2,500.00
Richard, JoAnna & Paul Nelson
Middleton, WI
Wisconsin Dept of Justice/
Middleton Public Library
$2,067.00
Hermes, Ronald & Julie Laundrie
Madison, WI
Legislative aide/
Senate Democratic Caucus
$1,717.00
Thompson, Jim
Madison, WI
Wegner & Associates
$1,300.00
Adelman, Elizabeth
Mukwonago, WI
Adelman & Hynes
$1,250.00
Colletti, George
Madison, WI
H&M Distributing Co
$1,200.00
Bills, Cory & Nancy
Madison, WI
Webcrafters Inc/Legislative aide
$1,062.00
Elwers, Kathryn
Madison, WI
Retired
$1,025.00
Election Notes • Money Sources • Top Contributors • Big Money • PACs