Updated: July 14, 2003
Senator Scott L. Fitzgerald (R) Clyman

Senate District 13
Election Notes • Money Sources • Top Contributors • Big Money • PACs
2002 Campaign Finance Summary

* Senator Fitzgerald was first elected in 1994.

* He was unopposed in the primary and faced Democratic opposition in the general election.

* Volunteers for Agriculture ($2,171), WI Right to Life PAC ($167) made independent expenditures benefiting Fitzgerald. WI Nurses PAC ($113) made independent expenditures favoring his opponent.

Fitzgerald
Christensen
Raised
$71,370
Spent
$67,073
Raised 
$20,810
Spent
$20,596
Vote: 68.7%
$1.84/vote
Vote: 31.2%
$1.25/vote
Independent backing:
$91
Independent backing:
$113

Fitzgerald's Committee Assignments

2003-2004: Joint Review of Criminal Penalties (Co-Chair); Education, Ethics and Elections; Finance; Joint Finance; Forward Wisconsin; Homeland Security, Veterans and Military Affairs and Government Reform; Judiciary, Corrections and Privacy.

2001-2002: Health, Utilties, Veterans and Military Affairs; Judicary, Consumer Affairs, and Campaign Finance Reform; Privacy, Electronic Commerce and Financial Institutions; Wisconsin Housing and Economic Development Authority.
Where Did the Money Come From?
Cash-on-hand 1/1/99
$1,233
Self
$500
Under $100
$17,085
$100 or more
$36,612
PACS & Parties
$16,121
Other Income
$1,052
WECF*
$0
*voluntary spending limit system.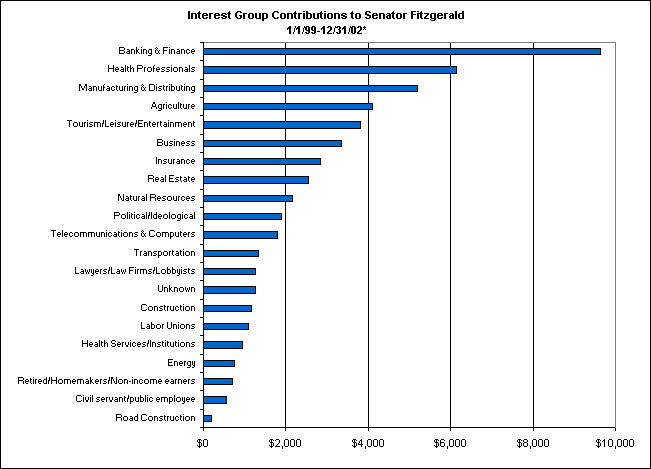 *From individual contributors giving $100 or more per year and all PAC, party and candidate committee contributions.
Who are the top contributors to Senator Fitzgerald?
1/1/94 - 12/31/02
Contributor
City
Business
Amount
Fitzgerald, Scott & Lisa
Juneau, WI
Legislator/Waupun School District
$31,284.00
Kraut Family
Oconomowoc, WI
Genesee Aggregate Co/
American State Equipment
$4,480.00
OBrien Family
Watertown, WI
Wisconsin Wetgoods/CJ Graphics
$2,888.00
Will, Elvin & Louise
Hustisford, WI
Bee Industries
$2,040.00
Triemstra, Ronald & Darcy
Green Lake, WI
Northeast Asphalt Co/ABS Breeders
$2,010.00
Kachel, David L & Lolita
Whitewater, WI
Wisconsin Dairy Supply
$1,710.00
Michaels, Dale R
Brownsville, WI
Michels Pipeline Construction
$1,550.00
Schultz, Reuben R
Beaver Dam, WI
Retired
$1,475.00
Leaman Family
Oconomowoc, WI
Leaman & Setnicces
$1,100.00
Counsell, Ronald J
Juneau, WI
Borderline Inc
$1,075.00
Election Notes • Money Sources • Top Contributors • Big Money • PACs