Updated: July 1, 2003
Rep. Stephen J. Freese (R) Dodgeville
Assembly District 51
Election Notes • Money Sources • Top Contributors • Big Money • PACs
2002 Campaign Finance Summary

* Rep. Freese was first elected in 1990.

* He was unopposed in the primary and faced Democratic opposition in the general election. 

*Healthy Wisconsin ($301), WI Nurses PAC ($113), and WI Right to Life PAC ($91) made independent expenditures benefiting Freese.

Freese
Wolf
Raised
$40,475
Spent
$36,864
Raised 
$10,308
Spent
$8,520
Vote: 59.9%
$3.59/vote
Vote: 40.1%
$1.24/vote
Independent backing:
$505
Independent backing:
$0

Freese's Committee Assignments

2003-2004: Campaigns and Elections (Chair); Electronic Democracy and Government Reform (Vice-Chair); Financial Institutions; Joint Legislative Council; Public Health; Review Fireworks Law (Co-Chair); Rules; Rural Affairs.

2001-2002: Assembly Organization; Campaigns and Elections (Chair); Census and Redistricting; Historical Society of Wisconsin, Board of Curators; Joint Legislative Council; Mississippi River Parkway Commission; Public Health; Rules; Rural Affairs and Forestry.
Where Did the Money Come From?
Cash-on-hand 1/1/01
($120)
Self
$0
Under $100
$11,491
$100 or more
$20,945
PACS & Parties
$8,039
Other Income
$0
WECF*
$0
*voluntary spending limit system.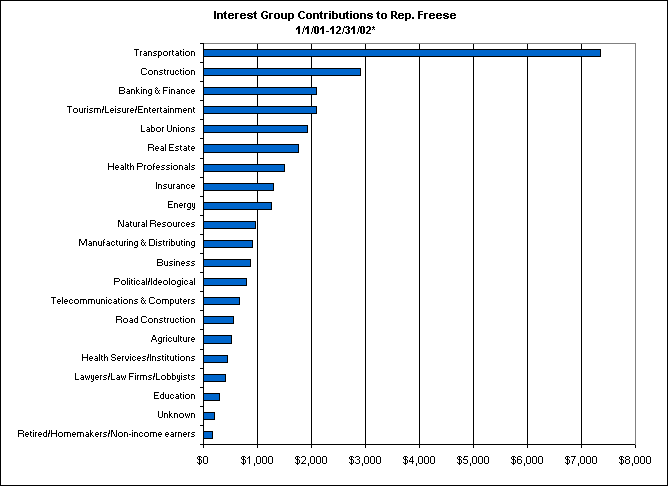 *From individual contributors giving $100 or more per year and all PAC, party and candidate committee contributions.
Who are the top contributors to Rep. Freese?
1/1/93 - 12/31/02
| Contributor | City | Business | Amount |
| --- | --- | --- | --- |
| Kraemer Family | Plain, WI | Kraemer Brothers Construction | $3,550.00 |
| Berg Family | Dodgeville, WI | Quality Liquid Feeds | $2,075.00 |
| Donaldson Family | Beloit, WI | Vivid Inc/House on the Rock | $2,020.00 |
| Rapp, Eric & Irene | Avoca, WI | Cardinal Insulated Glass | $2,000.00 |
| Bussan, Roger | Plain, WI | Dentist | $1,907.00 |
| Virtue, John & Christine | Darlington, WI | Virtue Motors | $1,300.00 |
| Wenger, James | Dodgeville, WI | Wenger Chiropractic Center | $1,300.00 |
| Ballweg, Darlene | Sauk City, WI | Ballweg Chev Olds | $1,240.00 |
| Gollon, David | Dodgeville, WI | Gollon Bait & Fish Farm | $1,200.00 |
| Stewart, Wayne & Lynn | East Dubuque, IL | Stewart Construction | $1,045.00 |
Election Notes • Money Sources • Top Contributors • Big Money • PACs