Updated: July 1, 2003
Rep. Donald Friske (R) Merrill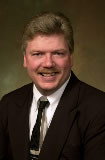 Assembly District 35
Election Notes • Money Sources • Top Contributors • Big Money • PACs
2002 Campaign Finance Summary

* Rep. Friske was first elected in 2000.

* He was unopposed in the primary and faced Democratic opposition in the general election. 

* WI Right to Life PAC ($183) made independent expenditures benefiting Friske. 

Friske
Frederick
Raised
$49,557
Spent
$36,962
Raised 
$9,682
Spent
$9,682
Vote: 66.4%
$2.99/vote
Vote: 33.5%
$1.56/vote
Independent backing:
$183
Independent backing:
$0

Friske's Committee Assignments

2003-2004: Criminal Justice (Vice Chair); Energy and Utilities; Family Law; Forestry (Chair); Improving Wisconsin's Fiscal Management (Co-Chair); Transportation.

2001-2002:  Corrections and the Courts; Energy and Utilities (Vice Chair); Family Law; Rural Affairs and Forestry (Vice Chair); Small Business and Consumer Affairs; Tourism and Recreation.
Where Did the Money Come From?
Cash-on-hand 1/1/01
$1,497
Self
$0
Under $100
$12,772
$100 or more
$27,613
PACS & Parties
$9,172
Other Income
$0
WECF*
$0
*voluntary spending limit system.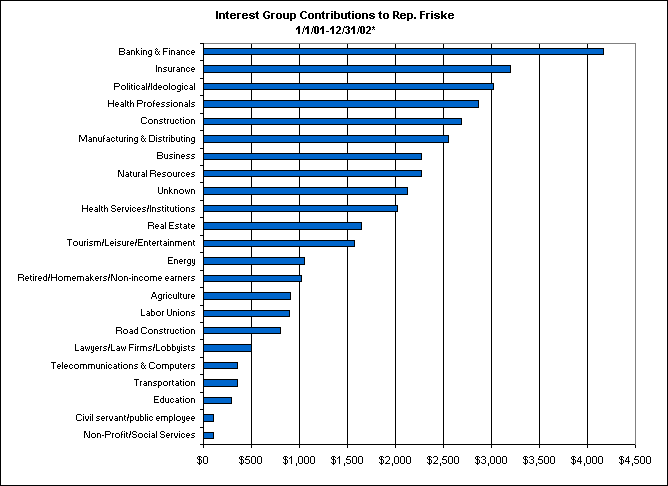 *From individual contributors giving $100 or more per year and all PAC, party and candidate committee contributions.
Who are the top contributors to Rep. Friske?
1/1/00 - 12/31/02
| Contributor | City | Business | Amount |
| --- | --- | --- | --- |
| Volkert, Richard & Nancy | Coloma, WI | Mueller Pipeline | $2,340.00 |
| Nickel, Ted & Dieter | Merrill, WI | Church Mutual Insurance | $1,300.00 |
| Hunter, Michael & Jane | Antigo, WI | Volm Bag Co | $1,200.00 |
| Kohler, Terry & Mary | Sheboygan, WI | Windway Capital | $1,000.00 |
| Orr, San Jr | Wausau, WI | Wausau-Mosinee Paper Corp | $1,000.00 |
| Stauske, Todd & Lynn | West Bend, WI | Davco | $1,000.00 |
| Schoone, Buss & Ruby | Tomahawk, WI | Sacred Heart St Mary's Hospital | $995.00 |
| Friske, Donald & Elizabeth | Merrill, WI | Legislator/Langlade Memorial Hospital | $719.00 |
| Nelson, Paul & Theresa | Tomahawk, WI | Nelson's Supermarket | $700.00 |
| Petrowski, Jerry & Amy | Marathon, WI | Legislator | $672.00 |
Election Notes • Money Sources • Top Contributors • Big Money • PACs