Updated: July 1, 2003
Senator Richard A. Grobschmidt (D) South Milwaukee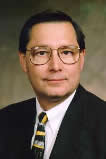 Senate District 7
Election Notes • Money Sources • Top Contributors • Big Money • PACs
2002 Campaign Finance Summary

* Senator Grobschmidt was first elected to the Assembly in 1984 and to the Senate in a November, 1995 special election.

* He was unopposed in the primary and faced Green party opposition in the general election. 

* Milwaukee Police Assn PAC ($428) and WI Nurses PAC ($87) made independent expenditures benefiting Grobschmidt. 

Grobschmidt
Carpenter
Raised
$12,719
Spent
$12,439
Raised 
$1,029
Spent
$675
Vote: 79.1%
$0.36/vote
Vote: 20.3%
$0.08/vote
Independent backing:
$516
Independent backing:
$0

Grobschmidt's Committee Assignments

2003-2004: Resigned to take a position with the Wisconsin Department of Public Instruction.

2001-2002: Education (Chair); Joint Review of Administrative Rules; Review of Administrative Rules (Chair); Insurance, Tourism and Transportation; Universities, Housing and Government Operations; Forward Wisconsin; Joint Legislative Council; Law Revision (Co-Chair); Retirement Research; Joint Survey on Retirement Systems; Standards Development Council; Transportation Projects Commission; PK-16 Leadership Council; DPI Task Force on School Funding; Wisconsin State Fair Park Board.
Where Did the Money Come From?
Cash-on-hand 1/1/99
$9,917
Self
$0
Under $100
$4,620
$100 or more
$3,523
PACS & Parties
$4,575
Other Income
$0
WECF*
$0
*voluntary spending limit system.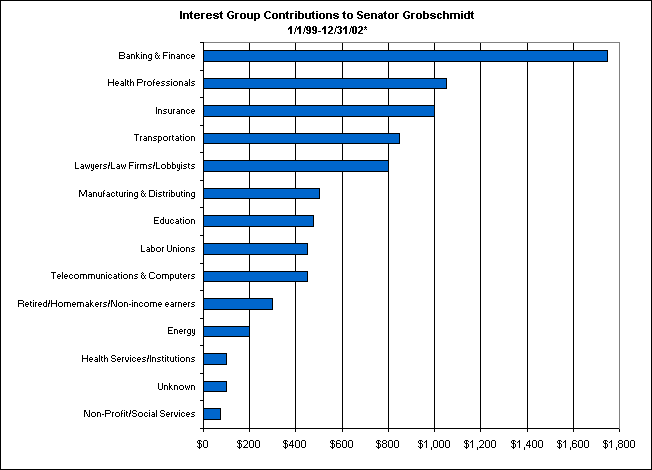 *From individual contributors giving $100 or more per year and all PAC, party and candidate committee contributions.
Who are the top contributors to Senator Grobschmidt?
1/1/93 - 12/31/02
| Contributor | City | Business | Amount |
| --- | --- | --- | --- |
| Grobschmidt, Richard & Barbara | South Milwaukee, WI | Legislator | $13,250.00 |
| Grobschmidt, Chester & Lorraine | South Milwaukee, WI | Retired | $3,100.00 |
| Dinesen, Frits Gordon | South Milwaukee, WI | Dinesen's Leather Only | $1,200.00 |
| Troyer, Arvid & Eunice | South Milwaukee, WI | Retired | $1,200.00 |
| Steren, Jeffery & Jody | Whitefish Bay, WI | McDonald's | $535.00 |
Election Notes • Money Sources • Top Contributors • Big Money • PACs