Updated: July 1, 2003
Rep. Mark Gundrum (R) New Berlin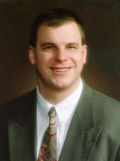 Assembly District 84
Election Notes • Money Sources • Top Contributors • Big Money • PACs
2002 Campaign Finance Summary

* Rep. Gundrum was first elected in 1998.

* He won a two way primary and was unopposed in the general election. 

* WI Right to Life PAC ($205) made independent expenditures benefiting Gundrum.

Gundrum
None
Raised
$98,117
Spent
$116,109
Raised 
$0
Spent
$0
Vote: 99.2%
$7.01/vote
Vote: 0.8%
$0/vote
Independent backing:
$205
Independent backing:
$0

Gundrum's Committee Assignments

2003-2004: Campaigns and Elections (Vice Chair); Criminal Justice; Judiciary (Chair); Review Open Records Law (Co-Chair); State Affairs.

2001-2002: Criminal Justice (Vice Chair); Education Reform; Judiciary (Chair); Law Revision; Small Business and Consumer Affairs.
Where Did the Money Come From?
Cash-on-hand 1/1/01
$43,517
Self
$0
Under $100
$16,572
$100 or more
$65,205
PACS & Parties
$7,527
Other Income
$8,813
WECF*
$0
*voluntary spending limit system.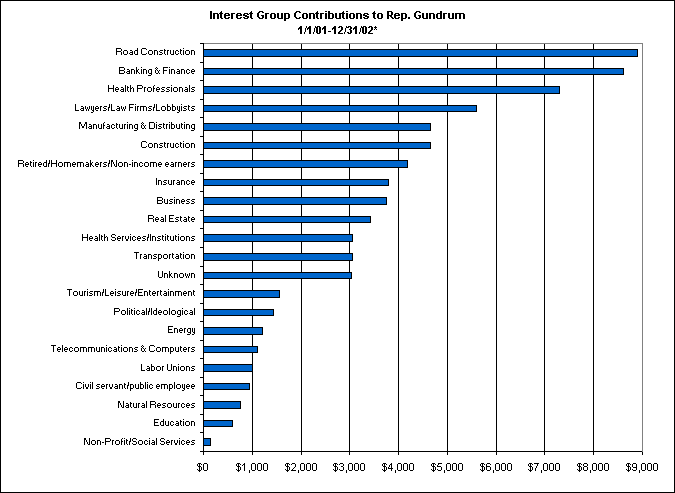 *From individual contributors giving $100 or more per year and all PAC, party and candidate committee contributions.
Who are the top contributors to Rep. Gundrum?
1/1/98 - 12/31/02
| Contributor | City | Business | Amount |
| --- | --- | --- | --- |
| Zignego Family | Helenville, WI | Zignego Co | $20,750.00 |
| Zimmerman, David & Peggy | Franklin, WI | Zimmerman & Associates | $2,350.00 |
| Gunderson, Robert & Nancy | Franklin, WI | General Auto Manufacturing Co | $2,000.00 |
| Bechthold Family | Delafield, WI | Payne & Dolan/Zenith Tech | $1,500.00 |
| Namowicz, Lydia | Greenfield, WI | Retired | $1,350.00 |
| Mitchell, George | Whitefish Bay, WI | Mitchell Group | $1,200.00 |
| Ziegler, Patricia | Oconomowoc, WI | Homemaker | $1,200.00 |
| Franzen, Barry & Raquel | Hales Corners, WI | Dentist | $1,150.00 |
| Taylor, Don & Carol | Waukesha, WI | Waukesha State Bank | $1,150.00 |
| Salick, Scott & Rosemarie | Richfield, WI | Epic Staff Management | $1,100.00 |
Election Notes • Money Sources • Top Contributors • Big Money • PACs