Updated: July 14, 2003
Rep. Eugene Hahn (R) Cambria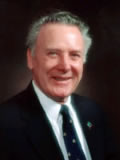 Assembly District 47
Election Notes • Money Sources • Top Contributors • Big Money • PACs
2002 Campaign Finance Summary

* Rep. Hahn was first elected in 1990.

* He was unopposed in the primary and faced Democratic opposition in the general election. 

* WI Builders ($1,500) and WI Right to Life PAC ($183) made independent expenditures benefiting Hahn. WI Nurses PAC ($113) made independent expenditures favoring his opponent.

In the beginning of the year the Metro Milwaukee Assn of Commerce spent undisclosed amounts on "issue ads" favorable to Hahn.

Hahn
Yost
Raised
$41,901
Spent
$36,597
Raised 
$18,240
Spent
$15,761
Vote: 56.6%
$3.30/vote
Vote: 43.3%
$1.86/vote
Independent backing:
$1,683
Independent backing:
$113

Hahn's Committee Assignments

2003-2004: Economic Development; Education; Rural Affairs (Chair); Joint Survey on Tax Exemptions; Transportation; Ways and Means. 

2001-2002: Agriculture (Vice Chair); Education; Joint Survey on Tax Exemptions (Co-Chair); Transportation.
Where Did the Money Come From?
Cash-on-hand 1/1/01
$691
Self
$2,187
Under $100
$13,764
$100 or more
$16,300
PACS & Parties
$8,382
Other Income
$1,268
WECF*
$0
*voluntary spending limit system.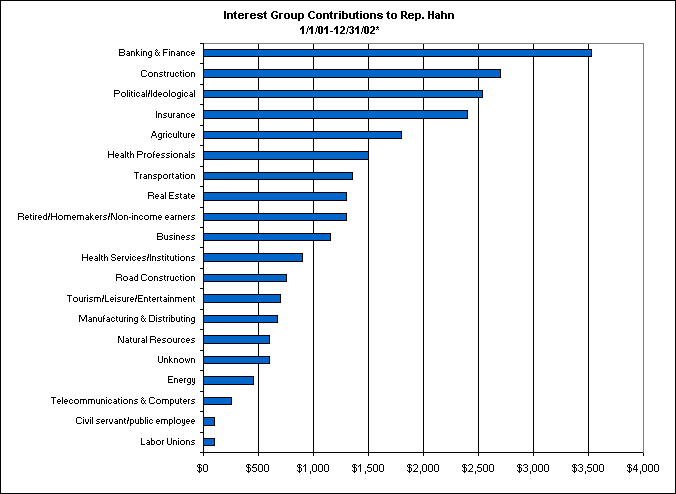 *From individual contributors giving $100 or more per year and all PAC, party and candidate committee contributions.
Who are the top contributors to Rep. Hahn?
1/1/93 - 12/31/02
Contributor
City
Business
Amount
Hahn, Eugene & Lorraine
Cambria, WI
Legislator
$15,746.23
DeYoung Family
Friesland, WI
Adams Transit Inc/
Cupery & DeYoung Storate
$2,550.00
Goetz, James & Ruth
Portage, WI
Petro Portage
$1,550.00
Pritchard, Kenneth & Theresa
Randolph, WI
Farmer
$1,500.00
Kraus, Bruce
Columbus, WI
Physician
$1,400.00
Bakke Family
De Forest, WI
Bakke Chiropractic Clinic
$1,350.00
Moldenhauer, Hattie
Randolph, WI
Farmer
$1,350.00
Hahn, Larry & Sharon
Poynette, WI
DeForest Morrisonville Bank
$1,230.00
Bridwell, George & Vyda
Poynette, WI
Retired
$1,175.00
Election Notes • Money Sources • Top Contributors • Big Money • PACs