Updated: July 14, 2003
Rep. Tom Hebl (D) Sun Prairie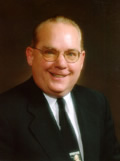 Assembly District 46
Election Notes • Money Sources • Top Contributors • Big Money • PACs
2002 Campaign Finance Summary

* Rep. Hebl was first elected in 1996.

* He was unopposed in the primary and faced Republican opposition in the general election. 

* WI Nurses PAC ($113) made independent expenditures benefiting Hebl. WI Right to Life PAC ($91) made independent expenditures favoring his opponent. 

Hebl
Hutkowski
Raised
$21,163
Spent
$22,311
Raised 
$18,239
Spent
$18,238
Vote: 61.4%
$1.81/vote
Vote: 38.6%
$2.36/vote
Independent backing:
$113
Independent backing:
$91

 Hebl's Committee Assignments

2003-2004: Review of Administrative Rules; Joint Review of Administrative Rules; Agriculture; Judiciary; Transportation; Ways and Means.

2001-2002: Housing; Judiciary; Sate Capitol and Executive Residence Board; Joint Survey on Tax Exemptions; Transportation.
Where Did the Money Come From?
Cash-on-hand 1/1/01
$6,538
Self
$0
Under $100
$7,310
$100 or more
$5,875
PACs & Parties
$1,065
Other Income
$0
WECF*
$6,913
*voluntary spending limit system.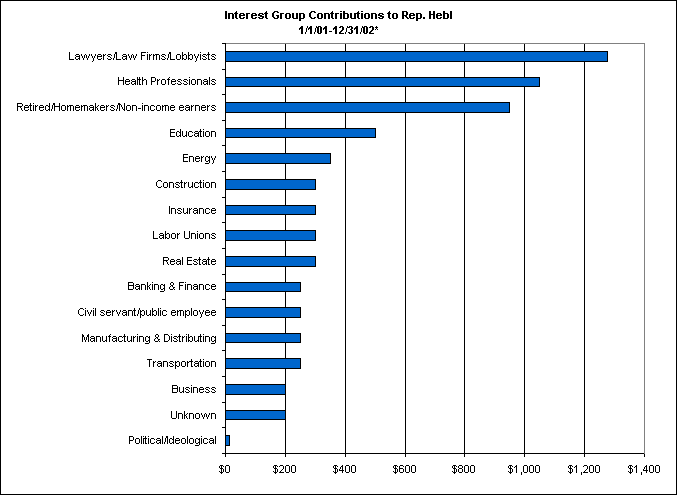 *From individual contributors giving $100 or more per year and all PAC, party and candidate committee contributions.
Who are the top contributors to Rep. Hebl?
1/1/95 - 12/31/02
| Contributor | City | Business | Amount |
| --- | --- | --- | --- |
| Hebl, Tom & Patty | Sun Prairie, WI | Legislator/Vision Care | $5,076.00 |
| Conrad Family | Lake Mills, WI | Sentry Foods/Century 21 Affiliated | $2,840.00 |
| Hebl Family | Sun Prairie, WI | Hebl, Hebl & Ripp/Sun Prairie School District | $2,150.00 |
| Hebl, Frederick & Margaret | Madison, WI | US Postal Service/Dietician | $1,500.00 |
| Rosenburg, John & Lucy | Milwaukee, WI | Telecheck Wisconsin (Retired/Psychiatrist | $1,000.00 |
| Kwok, Charlie & Wai | Sun Prairie, WI | Chang Jiang | $950.00 |
| Dunn, Daniel | Madison, WI | Dunn Law Offices | $850.00 |
| Humphrey, Jean | Sun Prairie, WI | Retired | $650.00 |
| Ostertag, Clarice | Stoughton, WI | Retired | $650.00 |
| Bursaw, Harold & Carol | Sun Prairie, WI | Commonwealth Credit Union/Librarian | $550.00 |
| Hissom, Russell | Sun Prairie, WI | Virchow, Krause & Co | $550.00 |
Election Notes • Money Sources • Top Contributors • Big Money • PACs