Updated: July 14, 2003
Rep. Mary Hubler (D) Rice Lake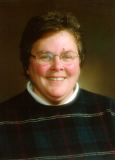 Assembly District 75
Election Notes • Money Sources • Top Contributors • Big Money • PACs
2002 Campaign Finance Summary

* Rep. Hubler was first elected in 1984.

* She was unopposed in the primary and faced Republican opposition in the general election. 

* WI Nurses PAC ($6) made independent expenditures benefiting Hubler. WI Right to Life PAC ($91) made independent expenditures favoring her opponent. 

Hubler
Seefluth
Raised
$16,906
Spent
$22,275
Raised 
$10,205
Spent
$9,762
Vote: 69.3%
$1.83/vote
Vote: 30.7%
$1.82/vote
Independent backing:
$6
Independent backing:
$91

Hubler's Committee Assignments

2003-2004: Forestry; Joint Survey on Retirement Systems; Rural Development; Joint Survey on Tax Exemptions; Veterans and Military Affairs.

2001-2002: Agriculture; Rural Affairs and Forestry; Small Business and Consumer Affairs; Veterans and Military Affairs.
Where Did the Money Come From?
Cash-on-hand 1/1/01
$14,626
Self
$0
Under $100
$4,880
$100 or more
$2,050
PACS & Parties
$1,538
Other Income
$1,425
WECF*
$7,013
*voluntary spending limit system.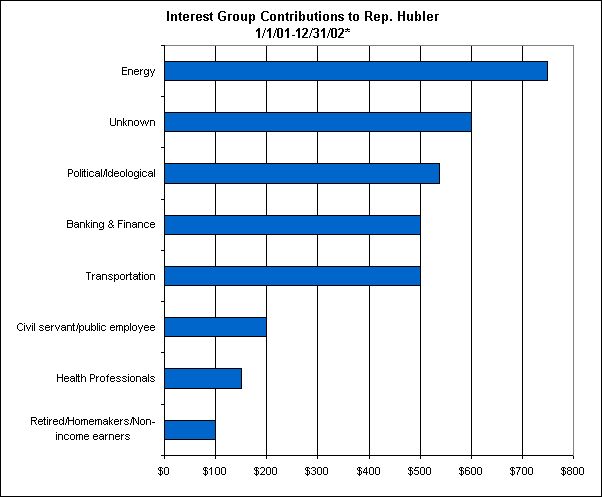 *From individual contributors giving $100 or more per year and all PAC, party and candidate committee contributions.
Who are the top contributors to Rep. Hubler?
1/1/93 - 12/31/02
| Contributor | City | Business | Amount |
| --- | --- | --- | --- |
| Hubler, Tom & Diane | Rhinelander, WI | No Employer Listed | $1,800.00 |
| Herold, Ethel | Rice Lake, WI | Beer distributor | $1,220.00 |
| Weber, Jim & Bill | Rice Lake, WI | Weber Chiropractic | $685.00 |
| Doyle, Tom | Rice Lake, WI | Best Western | $600.00 |
| Logelin, Joel | Barron, WI | Barron Chiropractic | $550.00 |
| Jerzak, Jane | Oneida, WI | Wipfli, Ullrich, Bertelson | $500.00 |
| Kutrieb, Wulfgang & Marianne | Chetek, WI | Turbine Technologies | $500.00 |
Election Notes • Money Sources • Top Contributors • Big Money • PACs