Updated: July 14, 2003
Rep. Jean L. Hundertmark (R) Clintonville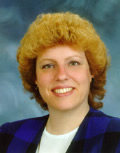 Assembly District 40
Election Notes • Money Sources • Top Contributors • Big Money • PACs
2002 Campaign Finance Summary

* Rep. Hundertmark was first elected in 1998.

* She won a two way primary and was unopposed in the general election. 

* WI Right to Life PAC ($205) made independent expenditures benefiting Hundertmark. 

Hundertmark
None
Raised
$23,740
Spent
$23,772
Raised 
$0
Spent
$0
Vote: 99.3%
$1.96/vote
Vote: 0.7%
$0/vote
Independent backing:
$205
Independent backing:
$0

Hundertmark's Committee Assignments

2003-2004: Aging and Long-Term Care (Chair); Assembly Organization; Education; Health; Labor; Joint Legislative Organization; Rules; Veterans and Military Affairs.

2001-2002: Aging and Long-Term Care; Education; Labor and Workforce Development (Chair); Tax and Spending Limitations; Veterans and Military Affairs (Vice Chair).
Where Did the Money Come From?
Cash-on-hand 1/1/01
$14,341
Self
$0
Under $100
$6,882
$100 or more
$11,375
PACS & Parties
$5,483
Other Income
$0
WECF*
$0
*voluntary spending limit system.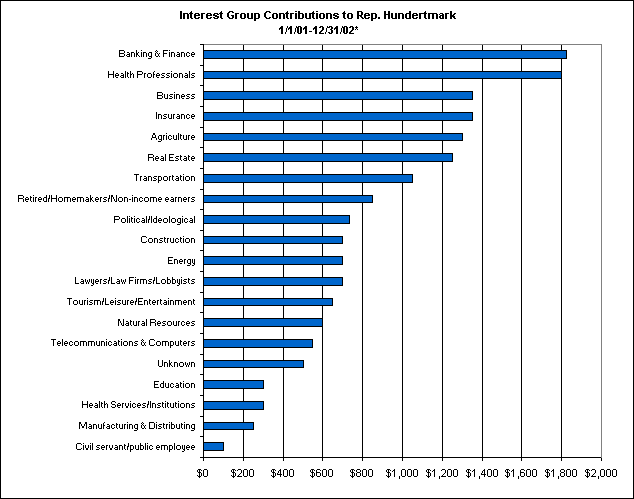 *From individual contributors giving $100 or more per year and all PAC, party and candidate committee contributions.
Who are the top contributors to Rep. Hundertmark?
1/1/95 - 12/31/02
| Contributor | City | Business | Amount |
| --- | --- | --- | --- |
| Hundertmark, Jean | Clintonville, WI | Legislator | $13,656.00 |
| Sturm Family | Manawa, WI | Sturm & Sons | $4,300.00 |
| Simpson, Vincent & Elizabeth | Clintonville, WI | Marion Body Works | $1,485.00 |
| Beil, Richard & Barbara | Marion, WI | Rhodes & Beil Funeral Home | $1,450.00 |
| Neuville, Tim & Joy | Waupaca, WI | Neuville Motors | $1,400.00 |
| Squires, Robert | Manawa, WI | Manawa Telephone Co | $1,175.00 |
| Mishler, Clifford & Sally | Iola, WI | Krause Publications | $1,100.00 |
| Anthony, Victor Jr & Christine | Waupaca, WI | Anthony Farms | $1,000.00 |
| Krause, Chester | Iola, WI | Krause Publications | $1,000.00 |
| Lane, Jean | Waupaca, WI | ABC Computers | $900.00 |
Election Notes • Money Sources • Top Contributors • Big Money • PACs