Updated: July 11, 2003
Senator Robert Jauch (D) Poplar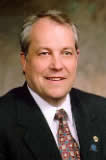 Senate District 25
Election Notes • Money Sources • Top Contributors • Big Money • PACs
2002 Campaign Finance Summary

* Senator Jauch was first elected to the Assembly in 1982 and to the Senate in 1986.

* He was unopposed in the primary and faced Republican opposition in the general election. 

* Northern WI Building Trades ($13) made independent expenditures benefiting Jauch. 

Jauch
Condon
Raised
$35,849
Spent
$30,066
Raised 
$12,407
Spent
$10,231
Vote: 62.1%
$0.88/vote
Vote: 37.9%
$0.49/vote
Independent backing:
$13
Independent backing:
$0

Jauch's Committee Assignments

2003-2004: Education, Ethics and Elections; Health, Children, Families, Aging and Long-Term Care; Improving Wisconsin's Fiscal Management (Co-Chair); Information Technology Management Board.

2001-2002: Joint Information Policy and Technology (Co-Chair); Biennial Budget (Chair); Economic Development and Corrections (Chair); Education; Privacy, Electronic Commerce and Financial Institutions; Legislative Advisor Minnesota-Wisconsin Boundary Area Commission.
Where Did the Money Come From?
Cash-on-hand 1/1/99
$32,508
Self
$0
Under $100
$5,024
$100 or more
$15,750
PACS & Parties
$2,800
Other Income
$343
WECF*
$11,932
*voluntary spending limit system.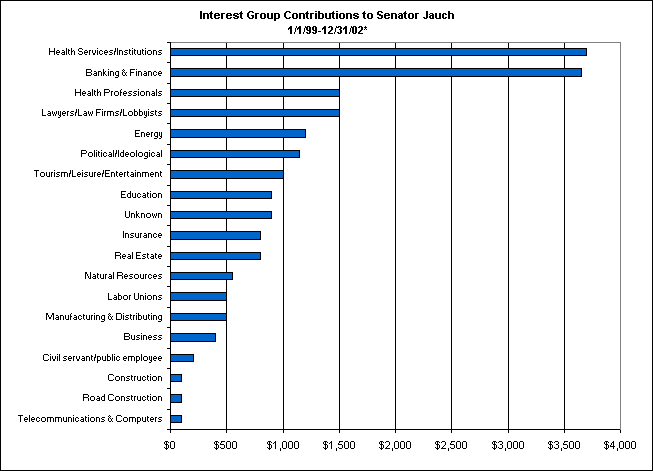 *From individual contributors giving $100 or more per year and all PAC, party and candidate committee contributions.
Who are the top contributors to Senator Jauch?
1/1/93 - 12/31/02
| Contributor | City | Business | Amount |
| --- | --- | --- | --- |
| Kutz, Lawrence | Hurley, WI | Avanti Health Care Systems | $1,200.00 |
| Cochrane, Dennis | Superior, WI | Marcovich, Cochrane, et al | $1,100.00 |
| Bechdolt, Janice | Ashland, WI | Anesthesia North | $1,000.00 |
| Fox, Herb Jr & Lanatter | El Dorado, AR | Murphy Oil/Teacher | $1,000.00 |
| Kimmes, Joseph | Superior, WI | Kimmes Oil Co | $1,000.00 |
| Amatuzio, Albert & Alan | Duluth, MN | AMSOIL Inc | $900.00 |
| Wood, Kennan & James | Madison, WI | Wood Communications Group | $850.00 |
| Jacobson, Terry | Superior, WI | St Mary's Hospital | $700.00 |
| Habush, Robert | Milwaukee, WI | Habush, Habush, et al | $650.00 |
| Hanson, Thomas | Madison, WI | Hanson Service Corp | $650.00 |
Election Notes • Money Sources • Top Contributors • Big Money • PACs