Updated: July 14, 2003
Rep. Scott R. Jensen (R) Waukesha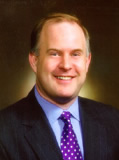 Assembly District 98
Election Notes • Money Sources • Top Contributors • Big Money • PACs
2002 Campaign Finance Summary

* Rep. Jensen was first elected in a January 1992 special election.

* He was unopposed in the primary and faced Libertarian and Independent opposition in the general election. 

* WI Right to Life PAC ($91) made independent expenditures benefiting Jensen.

Jensen
Collison
Raised
$311,811
Spent
$344,238
Raised 
$320
Spent
$1,107
Vote: 82.6%
$21.70/vote
Vote: 9.9%
$0.58/vote
Independent backing:
$91
Independent backing:
$0

Jensen's Committee Assignments

2003-2004: Education Reform (Chair); Energy and Utilities (Chair); Family Law.

2001-2002: Assembly Organization (Chair); Disability Board; Joint Employment Relations (Co-Chair); Joint Legislative Council; Joint Legislative Organization (Co-Chair); Retirement Research; Rules (Vice Chair).
Where Did the Money Come From?
Cash-on-hand 1/1/01
$313,772
Self
$0
Under $100
$39,883
$100 or more
$245,001
PACS & Parties
$7,807
Other Income
$19,121
WECF*
$0
*voluntary spending limit system.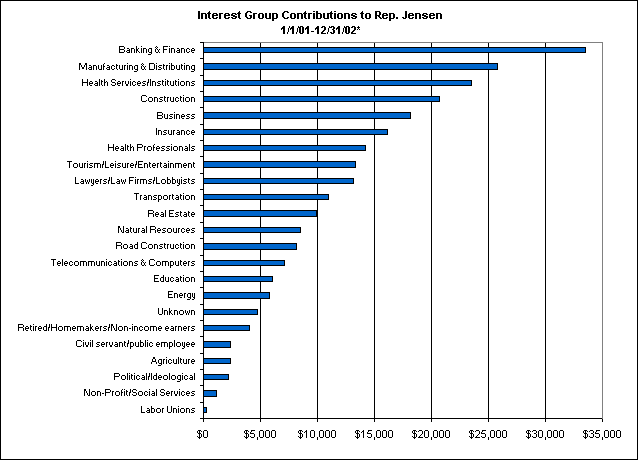 *From individual contributors giving $100 or more per year and all PAC, party and candidate committee contributions.
Who are the top contributors to Rep. Jensen?
1/1/93 - 12/31/02
Contributor
City
Business
Amount
Sadoff Family
Fond du Lac, WI
Badger Liquor
$4,975.00
Mitchell, George & Susan
Whitefish Bay, WI
Mitchell Group/
American Education Reform Council
$3,350.00
Cullen Family
Franklin, WI
JP Cullen & Sons
$3,125.00
Madrigrano, Aldo & Thomas
Waukesha, WI
WOW Distributing
$3,125.00
Bechthold Family
Delafield, WI
Payne & Dolan/Zenith Tech
$3,029.00
Wanek Family
Arcadia, WI
Ashley Furniture Industries
$3,000.00
Rambo, Larry & Kathi
Oconomowoc, WI
Humana/Employers Health
$2,624.00
Wigdale, James & Elizabeth
Milwaukee, WI
M&I Bank
$2,600.00
Davis Family
Cincinnati, OH
Check N Go
$2,527.00
Alevizos Family
Brookfield, WI
Capitol-Husting Wholesale Liquor
$2,525.00
Election Notes • Money Sources • Top Contributors • Big Money • PACs