Updated: July 1, 2003
Senator Theodore J. Kanavas (R) Brookfield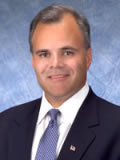 Senate District 33
Election Notes • Money Sources • Top Contributors • Big Money • PACs
2002 Campaign Finance Summary

* Senator Kanavas was first elected to the Senate in a July 2001 special election.

* He was unopposed in the primary and general elections.

* WI Right to Life PAC ($91) made independent expenditures benefiting Kanavas. 

Kanavas
None
Raised
$74,678
Spent
$67,442
Raised 
$0
Spent
$0
Vote: 99.5%
$1.51/vote
Vote: 0.5%
$0/vote
Independent backing:
$91
Independent backing:
$0

Kanavas' Committee Assignments

2003-2004: Finance; Joint Finance; Health, Children, Families and Long-Term Care; Council on Highway Safety; Public and Private Broadband;  State Fair Park Board; Transportation and Information Infrastructure.

2001-2002: Education; Human Services and Aging; Privacy, Electronic Commerce and Financial Institutions.
Where Did the Money Come From?
Cash-on-hand 8/2/01
$2,651
Self
$0
Under $100
$5,004
$100 or more
$55,440
PACS & Parties
$14,234
Other Income
$0
WECF*
$0
*voluntary spending limit system.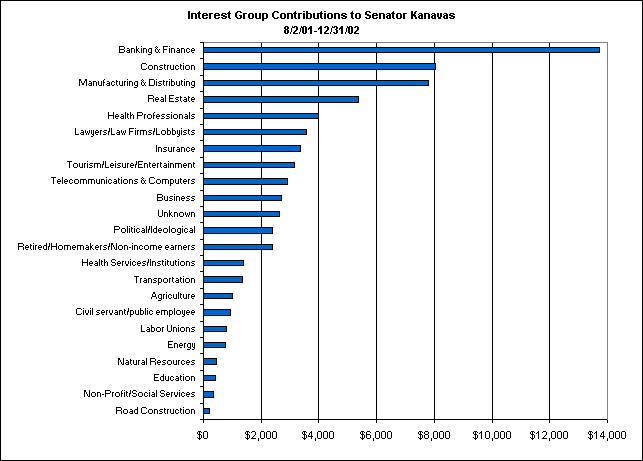 *From individual contributors giving $100 or more per year and all PAC, party and candidate committee contributions.
Who are the top contributors to Senator Kanavas?
1/1/01- 12/31/02
| Contributor | City | Business | Amount |
| --- | --- | --- | --- |
| Kanavas, Theodore | Brookfield, WI | Legislator/MindArrow Systems | $26,000.00 |
| Alevizos, Greg & James | Brookfield, WI | Capitol-Husting Wholesale Liquor | $3,000.00 |
| Raysich, David & Patricia | Brookfield, WI | Plunkett Raysich Architect | $2,125.00 |
| Kanavas, Nicholas & Minerva | Brookfield, WI | Mass Mutual | $2,000.00 |
| Taylor, Don & Carol | Waukesha, WI | Waukesha State Bank | $2,000.00 |
| Halloran, Paul & Christine | Western Springs, IL | Near North Insurance Brokerage Inc | $1,500.00 |
| Potos, Andrew | Belgium, WI | Blue Cross & Blue Shield | $1,500.00 |
| David, Curt | Brookfield, WI | IT Management Corp | $1,445.00 |
| McCabe, Bernard & Christy | Mukwonago, WI | PCC Professional Control Corp | $1,300.00 |
| Demakopoulos, Penelope | Elm Grove, WI | Penelope's Restaurant | $1,200.00 |
Election Notes • Money Sources • Top Contributors • Big Money • PACs