Updated: July 14, 2003
Senator Neal Kedzie (R) Elkhorn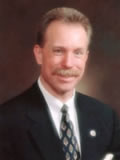 Senate District 11
Election Notes • Money Sources • Top Contributors • Big Money • PACs
2002 Campaign Finance Summary

* Senator Kedzie was first elected to the Assembly in 1996 and to the Senate in 2002.

He won a three way primary and faced Democratic opposition in the general election. 

* Volunteers for Agriculture ($6,859) and WI Right to Life PAC ($296) made independent expenditures benefiting Kedzie. WI Nurses PAC ($38) made independent expenditures favoring his opponent. 

Kedzie
Woods
Raised
$88,573
Spent
$84,605
Raised 
$16,179
Spent
$15,109
Vote: 69.1%
$2.31/vote
Vote: 30.8%
$0.93/vote
Independent backing:
$7,155
Independent backing:
$38

Kedzie's Committee Assignments

2003-2004: Agriculture, Financial Institutions and Insurance; Environment and Natural Resources (Chair); Environmental Education Board; Labor, Small Business Development and Consumer Affairs; Transportation and Information Infrastructure.

2001-2002 Assembly: Aging and Long-Term Care; Environment (Chair); Environmental Education Board; Financial Institutions; Natural Resources; Joint Tax Exemptions.
Where Did the Money Come From?
Cash on hand 1/1/01
$21,492
Self
$0
Under $100
$9,387
$100 or more
$61,247
PACS & Parties
$16,805
Other Income
$1,135
WECF*
$0
*voluntary spending limit system.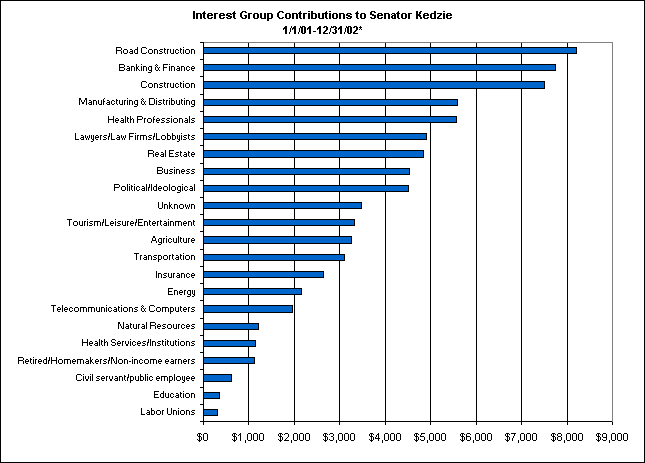 *From individual contributors giving $100 or more per year and all PAC, party and candidate committee contributions.
Who are the top contributors to Senator Kedzie?
1/1/96 - 12/31/02
| Contributor | City | Business | Amount |
| --- | --- | --- | --- |
| Mann Family | Elkhorn, WI | Mann Brothers Construction | $4,900.00 |
| Kachel, David & Lolita | Whitewater, WI | Wisconsin Dairy Supply | $3,350.00 |
| Zignego Family | Helenville, WI | Zignego Co | $2,750.00 |
| Gilbank Family | Clinton, WI | Gilbank Construction Inc | $2,350.00 |
| Wright, Robert & Judith | Chicago, IL | Psychiatrist/Consultant | $2,300.00 |
| Borden, J Michael | Delavan, WI | Hufcor Inc | $2,000.00 |
| Clair Family | Delavan, WI | Clair Law Offices | $1,900.00 |
| Amon Family | Elkhorn, WI | Amon & Sons Inc | $1,750.00 |
| Kennedy, Stephen & William | Janesville, WI | Rock Road Companies | $1,500.00 |
| Erskine, Wesley | Elkhorn, WI | Erskine Construction | $1,350.00 |
Election Notes • Money Sources • Top Contributors • Big Money • PACs