Updated: July 1, 2003
Rep. Samantha Kerkman (R) Powers Lake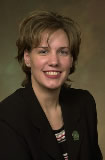 Assembly District 66
Election Notes • Money Sources • Top Contributors • Big Money • PACs
2002 Campaign Finance Summary

* Rep. Kerkman was first elected in 2000.

* She was unopposed in the primary and general elections.

* WI Right to Life PAC ($91) made independent expenditures benefiting Kerkman. 

Kerkman
None
Raised
$23,036
Spent
$11,111
Raised 
$0
Spent
$0
Vote: 99.1%
$0.94/vote
Vote: 0.9%
$0/vote
Independent backing:
$91
Independent backing:
$0

Kerkman's Committee Assignments

2003-2004: Audit; Joint Audit; Budget Review (Chair); Financial Institutions; Judiciary; Review of Fireworks Law; Ways and Means.

2001-2002: Audit (Vice Chair); Joint Audit; Financial Institutions; Government Operations; Judiciary; Urban and Local Affairs (Vice Chair); Ways and Means.
Where Did the Money Come From?
Cash-on-hand 1/1/01
$2,364
Self
$0
Under $100
$5,186
$100 or more
$12,800
PACS & Parties
$5,050
Other Income
$0
WECF*
$0
*voluntary spending limit system.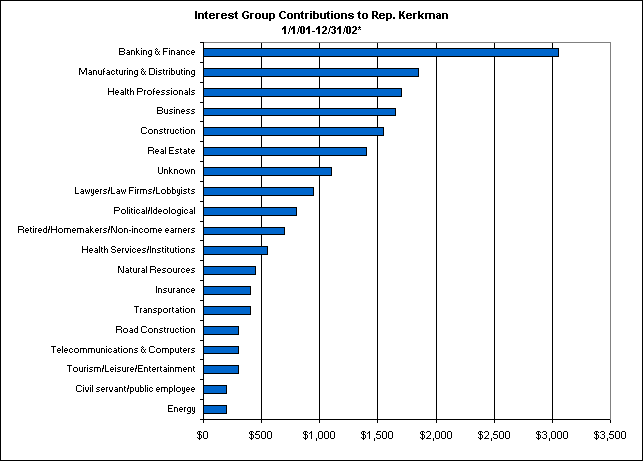 *From individual contributors giving $100 or more per year and all PAC, party and candidate committee contributions.
Who are the top contributors to Rep. Kerkman?
1/1/00 - 12/31/02
| Contributor | City | Business | Amount |
| --- | --- | --- | --- |
| Kerkman, Samantha & Starzyk Family | Powers Lake, WI | Legislator/Country Home Center | $1,600.00 |
| Nieth, Carl & Alice | West Allis, WI | Retired | $1,100.00 |
| Gardiner, Susanne | Bristol, WI | Trans-Chemco Inc | $850.00 |
| Bonifas, Robert | Aurora, IL | Alarm Detection Systems | $800.00 |
| Cape, Christopher | Racine, WI | James Cape & Sons Co | $800.00 |
| Hinterberg, Charles | Twin Lakes, WI | Retired | $600.00 |
| Suder, Scott | Abbotsford, WI | Legislator | $600.00 |
Election Notes • Money Sources • Top Contributors • Big Money • PACs