Updated: July 1, 2003
Rep. James E. Kreuser (D) Kenosha

Assembly District 64
Election Notes • Money Sources • Top Contributors • Big Money • PACs
2002 Campaign Finance Summary

* Rep. Kreuser was first elected in an August 1993 special election.

* He was unopposed in the primary and general elections.

* WI Nurses PAC ($58) made independent expenditures benefiting Kreuser. 

Kreuser
None
Raised
$46,198
Spent
$34,460
Raised 
$0
Spent
$0
Vote: 100%
$3.96/vote
Vote: 0%
$0/vote
Independent backing:
$58
Independent backing:
$0

Kreuser's Committee Assignments

2003-2004: Assembly Organization; Employment Relations; Joint Employment Relations; Joint Legislative Council; Joint Legislative Organization; Rules.

2001-2002: Review of Administrative Rules; Joint Review of Administrative Rules; Audit; Joint Audit; Financial Institutions; Information Policy and Technology; Veterans and Military Affairs.
Where Did the Money Come From?
Cash-on-hand 1/1/01
$44,084
Self
$0
Under $100
$12,347
$100 or more
$21,923
PACS & Parties
$9,220
Other Income
$2,708
WECF*
$0
*voluntary spending limit system.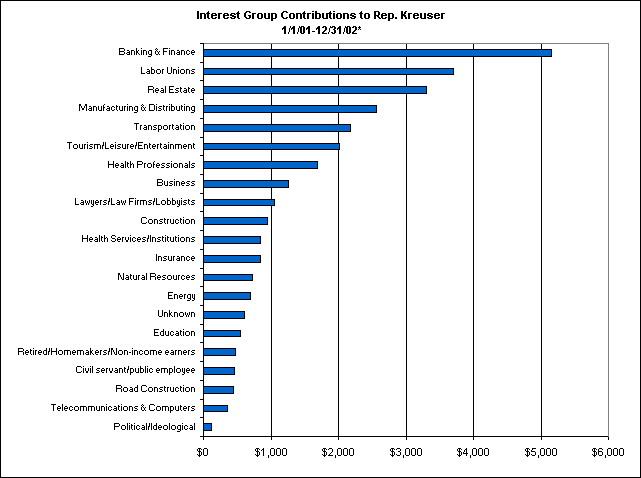 *From individual contributors giving $100 or more per year and all PAC, party and candidate committee contributions.
Who are the top contributors to Rep. Kreuser?
1/1/93 - 12/31/02
Contributor
City
Business
Amount
Madrigrano Family
Kenosha, WI
CJW Distributors
$2,420.00
Mills, Steve & Martha
Salem, WI
Bear Realty
$2,230.00
Madrigrano, Joseph & Kathy
Kenosha, WI
Madrigrano, Zievers et al
$1,950.00
Kreuser, Harold & LaVerne
Kenosha, WI
Retired
$1,675.00
Ciccihini, Attilio & Tim
Kenosha, WI
Dairyland Greyhound Park/
Cicchini Asphalt Paving Inc
$1,550.00
Thompson, Michael
Kenosha, WI
Family Foot Clinics of Wisconsin
$1,550.00
Celebre, Mark & Debra
Kenosha, WI
Roeschan's Pharmacy
$1,540.00
Deaton, W Craig
Kenosha, WI
Gateway Mortgage
$1,450.00
Tirabassi, Domenick Jr
Kenosha, WI
Dairyland Greyhound Park/
Precision Erecting Co
$1,300.00
Edenhofer, Carl & Karen
Salem, WI
Joling, Edenhofer & Assoc
$1,250.00
Election Notes • Money Sources • Top Contributors • Big Money • PACs