Updated: July 14, 2003
Rep. Shirley Krug (D) Milwaukee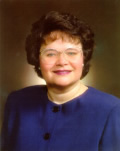 Assembly District 12
Election Notes • Money Sources • Top Contributors • Big Money • PACs
2002 Campaign Finance Summary

* Rep. Krug was first elected in 1984.

* She was unopposed in the primary and faced Republican opposition in the general election.

* WI Nurses PAC ($87) made independent expenditures benefiting Krug. WI Right to Life PAC ($91) made independent expenditures favoring her opponent. 

Krug
Campbell
Raised
$17,512
Spent
$45,169
Raised 
$16,476
Spent
$13,274
Vote: 66.4%
$4.73/vote
Vote: 33.5%
$2.76/vote
Independent backing:
$87
Independent backing:
$91

Krug's Committee Assignments

2003-2004: Children and Families; Education; Energy and Utilities; Health; Relative Caregivers.

2001-2002: Assembly Organization; Disability Board; Joint Employment Relations; Joint Legislative Council; Joint Legislative Organization; Rules.
Where Did the Money Come From?
Cash-on-hand 1/1/01
$82,454
Self
$0
Under $100
$2,020
$100 or more
$2,800
PACS & Parties
$8,183
Other Income
$4,509
WECF*
$0
*voluntary spending limit system.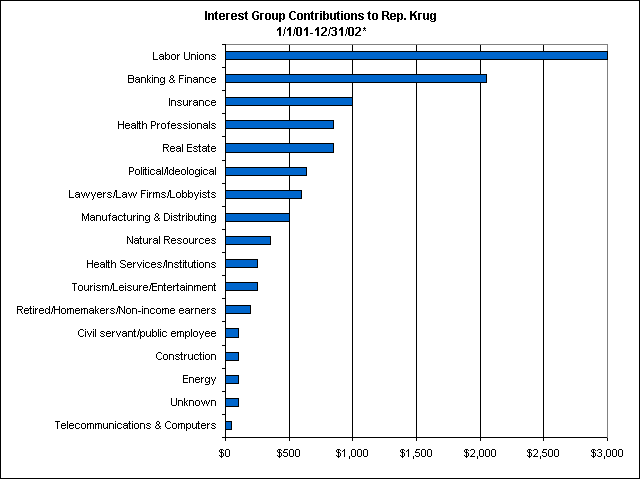 *From individual contributors giving $100 or more per year and all PAC, party and candidate committee contributions.
Who are the top contributors to Rep. Krug?
1/1/93 - 12/31/02
| Contributor | City | Business | Amount |
| --- | --- | --- | --- |
| Habush, Robert | Milwaukee, WI | Habush, Habush, et al | $1,600.00 |
| Grunau, Gary | Milwaukee, WI | Grunau Corp | $1,200.00 |
| Marcus, Stephen | Milwaukee, WI | Marcus Corp | $1,200.00 |
| Abdoo, Richard | Mequon, WI | Wisconsin Electric | $950.00 |
| Dirksen, Roger | Mequon, WI | Milwaukee Western Bank | $700.00 |
| Katzman Family | Franklin, WI | Katzman Consulting | $700.00 |
| Mitchell, George | Whitefish Bay, WI | Mitchell Group | $700.00 |
| Ritz, Esther Leah | Milwaukee, WI | Retired | $650.00 |
Election Notes • Money Sources • Top Contributors • Big Money • PACs