Updated: July 1, 2003
Rep. Bonnie L. Ladwig (R) Racine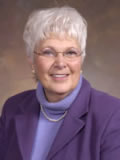 Assembly District 63
Election Notes • Money Sources • Top Contributors • Big Money • PACs
2002 Campaign Finance Summary

* Rep. Ladwig was first elected in 1992.

* She was unopposed in the primary and general elections.

* WI Right to Life PAC ($91) made independent expenditures benefiting Ladwig.

Ladwig
None
Raised
$45,517
Spent
$46,046
Raised 
$0
Spent
$0
Vote: 99.2%
$3.06/vote
Vote: 0.8%
$0/vote
Independent backing:
$91
Independent backing:
$0

Ladwig's Committee Assignments

2003-2004: Aging and Long-Term Care; Children and Families (Vice Chair); Insurance (Chair); Tourism.

2001-2002: Assembly Organization; Campaigns and Elections (Vice Chair); Census and Redistricting (Chair); Joint Legislative Organization; Joint Survey on Retirement Systems; Rules; Women's Council.
Where Did the Money Come From?
Cash-on-hand 1/1/01
$55,399
Self
$0
Under $100
$14,625
$100 or more
$16,050
PACS & Parties
$7,791
Other Income
$7,052
WECF*
$0
*voluntary spending limit system.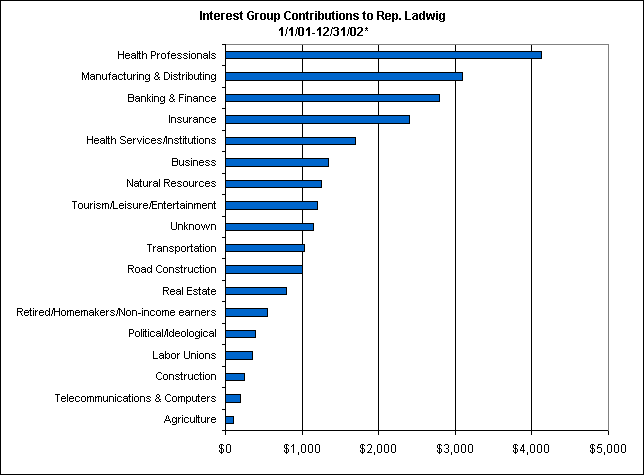 *From individual contributors giving $100 or more per year and all PAC, party and candidate committee contributions.
Who are the top contributors to Rep. Ladwig?
1/1/93 - 12/31/02
| Contributor | City | Business | Amount |
| --- | --- | --- | --- |
| Davies, David & Nancy | Racine, WI | DW Davies & Co/Speech pathologist | $4,800.00 |
| Hatfield Family | Franksville, WI | Racine Radiology | $2,825.00 |
| Johnson Family | Kenosha, WI | Johnson Wax | $2,600.00 |
| Pugh, WH & Helen | Racine, WI | WH Pugh Oil Co | $2,500.00 |
| Cape, William & Chris | Racine, WI | James Cape & Sons Co | $2,250.00 |
| Campbell, Edward J | Racine, WI | Campbell Consulting | $1,825.00 |
| Young, Fred M Jr & Sandra | Racine, WI | Young Radiator/Writer | $1,750.00 |
| Leipold, Craig & Helen Johnson | Racine, WI | Rainfair/Johnson Wax | $1,650.00 |
| Thompson, Michael | Racine, WI | Family Foot Clinics of Wisconsin | $1,650.00 |
| Namowicz, David & Susan | Racine, WI | Warren Industries | $1,300.00 |
Election Notes • Money Sources • Top Contributors • Big Money • PACs