Updated: July 14, 2003
Senator Alan J. Lasee (R) Rockland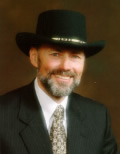 Senate District 1
Election Notes • Money Sources • Top Contributors • Big Money • PACs
2002 Campaign Finance Summary

* Senator Lasee was first elected to the Assembly in 1974 and to the Senate in a May 1977 special election.

 He was unopposed in the primary and faced Democratic opposition in the general election. 

* WI Right to Life PAC ($91) made independent expenditures benefiting Lasee. WI Nurses PAC ($117) made independent expenditures favoring his opponent. 

Lasee
Hilsabeck
Raised
$24,542
Spent
$36,327
Raised 
$19,662
Spent
$18,077
Vote: 63.2%
$1.04/vote
Vote: 36.8%
$0.89/vote
Independent backing:
$91
Independent backing:
$117

Lasee's Committee Assignments

2003-2004: Disability Board; Joint Employment Relations (Co-Chair); Joint Legislative Council (Co-Chair); Joint Legislative Organization (Co-Chair); Senate Organization; Transportation Projects Commission.

2001-2002: Insurance, Tourism, and Transportation; Labor and Agriculture; Organization; Joint Legislative Orgnaization, Transportation Projects Commission.
Where Did the Money Come From?
Cash-on-hand 1/1/99
$22,241
Self
$0
Under $100
$3,300
$100 or more
$9,449
PACS & Parties
$10,401
Other Income
$1,391
WECF*
$0
*voluntary spending limit system.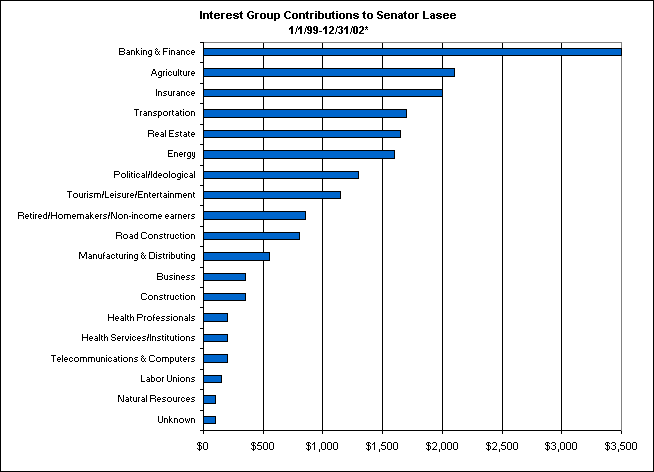 *From individual contributors giving $100 or more per year and all PAC, party and candidate committee contributions.
Who are the top contributors to Senator Lasee?
1/1/93 - 12/31/02
| Contributor | City | Business | Amount |
| --- | --- | --- | --- |
| Kohler, Terry & Mary | Sheboygan, WI | Windway Capital/Vollrath Co | $2,000.00 |
| Barry, William E & Mrs | Brookfield, WI | Combined Technologies | $1,000.00 |
| Callan, James & Mrs | Whitefish Bay, WI | James Callan Inc | $1,000.00 |
| Derse, James F | Elm Grove, WI | Derse Outdoor Activities | $1,000.00 |
| Hedberg, Don & Geraldine | Janesville, WI | Lab Safety Supply Co | $1,000.00 |
| Ots, Max & Climena | De Pere, WI | Physician | $1,000.00 |
| Johnson Family | Sister Bay, WI | Al Johnson's Swedish Restaurant | $900.00 |
| Maples, Michael J & Mary G | Manitowoc, WI | Vinton Construction Co | $900.00 |
| Micke, Ron & Bonnie | De Pere, WI | Gold Dust Dairy | $700.00 |
| Richter, Arni & Mary | Washington Island, WI | Washington Island Ferry Line | $700.00 |
Election Notes • Money Sources • Top Contributors • Big Money • PACs