Updated: July 1, 2003
Rep. Frank G. Lasee (R) Bellevue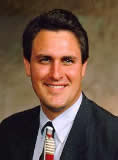 Assembly District 2
Election Notes • Money Sources • Top Contributors • Big Money • PACs
2002 Campaign Finance Summary

* Rep. Lasee was first elected in 1994.

* He was unopposed in the primary and faced Democratic opposition in the general election. 

* WI Right to Life PAC ($91) made independent expenditures benefiting Lasee. 

Lasee
Katers
Raised
$41,821
Spent
$35,816
Raised 
$8,380
Spent
$5,732
Vote: 62.5%
$3.28/vote
Vote: 37.4%
$0.88/vote
Independent backing:
$91
Independent backing:
$0

Lasee's Committee Assignments

2003-2004: Corrections and the Courts; Criminal Justice; Government Operations and Spending Limitations (Chair); Insurance; Ways and Means.

2001-2002: Criminal Justice; Health; Insurance; Tax and Spending Limitations (Chair); Ways and Means.
Where Did the Money Come From?
Cash-on-hand 1/1/01
$16,118
Self
$0
Under $100
$12,466
$100 or more
$21,322
PACS & Parties
$350
Other Income
$21
WECF*
$7,663
*voluntary spending limit system.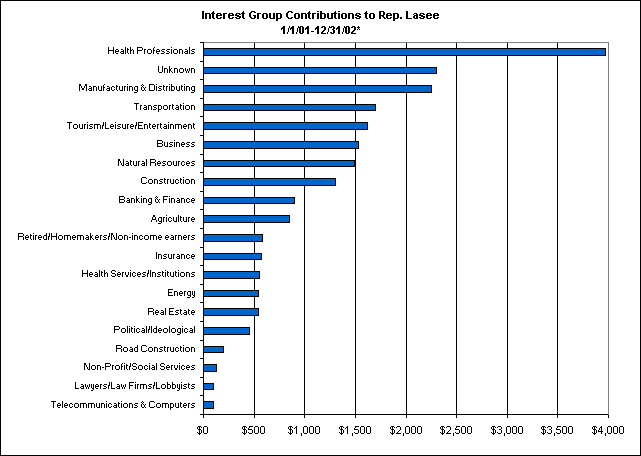 *From individual contributors giving $100 or more per year and all PAC, party and candidate committee contributions.
Who are the top contributors to Rep. Lasee?
1/1/94 - 12/31/02
| Contributor | City | Business | Amount |
| --- | --- | --- | --- |
| Lasee, Frank | Ledgeview, WI | Legislator | $4,179.00 |
| Le Clair Family | Two Rivers, WI | Susie Q Fish Market | $2,075.00 |
| Garot, Keith & Susan | De Pere, WI | River City Realty | $1,570.00 |
| Gamerdinger, Matt & Linda | Green Bay, WI | West Mason Auto Sales | $1,350.00 |
| Resch, Richard | De Pere, WI | Krueger International | $1,150.00 |
| Kachel, David | Whitewater, WI | Wisconsin Dairy Supply | $1,125.00 |
| Butz, John & Janice | De Pere, WI | Butz Towel | $1,050.00 |
| Krull, Gary & Diane | Green Bay, WI | Country Express | $1,035.00 |
| Lavey, Thomas & Barbara | Two Rivers, WI | Lakeland Outdoor Advertising | $990.00 |
| Conrardy, James | Green Bay, WI | Park-West Pediatric Dental Assoc Ltd | $900.00 |
Election Notes • Money Sources • Top Contributors • Big Money • PACs