Updated: April 8, 2004
Senator Joseph Leibham (R) Sheboygan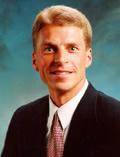 Senate District 9
Election Notes • Money Sources • Top Contributors • Big Money • PACs
2002 Campaign Finance Summary

* Senator Leibham was first elected to the Assembly in 1998 and to the Senate in 2002.

* He was unopposed in the primary and faced a Democratic incumbent in the general election. 

* Volunteers for Agriculture ($29,934) and WI Right to Life PAC ($183) made independent expenditures benefiting Leibham. Kettle Moraine Uniserv Co ($16,816), Sheboygan Education Assn PAC ($270), Sierra Club of Wisconsin ($6,846), WEAC PAC ($174,244), WI League of Conservation Voters ($18,945) and WI Nurses PAC ($117) made independent expenditures favoring his opponent. 

*Coalition for America's Families and Wisconsin Manufacturers and Commerce spent undisclosed amounts on "issue ads" attacking Leibham's opponent. WEAC spent undisclosed amounts on such ads supporting his opponent.

Leibham
Baumgart
Raised
$403,161
Spent
$409,144
Raised 
$147,593
Spent
$146,126
Vote: 50.0%
$14.69/vote
Vote: 49.9%
$5.25/vote
Independent backing:
$30,117
Independent backing:
$217,238

Leibham's Committee Assignments

2003-2004: Review of Administrative Rules (Chair); Joint Review of Administrative Rules (Co-Chair); Educational Communications Board; Energy and Utilities; Rustic Roads Board; State Capitol and Executive Residence Board; Transportation Projects Commission; Transportation and Information Infrastructure (Chair).

2001-2002 Assembly: Audit (Chair); Joint Audit (Co-Chair); Census and Redistricting (Vice Chair); Energy and Utilities; State and Local Finance; Tax and Spending Limitations (Vice Chair); Transportation.
Where Did the Money Come From?
Cash on hand 1/1/01
$11,201
Self
$0
Under $100
$50,735
$100 or more
$290,204
PACS & Parties
$62,107
Other Income
$115
WECF*
$0
*voluntary spending limit system.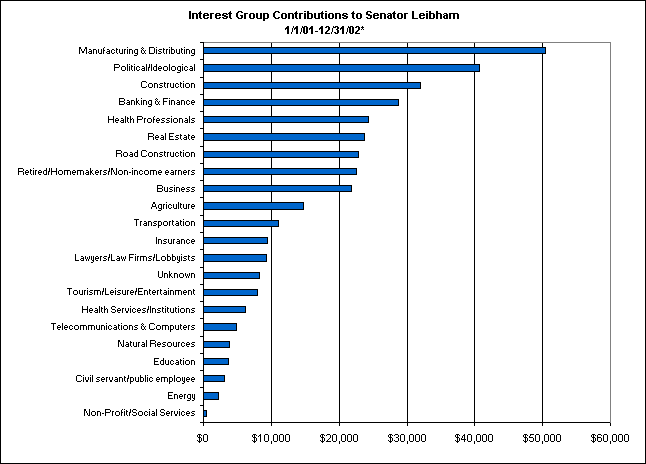 *From individual contributors giving $100 or more per year and all PAC, party and candidate committee contributions.
Who are the top contributors to Senator Leibham?
1/1/98- 12/31/02
| Contributor | City | Business | Amount |
| --- | --- | --- | --- |
| Bechthold Family | Delafield, WI | Payne & Dolan/Zenith Tech | $10,000.00 |
| Gentine Family | Elkhart Lake, WI | Sargento Inc/Dairyland Investors | $7,850.00 |
| Kohler, Terry & Mary | Sheboygan, WI | Windway Capital | $5,625.00 |
| Richardson Family | Oostburg, WI | Richardson Brothers Co | $5,175.00 |
| Stayer Family | Fond du Lac, WI | Johnsonville Foods | $5,100.00 |
| French, Brian & Julie | Sheboygan, WI | French Racing | $4,000.00 |
| Gutschow Family | Sheboygan, WI | Larry's Distributing | $3,697.25 |
| French, James & Joan | Sheboygan, WI | JL French Corp | $3,100.00 |
| Knox, Randall & Carol Ward | Fort Atkinson, WI | WD Hoard & Sons/Morgan & Myers | $3,000.00 |
| Belot, Thomas & Diane | Kohler, WI | Vollrath Co | $2,900.00 |
Election Notes • Money Sources • Top Contributors • Big Money • PACs