Updated: July 14, 2003
Rep. Phil Montgomery (R) Ashwaubenon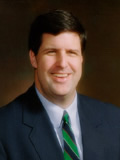 Assembly District 4
Election Notes • Money Sources • Top Contributors • Big Money • PACs
2002 Campaign Finance Summary

* Rep. Montgomery was first elected in 1998.

* He was unopposed in the primary and faced Democratic opposition in the general election. 

* WI Right to Life PAC ($183) made independent expenditures benefiting Montgomery. WI Nurses PAC made independent expenditures ($117) benefiting his opponent. 

Montgomery
Vineburg
Raised
$67,531
Spent
$60,459
Raised 
$22,428
Spent
$20,886
Vote: 62.7%
$5.29/vote
Vote: 37.2%
$3.08/vote
Independent backing:
$183
Independent backing:
$117

Montgomery's Committee Assignments

2003-2004: Electronic Democracy and Government Reform; Energy and Utilities; Financial Institutions (Chair); Health; Public and Private Broadband (Co-Chair).

2001-2002: Financial Institutions (Vice Chair); Information Policy and Technology; Joint Information Policy and Technology; Insurance (Chair); Judiciary; Personal Privacy (Vice Chair).
Where Did the Money Come From?
Cash-on-hand 1/1/01
$4,035
Self
$0
Under $100
$18,718
$100 or more
$40,357
PACS & Parties
$8,437
Other Income
$19
WECF*
$0
*voluntary spending limit system.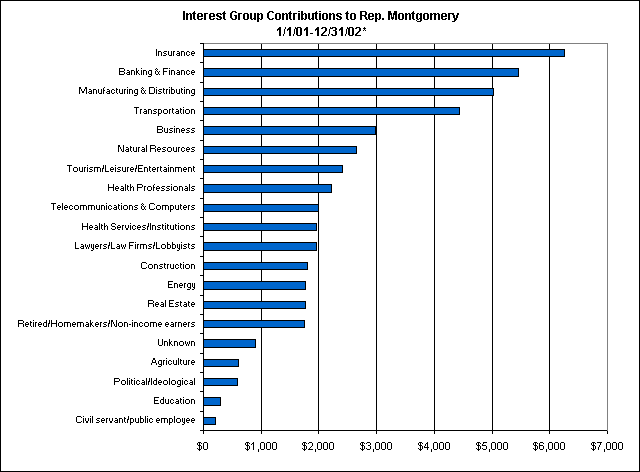 *From individual contributors giving $100 or more per year and all PAC, party and candidate committee contributions.
Who are the top contributors to Rep. Montgomery?
1/1/98 - 12/31/02
| Contributor | City | Business | Amount |
| --- | --- | --- | --- |
| Montgomery, Phil & Lisa | Green Bay, WI | Legislator/EDS | $4,000.00 |
| Long, Donald & Darlene | De Pere, WI | Imperial Inc | $3,000.00 |
| Dahlin, Bernard & Alyce | Green Bay, WI | Nichols Paper Co | $1,900.00 |
| Lenz Family | Green Bay, WI | Gordon Lenz & Associates | $1,675.00 |
| Bush, Robert & Carol | Green Bay, WI | Schreiber Foods Inc | $1,650.00 |
| Van Boxtel, EA & Sue | De Pere, WI | Van Boxtel Ford AMC | $1,650.00 |
| Hendrickson, Philip & Elizabeth | Green Bay, WI | Krueger International (Retired) | $1,640.00 |
| Cuene Family | De Pere, WI | Broadway Chevy/Olds | $1,600.00 |
| Murphy, Patrick & Ann | Green Bay, WI | Murphy Development | $1,550.00 |
| Schierl, Paul & Carol | Green Bay, WI | Attorney/Cornerstone Foundation | $1,550.00 |
Election Notes • Money Sources • Top Contributors • Big Money • PACs