Updated: July 14, 2003
Rep. Terry M. Musser (R) Black River Falls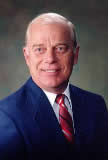 Assembly District 92
Election Notes • Money Sources • Top Contributors • Big Money • PACs
2002 Campaign Finance Summary

* Rep. Musser was first elected in 1984.

* He was unopposed in the primary and faced Democratic opposition in the general election. 

* WI Right to Life PAC ($91) made independent expenditures benefiting Musser. WI Nurses PAC ($84) made independent expenditures favoring his opponent. 

Musser
Taft
Raised
$23,380
Spent
$26,203
Raised 
$15,737
Spent
$15,737
Vote: 59.6%
$2.66/vote
Vote: 40.3%
$2.36/vote
Independent backing:
$91
Independent backing:
$84

Musser's Committee Assignments

2003-2004: Government Operations and Spending Limitations; Highway Safety; Property Rights and Land Management (Vice Chair); State Affairs; State-Tribal Relations (Chair); Veterans and Military Affairs (Chair).

2001-2002: Highway Safety; State and Local Finance (Vice Chair); Tax and Spending Limitations; Urban and Local Affairs; Veterans and Military Affairs (Chair).
Where Did the Money Come From?
Cash-on-hand 1/1/01
$13,776
Self
$0
Under $100
$5,893
$100 or more
$8,197
PACS & Parties
$1,427
Other Income
$850
WECF*
$7,013
*voluntary spending limit system.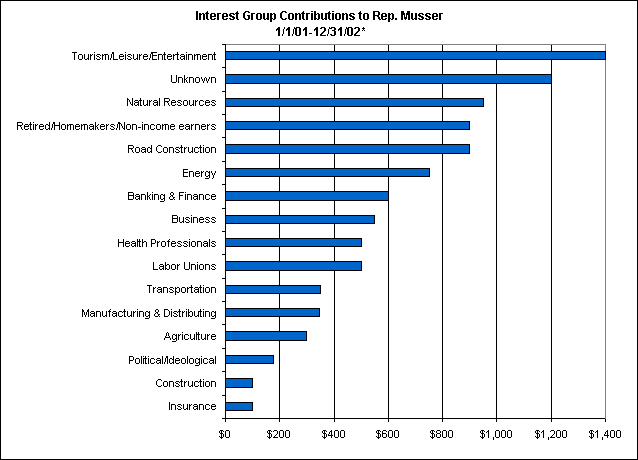 *From individual contributors giving $100 or more per year and all PAC, party and candidate committee contributions.
Who are the top contributors to Rep. Musser?
1/1/93 - 12/31/02
| Contributor | City | Business | Amount |
| --- | --- | --- | --- |
| Bourke, Robert & Louise | Fairchild, WI | Retired | $2,400.00 |
| Lunda Family | Black River Falls, WI | Lunda Construction | $1,925.00 |
| Habhager, Edward & Janet | Sparta, WI | Fast Eddies Gas, Food & Beverage | $1,800.00 |
| Hoffman Family | Black River Falls, WI | Hoffman Construction | $1,800.00 |
| Hellman Family | Sparta, WI | Hellman Distributors/Monroe County DA | $1,749.00 |
| Schanhofer, Chester & Janet | Sparta, WI | S&S Distributing | $1,299.00 |
| Goetzka, Scott & Kristine | Warrens, WI | Woods & Meadows Game Farm | $1,050.00 |
| Schanhofer, David & Janet | Sparta, WI | No Employer Listed | $900.00 |
| DeVries, Ryne M & Renee M | Black River Falls, WI | Black River Chiropractic Center | $855.00 |
| Jean, Ruth | Melrose, WI | Black River Chiropractic Center | $775.00 |
Election Notes • Money Sources • Top Contributors • Big Money • PACs