Updated: July 11, 2003
Rep. Stephen L. Nass (R) Palmyra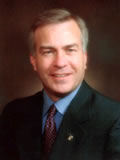 Assembly District 31
Election Notes • Money Sources • Top Contributors • Big Money • PACs
2002 Campaign Finance Summary

* Rep. Nass was first elected in 1990.

* He was unopposed in the primary and faced Libertarian opposition in the general election. 

* Volunteers for Agriculture ($2,331) and WI Right to Life PAC ($91) made independent expenditures benefiting Nass.

Nass
Watson
Raised
$28,150
Spent
$12,517
Raised 
$0
Spent
$83
Vote: 86.8%
$0.90/vote
Vote: 13.1%
$0.04/vote
Independent backing:
$2,422
Independent backing:
$0

Nass' Committee Assignments

2003-2004: Colleges and Universities; Education; Education Reform; Labor (Chair); Ways and Means.

2001-2002: Education (Vice Chair); Education Commission of the States; Education Reform (Chair); Labor and Workforce Development; Personal Privacy.
Where Did the Money Come From?
Cash-on-hand 1/1/01
$50,515
Self
$0
Under $100
$5,115
$100 or more
$10,740
PACS & Parties
$971
Other Income
$4,311
WECF*
$7,013
*voluntary spending limit system.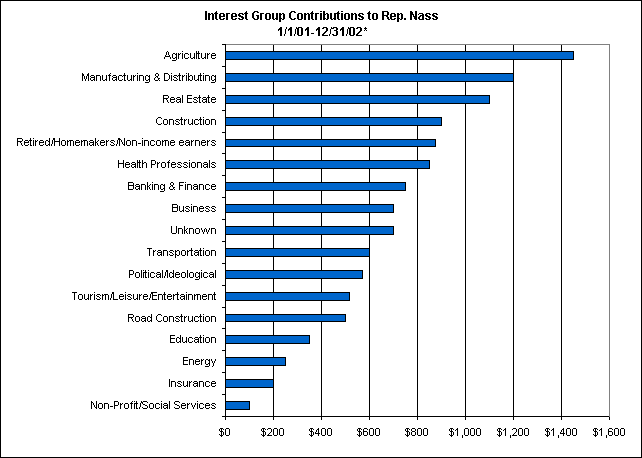 *From individual contributors giving $100 or more per year and all PAC, party and candidate committee contributions.
Who are the top contributors to Rep. Nass?
1/1/93 - 12/31/02
| Contributor | City | Business | Amount |
| --- | --- | --- | --- |
| Kachel Family | Whitewater, WI | Wisconsin Dairy Supply/Commercial Bank | $2,350.00 |
| Wright, William | Whitewater, WI | Wrights Lawnview Mobile Home Park | $2,025.00 |
| Romey, Robert | Whitewater, WI | Retired | $1,270.00 |
| Caldwell, James | Whitewater, WI | First Citizens Bank | $1,050.00 |
| Kolb, Walter | Waukesha, WI | Audio Implements/GKC | $1,050.00 |
| Omdoll, Jim & Jackie | Palmyra, WI | A-1 Creative Packaging | $1,050.00 |
| Kern, Robert & Patricia | Waukesha, WI | Generac Corp | $940.00 |
| Mitchell, George & Susan | Milwaukee, WI | Mitchell Group/American Education Reform Council | $750.00 |
| Zignego, Thomas | Helenville, WI | Zignego Co | $700.00 |
| Gaugert, Gilbert Jr & Evelyn | Sullivan, WI | Gaugert Service | $640.00 |
Election Notes • Money Sources • Top Contributors • Big Money • PACs