Updated: July 14, 2003
Rep. Mark L. Pettis (R) La Follette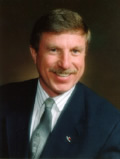 Assembly District 28
Election Notes • Money Sources • Top Contributors • Big Money • PACs
2002 Campaign Finance Summary

* Rep. Pettis was first elected in 1998.

* He was unopposed in the primary and faced Democratic opposition in the general election.

* Realtors PAC ($8,189), Volunteers for Agriculture ($753), WI Builders ($170), and WI Right to Life PAC ($183) made independent expenditures benefiting Pettis. Northern WI Building Trades Local 1050 ($13), Northwest United Educators ($192), Planned Parenthood Advocates of WI ($1,351), and WI Nurses PAC ($6) made independent expenditures favoring his opponent. 

Pettis
Wolden
Raised
$71,821
Spent
$73,237
Raised 
$66,409
Spent
$65,276
Vote: 52.0%
$7.39/vote
Vote: 48.0%
$7.14/vote
Independent backing:
$9,296
Independent backing:
$1,561

Pettis' Committee Assignments

2003-2004: Aging and Long-Term Care; Natural Resources; State-Tribal Relations; Tourism (Chair); Veterans and Military Affairs.

2001-2002: Aging and Long-Term Care (Vice Chair); Information Policy and Technology (Chair); Joint Information Policy and Technology (Co-Chair); Insurance (Vice Chair); Natural Resources.
Where Did the Money Come From?
Cash-on-hand 1/1/01
$2,991
Self
$700
Under $100
$9,609
$100 or more
$49,784
PACS & Parties
$11,199
Other Income
$529
WECF*
$0
*voluntary spending limit system.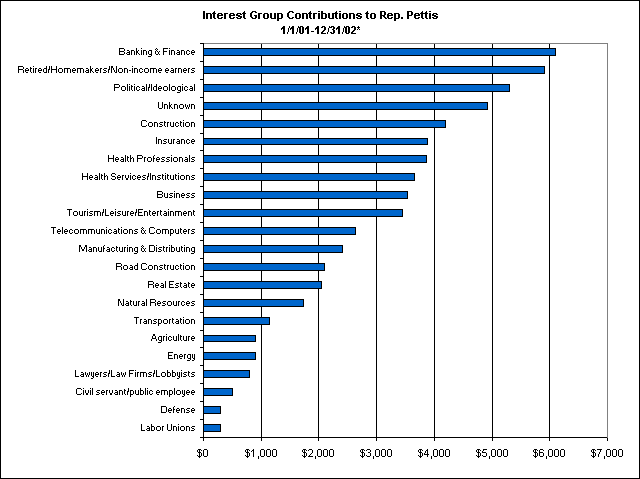 *From individual contributors giving $100 or more per year and all PAC, party and candidate committee contributions.
Who are the top contributors to Rep. Pettis?
1/1/94 - 12/31/02
| Contributor | City | Business | Amount |
| --- | --- | --- | --- |
| Myers, Andrew & Diane | Shoreview, MN | Retired | $3,000.00 |
| Pettis, Mark | Hertel, WI | Legislator | $2,792.00 |
| Pettis, Luther & Mayme | Osceola, WI | Retired | $2,490.00 |
| King, Wayne & Christa | Danbury, WI | Wayne's IGA | $1,827.00 |
| Schulte Family | Ellsworth, WI | Victory Fireworks | $1,800.00 |
| Brown, Robert Jr & Mary | Osceola, WI | Champion Industries | $1,100.00 |
| Verhasselt, Gary & Lori | Osceola, WI | Verhasselt Construction Co | $1,100.00 |
| Dresel, Dale & David | Grantsburg, WI | Miller-Bradford, Risberg/Dresel Construction | $1,050.00 |
| Montgomery, Michael & Barbara | Osceola, WI | Osceola Oil | $1,000.00 |
| Nelson, Grant & Carol | Hudson, WI | Retired | $1,000.00 |
| Peterson, Kris | Siren, WI | KPI Club | $1,000.00 |
Election Notes • Money Sources • Top Contributors • Big Money • PACs