Updated: July 14, 2003
Rep. Sondy Pope-Roberts (D) Verona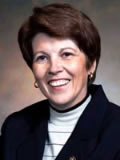 Assembly District 79
Election Notes • Money Sources • Top Contributors • Big Money • PACs
2002 Campaign Finance Summary

* Rep. Pope-Roberts was first elected in 2002.

* She was unopposed in the primary and faced a Republican incumbent in the general election. 

* Citizens for Clean & Responsible Government ($35,365), Planned Parenthood Advocates of WI ($1,351), Sierra Club of Wisconsin ($1,502), WI League of Conservation Voters ($1,806), and WI Nurses PAC ($113) made independent expenditures benefiting Pope-Roberts. Healthy Wisconsin ($1,407), Realtors PAC ($8,189), Volunteers for Agriculture ($713), and WI Builders ($1,670) made independent expenditures favoring her opponent. 

*In the beginning of the year the Metro Milwaukee Assn of Commerce spent undisclosed amounts on "issue ads" favorable to her Pope-Roberts' opponent.

Pope-Roberts
Skindrud
Raised
$60,768
Spent
$57,492
Raised 
$134,022
Spent
$128,520
Vote: 53.1%
$4.67/vote
Vote: 46.9%
$11.83/vote
Independent backing:
$40,137
Independent backing:
$11,980

Pope-Roberts' Committee Assignments

2003-2004: Aging and Long-Term Care; Education; Rural Affairs; Small Business.

2001-2002: Not yet elected.
Where Did the Money Come From?
Cash-on-hand 1/1/01
$408
Self
$0
Under $100
$22,065
$100 or more
$26,918
PACS & Parties
$5,709
Other Income
$42
WECF*
$6,034
*voluntary spending limit system.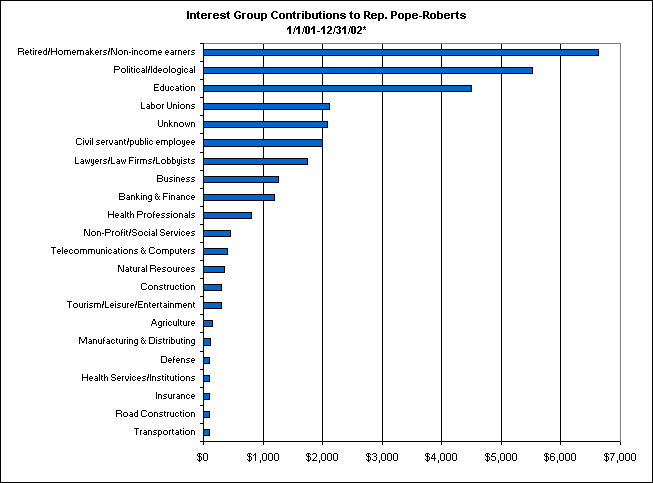 *From individual contributors giving $100 or more per year and all PAC, party and candidate committee contributions.
Who are the top contributors to Rep. Pope-Roberts?
1/1/00 - 12/31/02
| Contributor | City | Business | Amount |
| --- | --- | --- | --- |
| Pope-Roberts, Sondy | Verona, WI | Legislator | $2,350.00 |
| Kane, Michael & Janet | Middleton, WI | University of Wisconsin | $1,766.00 |
| Boley, Helen | Madison, WI | Retired | $1,000.00 |
| Saucerman, Taemie | Arena, WI | Intl Brotherhood Electrical Workers | $1,000.00 |
| Westman, Jack & Nancy | Madison, WI | University of Wisconsin | $900.00 |
| Farley, Gene & Linda | Verona, WI | UW Medical School | $875.00 |
| Fahl, Mary Ann | Madison, WI | Retired | $800.00 |
| Miller, Mark | Monona, WI | Legislator | $800.00 |
| Elwers, Kathryn | Madison, WI | Retired | $700.00 |
| Harrop, Gary | Mazomanie, WI | People's State Bank | $700.00 |
| Jones, Margaret | Verona, WI | Retired | $700.00 |
Election Notes • Money Sources • Top Contributors • Big Money • PACs