Updated: July 1, 2003
Rep. Marlin D. Schneider (D) Wisconsin Rapids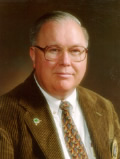 Assembly District 72
Election Notes • Money Sources • Top Contributors • Big Money • PACs
2002 Campaign Finance Summary

* Rep. Schneider was first elected in 1970.

* He was unopposed in the primary and faced Republican opposition in the general election. 

* WI Nurses PAC ($117) made independent expenditures benefiting Schneider. 

Schneider
Ziegler
Raised
$14,705
Spent
$9,335
Raised 
$10,919
Spent
$9,631
Vote: 63.7%
$0.80/vote
Vote: 36.3%
$1.45/vote
Independent backing:
$117
Independent backing:
$0

Schneider's Committee Assignments

2003-2004: Colleges and Universities; Criminal Justice; Electronic Democracy and Government Reform; Joint Legislative Council; Public Health; Public and Private Broadband; Veterans and Military Affairs.

2001-2002: Agriculture; Educational Communications Board; Information Policy and Technology; Joint Information Policy and Technology; Personal Privacy; Retirement Research; Rural Affairs and Forestry; Small Business and Consumer Affairs.
Where Did the Money Come From?
Cash-on-hand 1/1/01
$18,661
Self
$0
Under $100
$3,162
$100 or more
$4,753
PACS & Parties
$5,325
Other Income
$1,465
WECF*
$0
*voluntary spending limit system.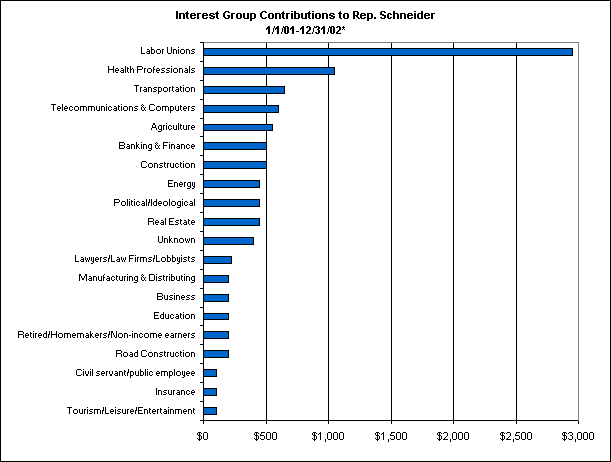 *From individual contributors giving $100 or more per year and all PAC, party and candidate committee contributions.
Who are the top contributors to Rep. Schneider?
1/1/93 - 12/31/02
| Contributor | City | Business | Amount |
| --- | --- | --- | --- |
| Schreiber, Martin Jr | Wisconsin Rapids, WI | Marty Schreiber Realty | $1,000.00 |
| Gerrard, M William | Madison, WI | Gerrard Ventures | $700.00 |
| Stout, Carmen & Katherine | Stoughton, WI | WI Dept of Public Instruction/WEAC | $650.00 |
| Park, Jung | Wisconsin Rapids, WI | Physician | $600.00 |
| Jablonski, Ann | Madison, WI | Jablonski-Radkte Govt Relations | $500.00 |
| LaPorte, Tim | Wisconsin Rapids, WI | LaPorte Builders | $500.00 |
| Paul, Terry & Judy | Madison, WI | Renaissance Learning System | $500.00 |
| Tirabassi, Domenick Jr | Kenosha, WI | Precision Erecting Co | $450.00 |
Election Notes • Money Sources • Top Contributors • Big Money • PACs