Updated: July 1, 2003
Rep. John F. Townsend (R) Fond du Lac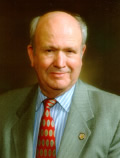 Assembly District 52
Election Notes • Money Sources • Top Contributors • Big Money • PACs
2002 Campaign Finance Summary

* Rep. Townsend was first elected in 1998.

* He was unopposed in the primary and general elections.

Townsend
None
Raised
$27,343
Spent
$20,896
Raised 
$0
Spent
$0
Vote: 99.5%
$1.62/vote
Vote: 0.5%
$0/vote
Independent backing:
$0
Independent backing:
$0

Townsend's Committee Assignments

2003-2004: Education; Electronic Democracy and Government Reform (Chair); Financial Institutions; Housing (Vice Chair); Joint Legislative Council; Veterans and Military Affiars (Vice Chair).

2001-2002:  Colleges and Universities (Vice Chair); Economic Development (Chair); Education; Veterans and Military Affairs.
Where Did the Money Come From?
Cash-on-hand 1/1/01
$1,237
Self
$290
Under $100
$5,717
$100 or more
$14,800
PACS & Parties
$6,536
Other Income
$0
WECF*
$0
*voluntary spending limit system.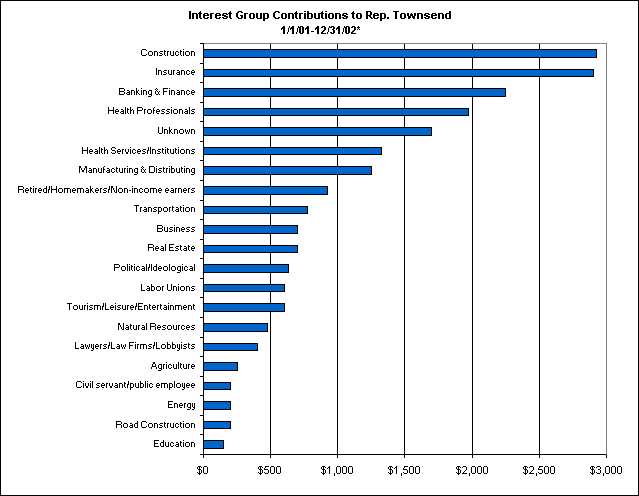 *From individual contributors giving $100 or more per year and all PAC, party and candidate committee contributions.
Who are the top contributors to Rep. Townsend?
1/1/98 - 12/31/02
| Contributor | City | Business | Amount |
| --- | --- | --- | --- |
| Townsend, John & Maria | Fond du Lac, WI | Legislator | $8,650.62 |
| Sadoff Family | Fond du Lac, WI | Badger Liquor | $2,100.00 |
| Ahern Family | Fond du Lac, WI | JF Ahern Co | $1,575.00 |
| Colwin, Joseph & Dawn | Campbellsport, WI | Mid-State Aluminum | $1,500.00 |
| Wagner, Michael | Fond du Lac, WI | Society Insurance | $1,150.00 |
| Michaels Family | Brownsville, WI | Michels Pipeline Construction | $1,050.00 |
| Jones, Donald | Fond du Lac, WI | Spirit Enterprises | $1,000.00 |
| Lindberg, James | Fond du Lac, WI | A to Z Vending | $975.00 |
| Neumann Family | Fond du Lac, WI | RB Royal Industries | $950.00 |
| Kleinfeldt, Richard & Joan | Fond du Lac, WI | Retired/Hansen Refrigeration Machines | $925.00 |
Election Notes • Money Sources • Top Contributors • Big Money • PACs