Updated: July 10, 2003
Rep. Robert L. Turner (D) Racine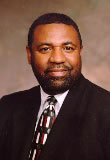 Assembly District 61
Election Notes • Money Sources • Top Contributors • Big Money • PACs
2002 Campaign Finance Summary

* Rep. Turner was first elected in 1990.

* He won a two way primary and was unopposed in the general election. 

* WI Nurses PAC ($58) and WI People Conference ($756) made independent expenditures benefiting Turner. 

Turner
None
Raised
$30,407
Spent
$34,252
Raised 
$0
Spent
$0
Vote: 98.2%
$3.60/vote
Vote: 1.8%
$0/vote
Independent backing:
$814
Independent backing:
$0

Turner's Committee Assignments

2003-2004: Assembly Organization; Criminal Justice; Rules; State Affairs; Urban and Local Affairs.

2001-2002: Review of Administrative Rules; Joint Review of Administrative Rules; Labor and Workforce Development; Tax and Spending Limitations; Ways and Means.
Where Did the Money Come From?
Cash-on-hand 1/1/01
$4,915
Self
$5,500
Under $100
$4,805
$100 or more
$9,915
PACS & Parties
$10,094
Other Income
$93
WECF*
$0
*voluntary spending limit system.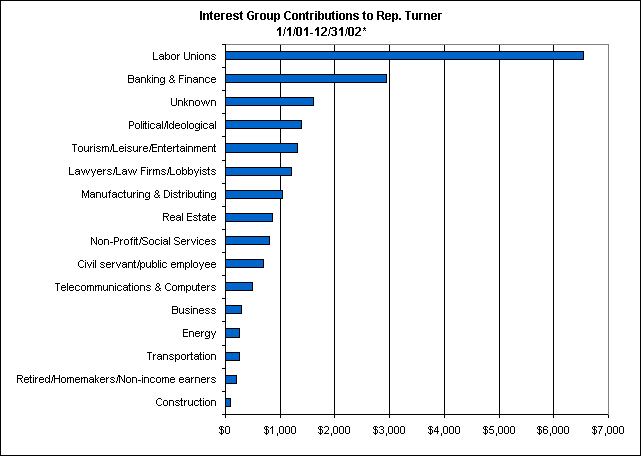 *From individual contributors giving $100 or more per year and all PAC, party and candidate committee contributions.
Who are the top contributors to Rep. Turner?
1/1/93 - 12/31/02
| Contributor | City | Business | Amount |
| --- | --- | --- | --- |
| Turner, Robert L | Racine, WI | Legislator | $5,500.00 |
| Hand, Leonard & Janice | Racine, WI | City Hall Lounge | $865.00 |
| Johnson, Charles W | Racine, WI | Visual Numerics | $800.00 |
| Chvala, Charles J | Madison, WI | Legislator | $500.00 |
| Grace, Sharon S | Homewood, IL | Northern Trust Co | $500.00 |
| Larocque, Kathleen R | Waupun, WI | Wisconsin Public Television | $500.00 |
| McGregory, Keith D | Chicago, IL | Accountant | $500.00 |
| Murphy, Regina | Homewood, IL | Abraham Lincoln Center | $500.00 |
| Thompson, Michael | Racine, WI | Family Foot Clinics of Wisconsin | $500.00 |
| Miklasevich, Michael | Racine, WI | Double M Investments | $400.00 |
Election Notes • Money Sources • Top Contributors • Big Money • PACs