Updated: July 14, 2003
Rep. Daniel Vrakas (R) Hartland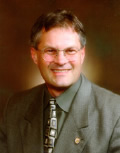 Assembly District 33
Election Notes • Money Sources • Top Contributors • Big Money • PACs
2002 Campaign Finance Summary

* Rep. Vrakas was first elected in 1990.

* He was unopposed in the primary and general elections.

* Volunteers for Agriculture ($1,645), WI Nurses PAC ($87), and WI Right to Life PAC ($91) made independent expenditures benefiting Vrakas. 

Vrakas
None
Raised
$25,645
Spent
$11,107
Raised 
$0
Spent
$0
Vote: 99.8%
$0.65/vote
Vote: 0.2%
$0/vote
Independent backing:
$1,823
Independent backing:
$0

Vrakas' Committee Assignments

2003-2004: Electronic Democracy and Government Reform; Labor (Vice Chair); Mental Health Parity (Co-Chair); Joint Survey on Retirement Systems (Co-Chair); Rules; Workforce Development.

2001-2002: Assembly Organization; Building Commission; Energy and Utilities; Environment; Labor and Workforce Development (Vice Chair); Retirement Research; Joint Survey Retirement Systems (Co-Chair); Rules; Workforce Excellence.
Where Did the Money Come From?
Cash-on-hand 1/1/01
$24,148
Self
$0
Under $100
$5,495
$100 or more
$13,539
PACS & Parties
$5,864
Other Income
$746
WECF*
$0
*voluntary spending limit system.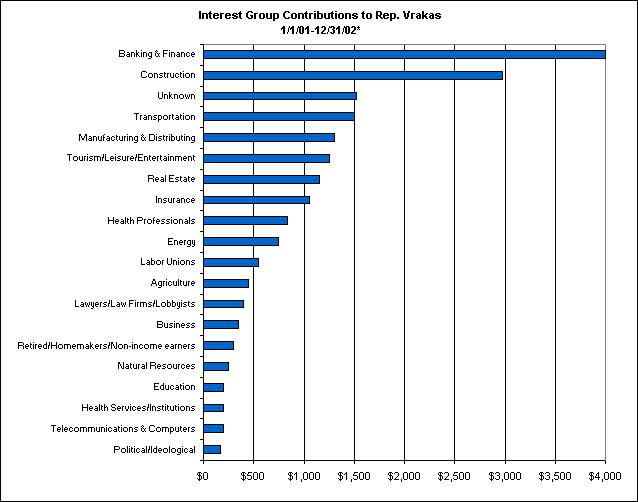 *From individual contributors giving $100 or more per year and all PAC, party and candidate committee contributions.
Who are the top contributors to Rep. Vrakas?
1/1/93 - 12/31/02
| Contributor | City | Business | Amount |
| --- | --- | --- | --- |
| Maslowski, William & Jill | Hartland, WI | PDC Facilities Inc | $1,950.00 |
| White Family | Hartland, WI | Rapco | $1,600.00 |
| Vrakas, Robert | Pewaukee, WI | Vrakas, Blum & Co | $1,550.00 |
| Kemnitz, Kean & Susan | Hartland, WI | Kemnitz Design | $1,300.00 |
| Madrigrano, Aldo | Waukesha, WI | WOW Distributing | $1,050.00 |
| Groh, Al & Robert | Waukesha, WI | Retired | $1,000.00 |
| Loomer, James & Adelina | Pewaukee, WI | Enterprise Rent A Car | $1,000.00 |
| Vrakas, Gus & Dena | Madison, WI | Parthenon Gyros | $989.00 |
| Meyer, Matthew & Lenia | River Hills, WI | Women's Health Care | $800.00 |
| Dentice, Joseph & Frank | Pewaukee, WI | Harmony Hills/River Lane/Madison Mobile | $775.00 |
Election Notes • Money Sources • Top Contributors • Big Money • PACs