Updated: July 1, 2003
Senator David A. Zien (R) Wheaton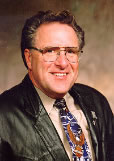 Senate District 23
Election Notes • Money Sources • Top Contributors • Big Money • PACs
2002 Campaign Finance Summary

* Senator Zien was first elected to the Assembly in 1988 and to the Senate in an April 1993 special election.

* He was unopposed in the primary and faced Democratic opposition in the general election. 

* Healthy Wisconsin ($1,244), Volunteers for Agriculture ($1,163), WI Builders ($170), and WI Right to Life PAC ($183) made independent expenditures benefiting Zien and Northwest United Educators ($192) made independent expenditures favoring his opponent. 

*Independent Citizens for Democracy spent undisclosed amounts on "issue ads" attacking Zien.

Zien
Larson
Raised
$161,343
Spent
$156,712
Raised 
$37,258
Spent
$37,258
Vote: 63.3%
$4.67/vote
Vote: 36.7%
$1.92/vote
Independent backing:
$2,761
Independent backing:
$192

Zien's Committee Assignments

2003-2004: Environment and Natural Resources; Homeland Security, Veterans and Military Affairs and Government Reform; Judicial Council; Judiciary, Corrections and Privacy (Chair); Labor, Small Business Development and Consumer Affairs; Joint Legislative Organization; Senate Organization; Sentencing Commission; State-Tribal Relations; Council on Tourism.

2001-2002: Economic Development and Corrections; Universities, Housing and Government Operations; Joint Legislative Council; Council on Tourism; Rural Economic Development Board.
Where Did the Money Come From?
Cash-on-hand 1/1/99
$4,282
Self
$0
Under $100
$43,293
$100 or more
$97,432
PACS & Parties
$20,006
Other Income
$613
WECF*
$0
*voluntary spending limit system.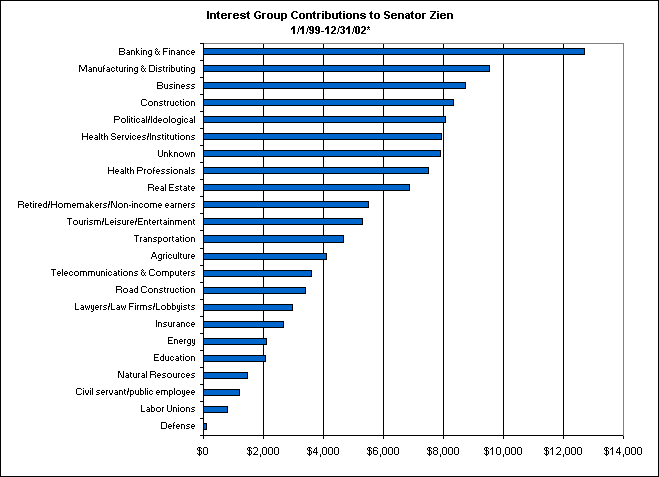 *From individual contributors giving $100 or more per year and all PAC, party and candidate committee contributions.
Who are the top contributors to Senator Zien?
1/1/93 - 12/31/02
| Contributor | City | Business | Amount |
| --- | --- | --- | --- |
| Menard Family | Eau Claire, WI | Menards Inc | $4,000.00 |
| Knox Family | Fort Atkinson, WI | WD Hoard & Sons/Morgan & Myers | $3,250.00 |
| Kohler, Terry & Mary | Sheboygan, WI | Windway Capital/Vollrath Co | $3,000.00 |
| Streckert, Thomas & Sondra | Abbotsford, WI | Creative Automation | $2,550.00 |
| Barry, William & Suzanne | Brookfield, WI | Combined Technologies | $2,500.00 |
| Johnson, Samuel & S Curtis III | Racine, WI | Johnson Wax | $2,450.00 |
| Hupy, Michael | Milwaukee, WI | Hupy & Associates | $2,200.00 |
Election Notes • Money Sources • Top Contributors • Big Money • PACs