Updated: March 16, 2004
Senator G. Spencer Coggs (D) Milwaukee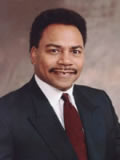 Senate District 6
Election Notes • Money Sources • Top Contributors • Big Money • PACs • 2002 Profile
2003 Recall Notes and Background

2003 Recall Campaign Finance Summary

* Rep. Coggs was first elected to the Assembly in 1982 and to the Senate in a recall election held in November 2003.

* He defeated the incumbent in a two-way primary and was unopposed in the general election. 

Coggs
None
Raised
$23,412
Spent
$21,266
Raised 
$0
Spent
$0
Vote: 92.7%
$12.31/vote
Vote: 7.3%
$0/vote
Independent backing:
$0
Independent backing:
$0

Coggs' Committee Assignments

2004:Review of Adminstrative Rules; Joint Review of Administrative Rules; Judiciary, Corrections & Privacy; Joint Review of Criminal Penalties.

2003 Assembly: Finance; Joint Finance; Joint Legislative Council; State-Tribal Relations; Workforce Development.
Where Did the Money Come From?
Cash on hand 1/1/03
$5,109
Self
$1,283
Under $100
$4,979
$100 or more
$8,000
PACS & Parties
$9,150
Other Income
$0
WECF*
$0
*voluntary spending limit system.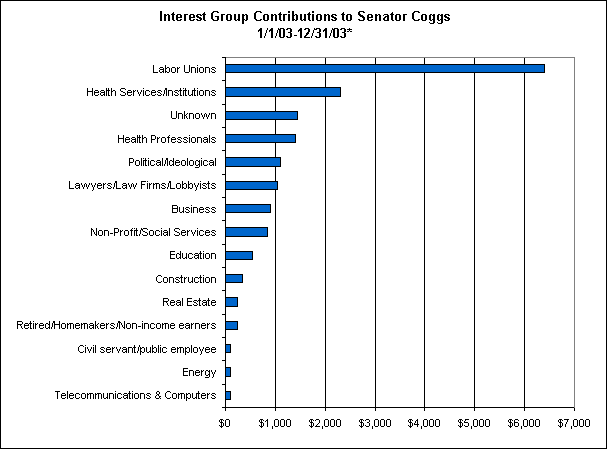 *From individual contributors giving $100 or more per year and all PAC, party and candidate committee contributions.
Who are the top contributors to Senator Coggs?
1/1/93 - 12/31/03
| Contributor | City | Business | Amount |
| --- | --- | --- | --- |
| Cogg, G Spencer | Milwaukee, WI | Legislator | $5,420.50 |
| Malik, Aquil & Sharif | Greenfield, WI | Genesis Healthcare Inc | $2,000.00 |
| Marcus, Stephen | Milwaukee, WI | Marcus Corp | $900.00 |
| Harlan, Emery K | Milwaukee, WI | Gonzalez, Saggio, et al | $750.00 |
| Crump, Randy & Joann | Germantown, WI | Prism TM2S | $700.00 |
| Gee, Carl | Milwaukee, WI | Opportunities Industrialization Center | $600.00 |
| Habush, Robert | Milwaukee, WI | Habush, Habush, et al | $500.00 |
| Katzman, JoAnn | Milwaukee, WI | Broydrick & Associates | $500.00 |
| Mann, David L | Elkhorn, WI | Mann Brothers Construction | $500.00 |
| Mitchell, Brian A | Madison, WI | Mitchell Construction Co | $425.00 |
Election Notes • Money Sources • Top Contributors • Big Money • PACs • 2002 Profile