Updated: September 3, 2003
Rep. Mark Honadel (R) South Milwaukee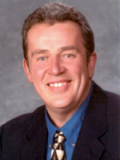 Assembly District 21
Election Notes • Money Sources • Top Contributors • Big Money • PACs
2003 Campaign Finance Summary

*Rep. Honadel was first elected in a July 2003 special election.

*He won a two way primary and faced Democratic oppostion in the general election.

*Concerned Business and Industry ($5,000) and Volunteers for Agriculture ($7,144) made independent expenditures favoring Honadel. SEIU WI State Council ($46) and WEAC ($52,965) made independent expenditures favoring his opponent.

*Reportedly, Wisconsin Manufacturers and Commerce spent over $15,000 on radio ads supporting Honadel and additional undisclosed amounts on mailers. Wisconsin Citizen Action spent undisclosed amounts on television ads in support of his opponent.

Honadel
Foeckler
Raised
$74,111
Spent
$72,561
Raised
$74,784
Spent
$73,857
Vote:
61%
$10.95/vote
Vote:
38.8%
$17.52/vote
Independent Backing
$12,144
Independent Backing
$53,011

Honadel's Committee Assignments

2003-2004: Not yet assigned.

2001-2002: Not yet elected.
Where Did the Money Come From?
Cash-on-hand 1/1/03
$0
Self
$0
Under $100
$13,825
$100 or more
$49,795
PACs & Parties
$10,035
Other Income
$456
WECF*
$0
*voluntary spending limit system.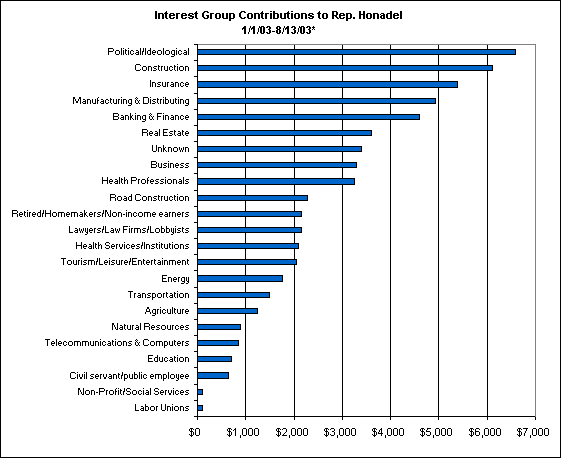 *From individual contributors giving $100 or more per year and all PAC, party and candidate committee contributions.
Who are the top contributors to Rep. Honadel?
1/1/03 - 8/13/03
| Contributor | City | Business | Amount |
| --- | --- | --- | --- |
| Ahern, Anthony & John | Fond du Lac, WI | JF Ahern Co | $1,000.00 |
| Andringa, Casey & Pat | Waukesha, WI | Andringa Law Offices | $1,000.00 |
| DeVos, Dick & Besty | Grand Rapids, MI | Alticor/Windquest | $1,000.00 |
| Frank, Joel & Steven | Middleton, WI | Frank Liquor Co | $1,000.00 |
| Harenda, Keith & Linda | Brookfield, WI | KPH Construction Corp | $1,000.00 |
| Heinisch, Suend & Marion | Waukesha, WI | Thomas Press | $1,000.00 |
| Schneider, Donald & Patricia | Green Bay, WI | Schneider National | $1,000.00 |
| Sharp, Richard & Sherry | Richmond, VA | School choice | $1,000.00 |
| Taylor, Don & Carol | Waukesha, WI | Waukesha State Bank | $1,000.00 |
| Honadel, Elroy & Nancy | Oak Creek, WI | Retired | $850.00 |
Election Notes • Money Sources • Top Contributors • Big Money • PACs