Updated: September 3, 2003
Senator Julie M. Lassa (D) Plover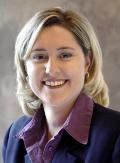 Senate District 24
Election Notes • Money Sources • Top Contributors • Big Money • PACs • 2002 Profile
2003 Campaign Finance Summary

* Senator Lassa was first elected in to the Assembly 1998 and to the Senate in an April 2003 special election.

* She won a two way primary and faced Republican, Green and Independent opposition in the general election.

*Volunteers for Agriculture ($14,293) made independent expenditures benefiting Lassa. WI Right to Life PAC ($923)* made independent expenditures in favor of her opponent.

Lassa
Rozar
Raised
$73,809
Spent
$89,168
Raised 
$13,619
Spent
$13,228
Vote: 62.0%
$6.97/vote
Vote: 29.7%
$2.50/vote
Independent backing:
$14,293
Independent backing:
$923

Lassa's Committee Assignments

2003-2004 Senate: Review of Administrative Rules; Joint Review of Administrative Rules; Agriculture, Financial Institutions and Insurance.

2003-2004 Assembly: Agriculture; Budget Review; Economic Development; Financial Institutions; Rural Affairs.

2001-2002 Assembly: Agriculture; Child Abuse and Neglect Prevention Board; Colleges and Universities; Economic Development; Labor and Workforce Development.
Where Did the Money Come From?
Cash-on-hand 1/1/03
$37,849
Self
$0
Under $100
$12,076
$100 or more
$43,828
PACs & Parties
$17,905
Other Income
$0
WECF*
$0
*voluntary spending limit system.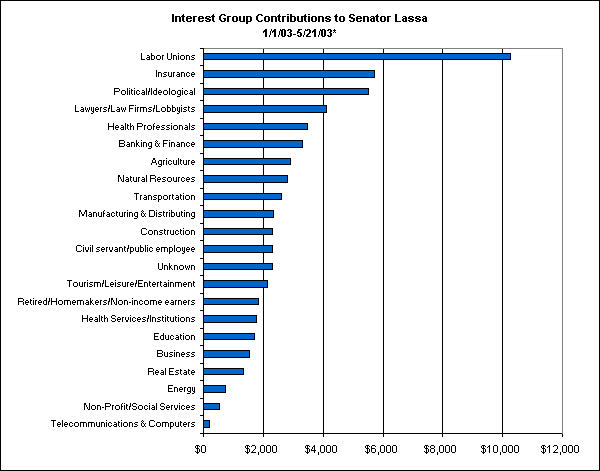 *From individual contributors giving $100 or more per year and all PAC, party and candidate committee contributions.
Who are the top contributors to Senator Lassa?
1/1/94 - 5/21/03
| Contributor | City | Business | Amount |
| --- | --- | --- | --- |
| Lassa, Julie & John Moe | Plover, WI | Legislator/Congressman Dave Obey | $9,532.00 |
| Schierl Family | Plover, WI | Schierl Inc | $2,949.00 |
| Spoerl, Robert | Waupaca, WI | Premium Brands | $1,905.00 |
| Lassa, Jerome & Josephine | Mosinee, WI | Foremost Foods/Dairy farmer | $1,857.00 |
| Glenzer, Kurt & Laurence | Stevens Point, WI | McDill Auto Wrecking | $1,550.00 |
| Schuh, Dale | Stevens Point, WI | Sentry Insurance | $1,400.00 |
| Roehl, Everett G | Marshfield, WI | Roehl Transport | $1,300.00 |
| Okray Family | Plover, WI | Okray Produce Co | $1,200.00 |
| Hasenohrl, Don & Kathleen | Pittsville, WI | Legislator, Retired/Mid-State Technical College | $1,135.00 |
| Melski, John & Linda | Marshfield, WI | Marshfield Clinic | $1,114.11 |
Election Notes • Money Sources • Top Contributors • Big Money • PACs • 2002 Profile