Updated: September 3, 2003
Rep. Louis John Molepske Jr. (D) Stevens Point
Assembly District 71
Election Notes • Money Sources • Top Contributors • Big Money • PACs
2003 Campaign Finance Summary

*Rep. Molepske was first elected in a July 2003 special election.

*He won an eight way primary and faced Republican, Green and write-in opposition in the general election.

*Volunteers for Agriculture ($6,050) made independent expenditures favoring one of his primary opponents.

Molepske
Szehner
Raised
$24,577
Spent
$19,181
Raised
$16,263
Spent
$16,235
Vote: 37.1%
$7.30/vote
Vote: 35.2%
$6.51/vote
Independent Backing
$0
Independent Backing
$0

Molepske's Committee Assignments

2003-2004: Not yet assigned.

2001-2002: Not yet elected.
Where Did the Money Come From?
Cash-on-hand 1/1/03
$0
Self
$5,150
Under $100
$2,082
$100 or more
$8,495
PACs & Parties
$8,850
Other Income
$0
WECF*
$0.00
*voluntary spending limit system.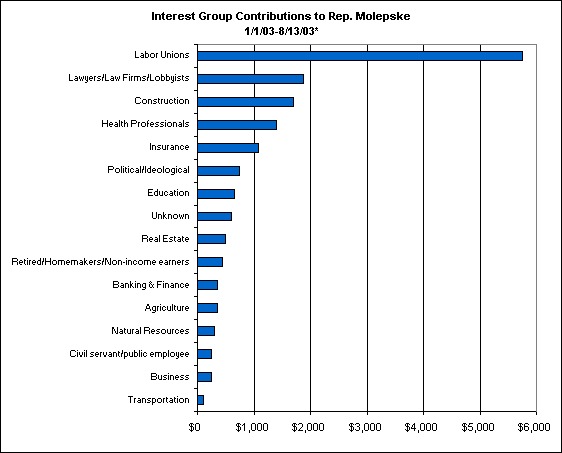 *From individual contributors giving $100 or more per year and all PAC, party and candidate committee contributions.
Who are the top contributors to Rep. Molepske?
1/1/03 - 12/31/03
| Contributor | City | Business | Amount |
| --- | --- | --- | --- |
| Molepske, Louis J Jr | Stevens Point, WI | Attorney/Legislator | $5,150.00 |
| Molepske, Louis J & Susan E | Stevens Point, WI | Molepske, James & Bablitch | $930.00 |
| Anderson, James | Stevens Point, WI | Ellis Stone Construction | $500.00 |
| Carlson, Carl | Stevens Point, WI | Ellis Stone Construction | $500.00 |
| Carlson, Erik C | Stevens Point, WI | Ellis Stone Construction | $500.00 |
| Noel, Patricia | Stevens Point, WI | Noel Group | $500.00 |
Election Notes • Money Sources • Top Contributors • Big Money • PACs