Updated: July 10, 2003
Senator Jeffrey Plale (D) South Milwaukee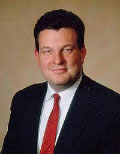 Senate District 7
Election Notes • Money Sources • Top Contributors • Big Money • PACs • 2002 Profile
2003 Campaign Finance Summary

* Senator Plale was first elected to the Assembly in a March 1996 special election and to the Senate in an April 2003 special election.

* He won a three way primary and faced Green party opposition in the general election.

* WI Right to Life PAC ($279) made independent expenditures benefiting Plale.

Plale
Carpenter
Raised
$84,501
Spent
$84,883
Raised 
$27,524
Spent
$24,728
Vote: 70%
$16.06/vote
Vote: 29%
$11.25/vote
Independent backing:
$279
Independent backing:
$0

Plale's Committee Assignments

2003-2004 Senate: Economic Development, Job Creation, and Housing; Audit; Joint Audit.

2003-2004 Assembly: Aging and Long-Term Care; Financial Institutions; Recodification of Chapter 767, Actions Affecting the Family; Tourism; Workforce Development.

2001-2002 Assembly:  Building Commission; Energy and Utilities, Financial Institutions, Forward Wisconsin, Inc.; Joint Survey Retirement Systems; Transportation.
Where Did the Money Come From?
Cash-on-hand 1/1/03

$1,639
Self
$0
Under $100
$8,517
$100 or more
$56,749
PACs & Parties
$18,950
Other Income
$285
WECF*
$0.00
*voluntary spending limit system.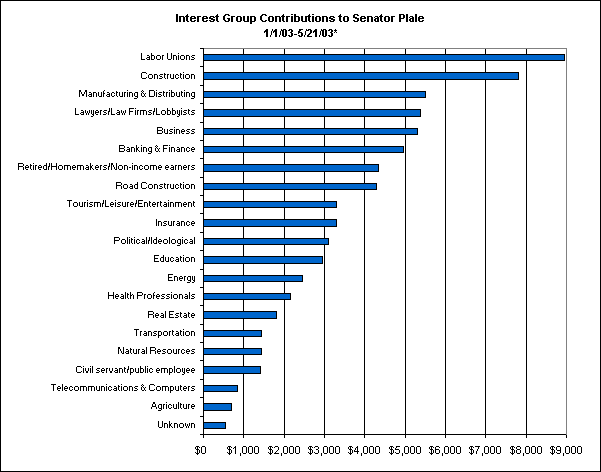 *From individual contributors giving $100 or more per year and all PAC, party and candidate committee contributions.
Who are the top contributors to Senator Plale?
1/1/95 - 5/21/03
| Contributor | City | Business | Amount |
| --- | --- | --- | --- |
| Plale, Donald & Josephine | S Milwaukee, WI | Retired | $6,500.00 |
| Cullen Family | Janesville, WI | JP Cullen & Sons | $2,600.00 |
| Sharp, Richard & Sherry | Richmond, VA | School choice | $2,000.00 |
| Walton, John & Christy | Jackson, WY | Wal-Mart Stores | $2,000.00 |
| Bechthold Family | Delafield, WI | Payne & Dolan/Zenith Tech | $1,700.00 |
| Katzman, Wiliam & JoAnn | Franklin, WI | Best Disposal/Katzman Consulting | $1,550.00 |
| Strong, Richard & Donna | Brookfield, WI | Strong Capital Management | $1,500.00 |
| Madrigrano Family | Waukesha, WI | WOW Distributing/CJW Distributors | $1,405.00 |
| Finerty, John D | Milwaukee, WI | Friebert, Finerty & St John | $1,400.00 |
| Kraemer Family | Plain, WI | Edward Kraemer & Sons Construction | $1,340.00 |
Election Notes • Money Sources • Top Contributors • Big Money • PACs • 2002 Profile