Updated: April 7, 2004
Governor Jim Doyle (D)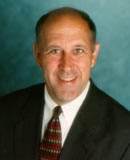 Campaign Finance Profile
January 1, 1999 through December 31, 2002
Text • Charts • Top Contributors • Independent Expenditures • Big Money • PACs • 1998 Profile

BIOGRAPHICAL INFORMATION

Democrat James E. Doyle Jr., born in Washington DC on November 23, 1945, captured the governor's office in the November 2002 general election, defeating incumbent Republican Governor Scott McCallum. The race was marred by record spending and a lengthy parade of negative advertising and a remarkable lack of discussion about the issues by both candidates. Before becoming governor, Doyle served three four-year terms as attorney general starting in 1990. Doyle is a former Dane County District Attorney, University of Wisconsin Law School lecturer and Peace Corps volunteer whose family has been prominent in state Democratic politics for several decades.

CAMPAIGN FINANCE SUMMARY

"This record fundraising is a concrete expression of the strong support Jim enjoys all over the state and the strength of his campaign," - Doyle campaign manager Susan Goodwin, July 18, 2001.

Doyle had a cash balance of $32,399 in his campaign account as of December 31, 2002 after raising $5,918,688 in individual and political action committee contributions and interest (Pie Chart) and spending $5,932,713 in 1999-2002.

Doyle set a record for fundraising and spending by a Democratic candidate for governor and in doing so contributed to an overall spending record of nearly $23 million by candidates and outside special interest groups in the 2002 governor's race. Doyle accepted most of his money in the form of large individual contributions and political action committee contributions from powerful special interests, many of whom traditionally support Republican candidates.

The lion's share of Doyle's contributions in 1999-02 came from lawyers who gave him $924,991, labor unions who contributed $514,347 and political party and candidate committees which gave him $490,855 (Interest Bar Chart).

But other special interests, including business, road builders and health professionals, substantially increased their contributions to Doyle in the homestretch of his campaign after years of only lukewarm support in his attorney general campaigns. For instance, business interests which had given only $20,906 to Doyle from 1995-98 increased their investment ten-fold in 1999-02. Another traditional backer of Republican candidates, the construction industry, had given Doyle only $3,685 in 1995-98 but contributed $215,875 to his campaign in 1999-02. Road builders increased their contributions to Doyle by 19,986 percent - from $900 in 1995-98 to $180,771 in 1999-02. It is evident those contributors had a partisan change of political heart because they wanted to cultivate a relationship with the eventual winner of the race in order to forward their special interest agendas.

INDIVIDUAL CONTRIBUTIONS

Doyle raised $4,941,030 or 83 percent, of his money from individuals in 1999-02. Nearly half of it - 47 percent or $2.8 million - was made up of contributions of $1,000 or more. This does not include tens of thousands of dollars he returned to several contributors. Doyle got very little of his campaign stash in small contributions as $4,488,290 or 76 percent of his take came from large individual contributors who gave him $100 or more.

Indeed an analysis of Doyle's campaign contributions and support portrays a striking show of "buy-partisanship" by powerful special interests.

Roughly 550 high-rolling contributors hedged their bets and made contributions to both Doyle and McCallum totaling $1.23 million.

For instance, Winneconne builder Thomas Radtke contributed $3,000 to both Doyle and McCallum on the same day - October 29, 2002. He also made contributions totaling $1,250 to Kathleen Falk, a Democratic primary candidate for governor, between April and October of 2002. Janesville road builder William Kennedy contributed $4,600 to Doyle and $1,888 to McCallum during the election year. Both were among several large contributors accused of violating the $10,000 annual limit that an individual can contribute to state and local candidates and parties.

In some cases the donors were long time backers of Republican candidates or close confidants and former employees of former Republican Gov. Tommy Thompson. George Steil Sr., Thompson's long-time personal attorney, contributed $500 to Doyle on December 31, 2002 and Robert Trunzo, Thompson's former development secretary and chairman of the Miller Park stadium board, contributed $2,000 to Doyle on October 14, 2002. Those were their first large individual contributions to a Democratic candidate for statewide office or the Legislature in at least 10 years.

A May 2003 story in the Madison weekly newspaper "Isthmus" revealed details about an October 2002 fundraiser for Doyle in Chicago attended by several former long-time staff and supporters of Thompson, including chief Thompson fundraiser Phil Prange. Republican Sen. Michael Ellis said of the event: "They will give their money to whatever candidate they think they can buy influence from. It doesn't matter what political party."

Over the four-year campaign cycle, Doyle's top five most generous contributors included business and construction interests from around the state, as well as Doyle and his wife, Jessica (Table 1). This lineup is nearly identical in name and amount to Doyle's top contributors from 1995-2002 (Top Contributors) because these special interests only became interested in Doyle after he intended to run for governor, again showing that money is drawn to power.

Table 1
Top Individual Contributors 2002 Campaign
1/1/99- 12/31/02
Contributor
City
Business
Amount
Dennis Troha & Family
ATC Leasing
Kenosha, WI
$71,500
Charles Mathy & Family
Mathy Construction
La Crosse, WI
$35,795
Alex Paul & Family
Advantage Learning System/
Brazeau, Potter, et al
Madison, WI
$32,350
James & Jessica Doyle
Wisconsin attorney general/
Madison Public Schools
Madison, WI
$30,200
John Noel & Family
Noel Group
Stevens Point, WI
$30,000
His other top contributors in 1999-2002 include heavyweights in the state's construction industry, a high-interest lender in Michigan and a major Wisconsin Dells tourist attraction owner (Big Money Contributors). He also received numerous $10,000 contributions from individuals, among them, Los Angeles film producer Jerry Zucker, whose December 2001 contribution sparked a controversy because it was made only weeks after Doyle awarded the University of Wisconsin a $250,000 state grant for stem cell research in Zucker's name.

COMMITTEE CONTRIBUTIONS AND SPENDING

Doyle accepted $891,000 or 15 percent of his total contributions in 1999-02 from political action committees and other committees (PAC Contributors). Political party and candidate committees accounted for the bulk of Doyle's contributions from committees - $418,073 - and labor union PACs were a close second with $417,178 in contributions. Together, these special interests accounted for 94 percent of Doyle's contributions from committees.

A view of the top PAC contributors to Doyle (Table 2) reveals special interests that typically support Democratic candidates.

Table 2
Top Political Action Committee Contributions 2002 Campaign
1/1/99- 12/31/02
| PAC | Amount |
| --- | --- |
| Democratic Party of Wisconsin | $213,735 |
| Lawton Committee | $190,000 |
| Operating Engineers Local 139 | $43,128 |
| Wisconsin Education Association Council PAC | $42,000 |
| DRIVE (Teamsters) | $35,000 |
Perhaps more relevant than Doyle's total PAC contributions in 1999-02 was the $3.9 million special interests spent on independent expenditures and issue ads in the homestretch of the 2002 election for governor.

Independent expenditures are campaign activities that are supposed to be done without consultation, coordination or cooperation with the candidate. The most common independent expenditures are direct mail and radio, TV and newspaper ads that urge voters to support or oppose a candidate. There is no limit on independent expenditures, but the sponsors are required to report their spending and sources of income with the State Elections Board.

Issue ads use a campaign issue to attack a candidate without blatantly advocating the election or defeat of a candidate. Since these ads do not urge a "vote for" or "vote against" a candidate, special interests refuse to disclose who is paying for them. This means that corporate money, which cannot be used for political activity under Wisconsin law, is used to pay for them.

Powerful special interests seeking to curry favor with the future governor spent over $2 million on independent expenditures. WEAC spent the most on independent expenditures for Doyle - $1,222,029 - along with at least another $222,000 on issue ads. They were rewarded when several items on their agenda showed up in Doyle budget bills a few months later, not the least of which was a proposed end to a state law that limits annual increases in teacher pay and benefits to 3.8 percent. (All groups making independent expenditures favorable to Doyle are listed in a supplemental table below. You can also read more about independent expenditures in the 2002 election here.)

In addition to independent expenditures, special interests poured roughly $3 million into issue ads. This effort was led by the state Democratic Party which received contributions from the Ho-Chunk, Oneida and Potawatomi Indian tribes, an Onalaska road builder and other special interests totaling $1.23 million that were laundered through the Democratic National Committee between October 26 and November 4, 2002. The bulk of it was spent on issue ads in support of Doyle in the closing days of the campaign. (Read more about issue ads in the 2002 election.)

Less than three months after taking office, Doyle proposed a road budget that continues to spend hundreds of millions of dollars - roughly one third more than the national average - to build and maintain major roads. In addition, the governor, who had been a vocal critic of gambling most of his political career, became embroiled in controversy after negotiating deals with no expiration date that allowed for expanded gambling on reservation-owned lands.

CAMPAIGN SPENDING

Doyle spent $5,932,713 in 1999-02, largely on consulting, advertising and fundraising. Most of his spending occurred in the election year when he doled out $5.23 million to defeat McCallum, who spent $7 million in 1999-02, nearly $1.1 million more than Doyle.
LIST OF FIGURES
Where Did the Money Come From?
LIST OF SUPPLEMENTAL TABLES
Charts
Where Did the Money Come From?
Cash-on-hand
$46,624
Self
$10,000
Under $100
$442,740
$100 or more
$4,488,290
PACS & Parties
$891,000
Other Income
$86,657
WECF*
$0
*voluntary spending limit system.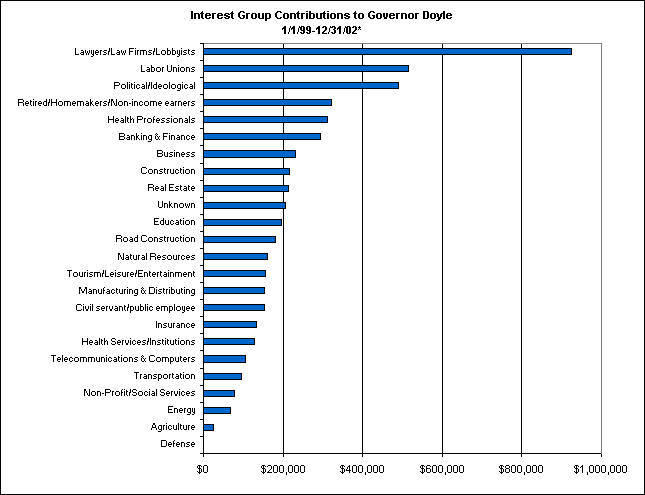 *From individual contributors giving $100 or more per year and all PAC, party and candidate committee contributions.
Who are the top contributors to Governor Doyle?
1/1/95 - 12/31/02
Contributor
City
Business
Amount
Troha Family
Kenosha, WI
ATC Leasing Co
$71,750.00
Mathy Family
La Crosse, WI
Mathy Construction
$35,795.26
Paul Family
Madison, WI
Advantage Learning System/
Brazeau, Potter, et al
$32,350.00
Doyle, James &
Jessica Doyle
Madison, WI
Wisconsin attorney general/
Madison Public Schools
$30,200.00
Noel Family
Stevens Point, WI
Noel Group
$30,000.00
Brogan, John & Gisela
Green Bay, WI
Wisconsin Converting Co
$27,850.00
Waterman Family
Wisconsin Dells, WI
Black Wolf Lodge/
Noah's Ark Water Park
$27,100.00
Walsh Family
Madison, WI
Foley & Lardner
$25,750.00
Samson Family
Fox Point, WI
Liberty Bank
$24,535.00
Rosenberg, Jack & Lucy
Milwaukee, WI
Telecheck Wisconsin (Retired)/Psychiatrist
$22,375.00
Independent Expenditures Favoring Doyle
PAC
Interest
Amount
1199W/PAC
Labor Unions
$7,634
Human Rights League PAC
Political/Ideological
$441
Hunters for Doyle
Labor Unions
$15,918
Kenosha Education Association
Labor Unions
$1,097
National Abortion & Reproductive Rights PAC
Political/Ideological
$15,039
Northern WI Building Trades/Local 1050 Laborers
Labor Unions
$13
Northern WI Council Carpenters/Greater Fox Valley
Labor Unions
$1,986
Operating Engineers 139 PAC
Labor Unions
$1,341
Planned Parenthood Advocates of WI
Political/Ideological
$1,351
Sierra Club Wisconsin
Political/Ideological
$50
WEAC PAC
Labor Unions
$1,222,029
WI Nurses PAC (WIN PAC)
Health Professionals
$585
WI Professional Police Association
Labor Unions
$15,812
WI SEIU Jt Council #4 - Service Employees
Labor Unions
$2,085
Total Independent Expenditures: $1,285,355
Independent Expenditures Favoring McCallum
Text • Charts • Top Contributors • Independent Expenditures • Big Money • PACs • 1998 Profile