Updated: July 14, 2003
Attorney General Peg Lautenschlager (D)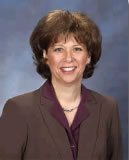 Campaign Finance Profile
January 1, 1999 through December 31, 2002
Text • Charts • Independent Expenditures • Big Money • PACs
BIOGRAPHICAL INFORMATION

Democrat Peg Lautenschlager, born November 22, 1955 in Fond du Lac, was elected the first woman attorney general in the November 2002 elections after serving as U.S. Attorney for Wisconsin Western District federal court from 1993 through April 2001. Previously, she served four years in the Assembly from 1989-92 representing the Fond du Lac area. Lautenschlager was Winnebago County District Attorney from 1985-88, and was a member of the State Elections Board from 1985-87. Lautenschlager was a practicing attorney after she was graduated from the University of Wisconsin Law School in 1980 and Lake Forest College in Illinois in 1977.

CAMPAIGN FINANCE SUMMARY

"I believe in good government and am very concerned about the amount of money raised by legislators - especially during budget time. Government is for sale these days. And it's not so much what qualities you bring to the position but how much money can you raise," - Lautenschlager comment on January 16, 2002 in the Superior Daily Telegram.

Lautenschlager had a cash balance of $8,328 in her campaign account as of December 31, 2002. She accepted $571,168 in individual and political action committee contributions and interest and spent $563,450 in 2001-02 (Pie Chart).

In contrast, Lautenschlager's opponent, Republican Vince Biskupic, raised and spent substantially more. Biskupic raised a total of $752,584 during the same two-year period and spent $749,670.

Lautenschlager accepted most of her individual and PAC contributions from labor unions, which gave her $224,025, followed by lawyers who gave her $63,692 and political parties and candidate committees which contributed $58,472 to her campaign (Interest Bar Chart).

It is no surprise that labor and the legal community would be the top two special interest contributors to Lautenschlager. Labor traditionally supports Democratic candidates over Republican candidates and lawyers were the constituency that Lautenschlager had the most contact with in her capacity as a federal prosecutor for eight years.

It is also not surprising that most powerful special interests, such as agriculture, road builders, insurers, energy suppliers and others, contribute more generously to candidates for governor rather than attorney general since the governor's authority and actions have a greater impact than those of the attorney general on state programs, policies and spending that affect special interests' political agendas.

INDIVIDUAL CONTRIBUTIONS

Lautenschlager's campaign saw a substantial infusion of individual contributions after the predicted Democratic nominee in the race, former Sen. Brian Burke, dropped out in May 2002 and was later indicted in connection with an investigation into ethics and campaign finance law violations by legislators and aides at the State Capitol.

She raised $287,379 in individual contributions, which represents 50 percent of all of her fundraising in 2001-02. Lautenschlager raised $211,847, or 37 percent, of her campaign contributions in amounts of $100 or more.

Lautenschlager's top contributors (Table 1) were herself and her family, education interests and attorneys. Lawyers were by far Lautenschlager's top large individual contributors, doling out $63,692 followed by civil servants and public employees who gave her $24,224.
Contributor
Occupation/Employer
City
Amount
Peg Lautenschlager
Attorney
Fond du Lac, WI
$20,872
Alex Paul & Family
Renaissance Learning System/
Brazeau, Potter, et al
Madison, WI
$8,850
Milton & Pat Lautenschlager
University of Wisconsin
Fond du Lac, WI
$7,841
Cliff Fisher
Argus Bar
Madison, WI
$4,500
Daniel Bach
DeMark, Kolbe, et al
Racine, WI
$4,200
Kathleen Larocque
Wisconsin Public Television
Madison, WI
$2,950
Richard Judge
Campaign consultant
Madison, WI
$2,529

Matthew & Mary Flynn

Quarles & Brady

Milwaukee, WI

$2,419
Ronald Slavin
Cabinet Country Ltd
Fort Atkinson, WI
$2,000
William Dixon
Miner, Barnhill & Galland
Monona, WI
$1,864
Like her predecessor, current Democratic Gov. James Doyle, Lautenschlager drew relatively meager contributions from the state's most powerful and wealthy special interests, including $350 from agricultural interests, $1,825 from insurers and $1,950 from bankers (Big Money Contributors). In contrast, her GOP opponent who raised more than $398,000 in large individual contributions attracted substantial contributions from powerful special interests, including $54,400 from manufacturers - Biskupic's top special interest supporter - $37,145 from the business community and $29,425 from realtors.

However, Lautenschlager continued to draw most of her large individual contributions from a relatively small geographic base for a candidate for statewide office. Madison contributors gave her $71,140, Fond du Lac area contributions totaled $45,120 and Milwaukeeans contributed $21,694 to her campaign. Her fourth highest geographic area support came from Middleton donors who gave her $6,735.

COMMITTEE CONTRIBUTIONS

Lautenschlager's campaign accepted $275,288 in PAC contributions in 2001-02. Most of her support - $220,875 - came from labor (Table 2), a traditional backer of Democratic candidates, followed by $47,113 from political party and candidate committees.

Table 2
Top Political Action Committee Contributions
1/1/01 - 12/31/02
| PAC | Amount |
| --- | --- |
| Democratic Party of Wisconsin | $30,000 |
| AFSCME Locals 40 & 48 | $21,000 |
| WEAC PAC | $20,000 |
Like large individual contributors, special interest PACs contributed very little to the attorney general's race because of a governor's race that featured a hotly contested four-way Democratic primary and a high-spending general election finale (Political Action Committee Contributions).

Similarly, a handful of PACs made only token independent expenditures in the Attorney General race, spending only $2,263 on Lautenschlager and Biskupic combined. (Independent Expenditures table).

CAMPAIGN SPENDING

Lautenschlager spent $563,450, substantially less than the $749,670 spent by her Republican opponent in 2001-02. Lautenschlager's campaign spent most of its money - about $317,500 - on television advertising in an effort to increase Lautenschlager's name recognition and basic agenda.
LIST OF FIGURES AND TABLES
Where Did the Money Come From?
LIST OF SUPPLEMENTAL TABLES
Lautenschlager's Big Money Contributors
Charts
Where Did the Money Come From?
Cash-on-hand
$0
Self
$20,872
Under $100
$56,880
$100 or more
$211,847
PACS & Parties
$275,388
Other Income
$5,000
WECF*
$0
*voluntary spending limit system.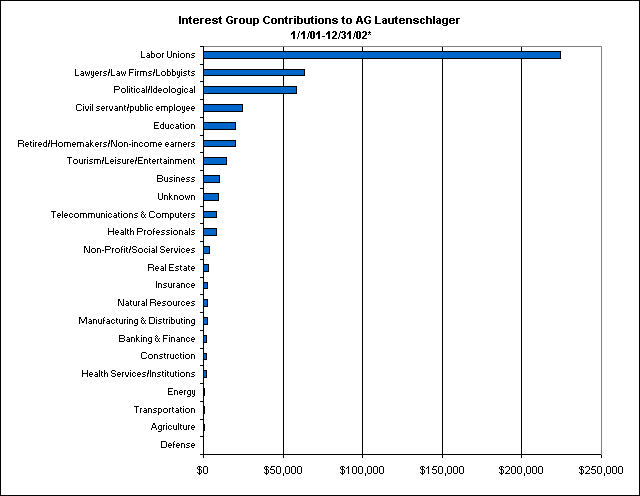 *From individual contributors giving $100 or more per year and all PAC, party and candidate committee contributions.
Independent Expenditures Favoring Lautenschlager*
*The Milwaukee Police Assn ($428) made independent expenditures favoring her opponent.
Text • Charts • Independent Expenditures • Big Money • PACs