Updated: July 22, 1997
Senator Kevin Shibilski (D) - Amherst

Senate Senate District 24
1996 Election Notes and Background

1996 Campaign Finance Summary**

* Senator Shibilski won re-election. He was first elected in 1995 in a special election. 

* He was unopposed in the primary and faced only Taxpayers party opposition in the general.

* There were no independent expenditures in the election.

.

Shibilski
Opponent
Raised: $63,563
Raised: $1,056
Spent: $35,977 
Spent: $971
Vote: 84.0%
Vote: 15.9%
** All 1996 campaign data is from July 1, 1995 - December 31, 1996 (1995 special election data is not included)

On Which Committees Does Senator Shibilski Serve?

* Senator Shibilski currently serves on the powerful Joint Finance Committee.

* He served on the 1995/96 Senate Committees on: Administrative Rules, Education and Financial Institutions, and Insurance.
Where Did the Money Come From?
War chest on 7/1/95 
$7,226
From Self
$0
Less than $100
$21,594
$100 or more
$26,366
PAC & Party $
$5,319
Other Income
$50
WECF*
$10,234
*voluntary spending limit system
Was the Big Money from People in the District?
Individual contributions of $100 or more 7/1/95 - 12/31/96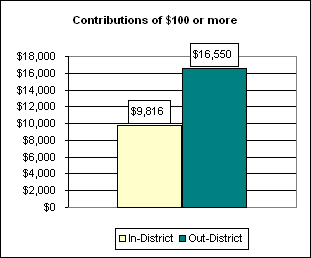 Which Special Interests Contributed the Most?
Contributions from political action committees (PACs) and Individual contributions of $100 or more
7/1/95 - 12/31/96
| Interest | Description | Amount |
| --- | --- | --- |
| Commercial Banking | several banks through conduits and PACs | $3,435 |
| Health Professionals | physicians, chiropractors, and dentists | $2,970 |
| Labor | primarily WEAC PAC, other union reps | $1,575 |
| Trucking | primarily Everette Roehl, W-TON PAC | $1,400 |
| Insurance | execs from five insur. companies, LUPAC | $1,350 |
Who are the top Career Patrons of Senator Shibilski?
Individual contributions of $100 or more,
3/1/95 - 12/31/96
| Contributor | Business | Residence | Amount |
| --- | --- | --- | --- |
| Helen Boley | Retired | Madison | $ 1,000 |
| Debra & Darshan Dhaliwal | Bulk Petroleum | Mequon | $ 1,000 |
| Fred & Barbara Havenick | Flagler Greyhound Park | Miami | $ 1,000 |
| LJ Hochberg | Retired | Highland Park, (IL) | $ 1,000 |
| Herbert Kohl | U.S. Senator | Milwaukee | $ 1,000 |
| Esther Leah Ritz | Community Activist | Milwaukee | $ 1,000 |
| Taemie Saucerman | Intl Brotherhood Elec. Workers | Arena | $ 1,000 |